Intern Carissa Perry reaches the end of her time with Cascada, celebrating with a trip to Torres del Paine. Enjoy her final blog post!
After 6 months of staring at the pictures, and talking to people about the wonders of Torres del Paine, I was finally able to visit! While saying goodbye to the wonderful people of Santiago was hard, my excitement for this journey sweetened my departure, and as I flew over the beautiful lakes and mountains on the way into Punta Arenas, I knew I was in for a treat.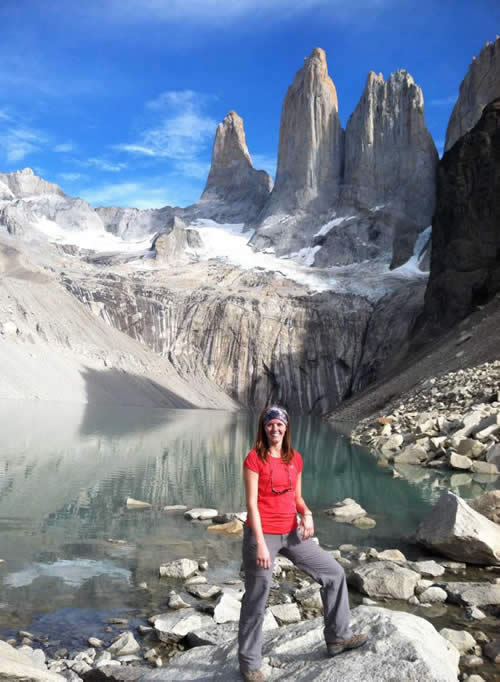 Even with all of the preparation, and all of the time spent writing blogs and doing research on Patagonia and Torres del Paine, there were still a number of things that I was surprised to find out while doing the 5 day W Trek through the National Park.

So with all of the information you already have, knowing that you should be in decent shape to do this hike, the right gear makes a difference, and so on and so forth, here are the top 7 things I wish I would have known before hiking in Torres del Paine:

1. When Chileans say that a path is flat, it does not really mean that it is flat: When hiking the W trek, there is a stretch from Refugio Paine Grande to Campamento Grey and the Grey Glacier. It is a gorgeous walk that follows the shores of Grey Lake for 10 kilometers. It is supposed to be the easiest part of the full W Trek, which is why my group and I decided to start off with it. The guides in Puerto Natales described this as a mostly flat stretch with a few short ups and downs. Now, I know what ups and downs are, and I thought I had a general idea of what flat is, but I think they may want to reword the "mostly" part of this description. While entirely trekkable, and in comparison to the other two legs of the W, it is a lot more level, this trek is in no way flat. So just be aware, and don't believe everything you hear, especially from apparently beastly Chilean men.

2. Hiking boots are not all they are cracked up to be: Take this with a grain of salt. I have hiked a lot in my day, and I've had a few different pairs of boots, but apparently my trusty high tops were not cut out for 5 days straight on the trail. Let's just say by the last 5 kilometers, I was running barefoot down the hill into EcoCamp, while my friends who were wearing their good old running shoes were feeling quite alright.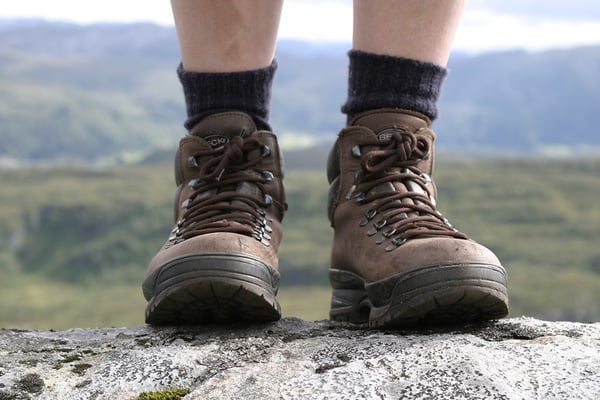 3. There are mice! So many of you who will stay in the cozy warm beds in the refugios and the EcoCamp would never have to deal with this. But one thing I sure wish people would have told me before I got my heart set on camping in Torres del Paine for three nights was that in certain times of the year, there are mice in the campsites. A lot of mice. You can try your darndest ways to deter these mice, but unless you want any sort of sleep, the mice will probably win.

4. You don't need to know Spanish: That of course doesn't mean you shouldn't try… I was just very surprised at the amount of English being spoken everywhere I went in the park. I went from speaking Spanish every day for 6 months to only English for 4 days straight, until I finally ran into a group of Ecuadorians to hike with for an hour.

5. Peanut butter is amazing: Alright, so I knew this one already. And I'm fairly certain everyone from the Santiago office will know that I know this. On the trail, you can't beat a nice spoonful of creamy delicious peanut butter to keep your energy going and your calories from dropping. But beware, it is hard to find in most South America, so you northerners, bring a small plastic jar in your luggage.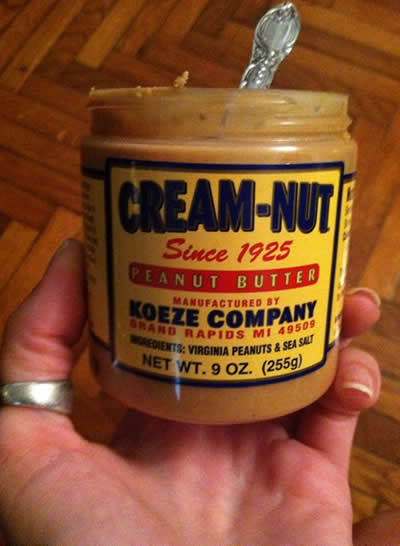 6. Trekking poles are a saviour of bad knees: This one might seem obvious, but I've always been weary of carrying poles around. Even as an avid snow skier, I only just started using poles a few years ago, so as a hiker, I never even thought of it. But as my old lady knees were already starting to waver just thinking about all this hiking, I decided to try them out. And boy was I glad I did. While still not for everyone, trekking poles can really help you take the pressure off of your knees, as well as help keep your balance when making slippery river crossings.

7. The pictures really do not do it justice: After looking at pictures of Las Torres and Los Cuernos every day for over 6 months, I honestly wasn't very excited to see them in person. Until I got there. It was surreal. The whole time, I couldn't keep my eyes off the strange shapes and colors of Los Cuernos, and as soon as I rounded the corner to the full sight of Las Torres, I wanted to cry. Nothing can compare to seeing this natural giant beauties with your own eyes. Paradise.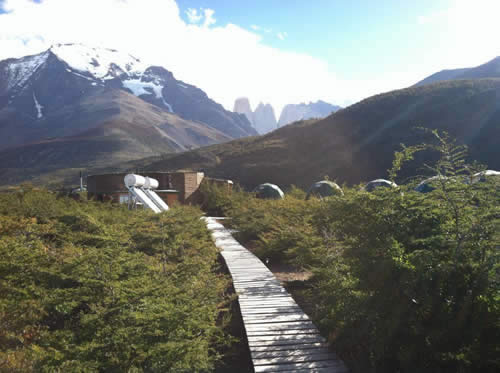 Overall, the W Trek was a dream come true. Hiking in April allowed me to hike in perfect weather and much smaller crowds, and sleeping at the EcoCamp was the best way to end an amazing adventure. The delicious food and wine was very welcome after a hard day's hike, and the warm atmosphere and entertaining people lifted my spirits. I couldn't have asked for a better way to end my time in Chile.

I also want to give a hearty thanks and many abrazos to the wonderful folks at Cascada Expediciones and EcoCamp who have given me this incredible opportunity! It was such a pleasure learning and working with you all, nos vemos pronto!
Do you want more information? Visit cascada.travel and learn about our programs