You're dreaming of a hiking adventure - a trek to be more precise. You want to disappear into the heart of the wild, feel the wind press your skin, and your legs ache with that addictive pressure. You want to stare into the face of a mountain and look into a horizon unmarred by skyscrapers. Planning this trip into Torres del Paine may seem a little daunting: 5 hours from the nearest airport (Punta Arenas), unforgiving weather, packing lists the length of New Zealand, and ... refugios. 'What on earth is a refugio?' we can hear you wondering (and the answer doesn't help much, either). 'A mountain hut? A refuge? What does that mean?' Read on, intrepid reader, to find out all you've ever wanted to know about refugios in Torres del Paine!
All You've Ever Wanted to Know About Refugios
The lowdown on refugios
A refugio literally means 'refuge' in English. Some places like to translate it to mean 'mountain hut' but that would not be too accurate. Similar to the teahouses that dot Nepal's Himalayas, refugios are better understood as guesthouses that serve trekkers along the more isolated trails in the Park.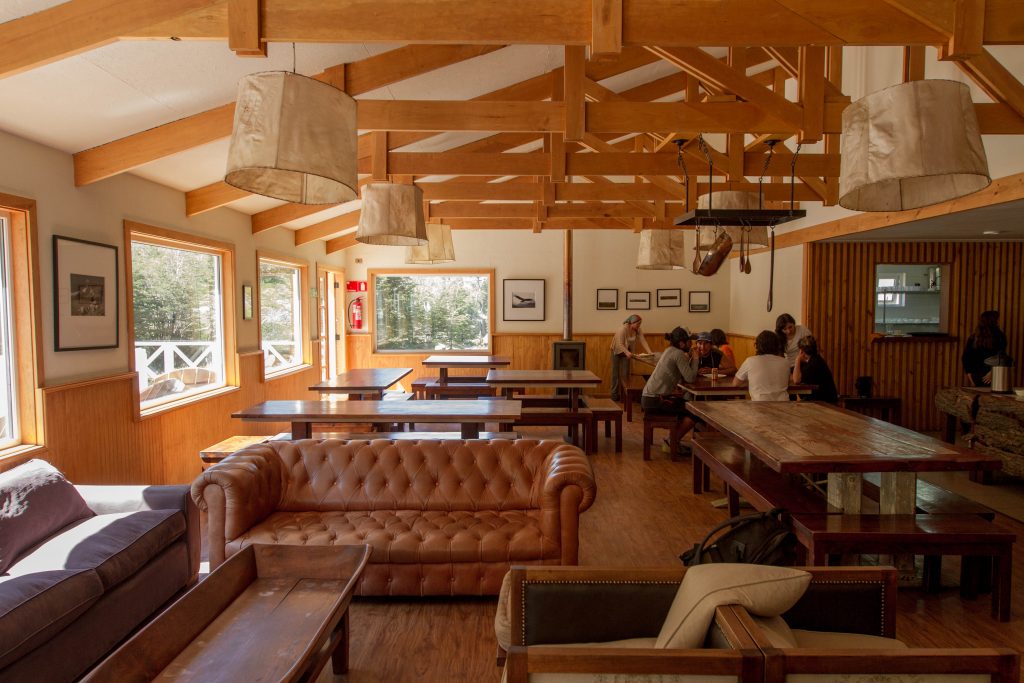 OK, we get it, but does that mean we're going to be freezing & hungry in the middle of the mountains?
Not at all! While refugios are not going to be labeled as five-star resorts, they are comfortable and cozy establishments ('refuges' if you will) that make a welcome rest stop after a day spent trekking. You will find good food, clean bathrooms, and a happy, community atmosphere staffed by locals who know the area like the bank of their hand and are passionate about showing it off. While you may need to share a bathroom or a room, you will do so with fellow hikers who, like you, were drawn to an adventure in this part of the world. As Keta Banks, our former guest, wrote here: "Each milestone reached, each mile we hiked, we did it together with laughs, encouragement, stories and a shared sense of adventure."
So why do we need to stay at a refugio?
The beauty of trekking in Torres del Paine is that you can very quickly be in the middle of nowhere with only the condors above you as company. While you can also camp (many refugios also have campsites), your hiking experience can be made much more enjoyable by only having to carry a daybag instead of all that extra camping gear. Refugios provide a warm place to sleep, a bathroom where you can refresh yourself without battling Patagonia's famous four seasons, and maybe even use the internet. Best of all, you can be sure of a decent meal.
But the big question: what's the food like?
Breakfast usually consists of cereal, toast or yogurt while for dinner you can expect soup and dessert with your main (pasta, chicken, stew are common meals). For lunch, you will be out on the trail but your packed lunch will likely comprise of a sandwich, nuts, chocolate, and fruit.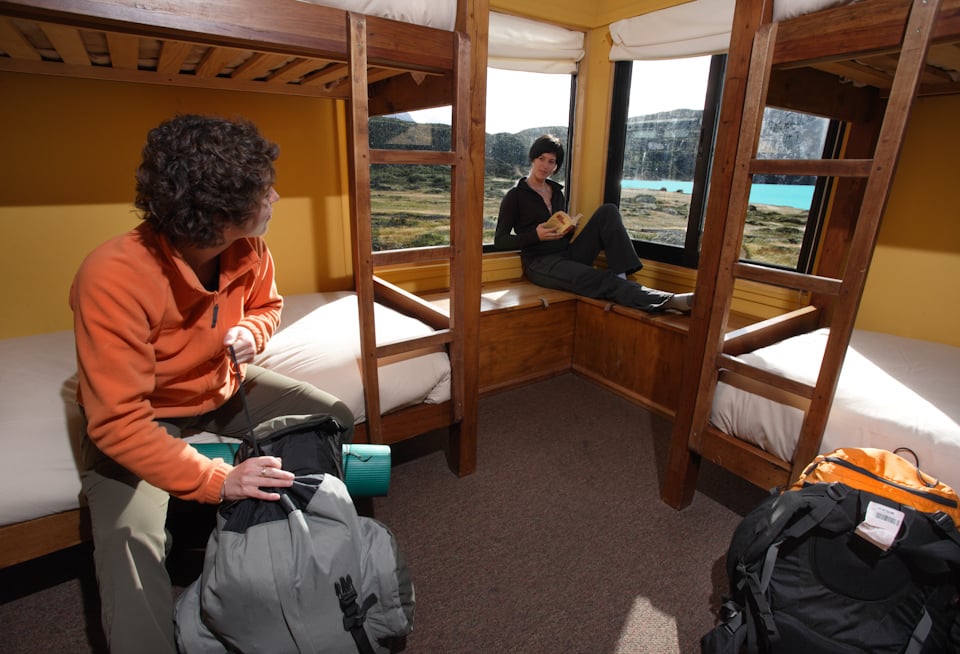 I can't go so long without logging in! What should I expect?
Wifi can be bought at the refugios but don't expect a fast signal - you're in the mountains, remember?
Can I have a hot shower?
You sure can! Please take a towel as the refugios do not provide them.
Is there a place where I can buy more stuff i.e. snacks?
Yes! All of the refugios sell food and camping gear including gas. You can buy Chilean beer at most refugios, unless they have a dedicated bar where you can buy more variety.
Are the refugios hard to book in peak season (December-February)?
Unfortunately, yes so we recommend booking as soon as you can. If you miss out on a spot within the actual refugio, you will be placed in a tent at the refugio campsite (assembled for you). In this case you will still be able to access refugio facilities.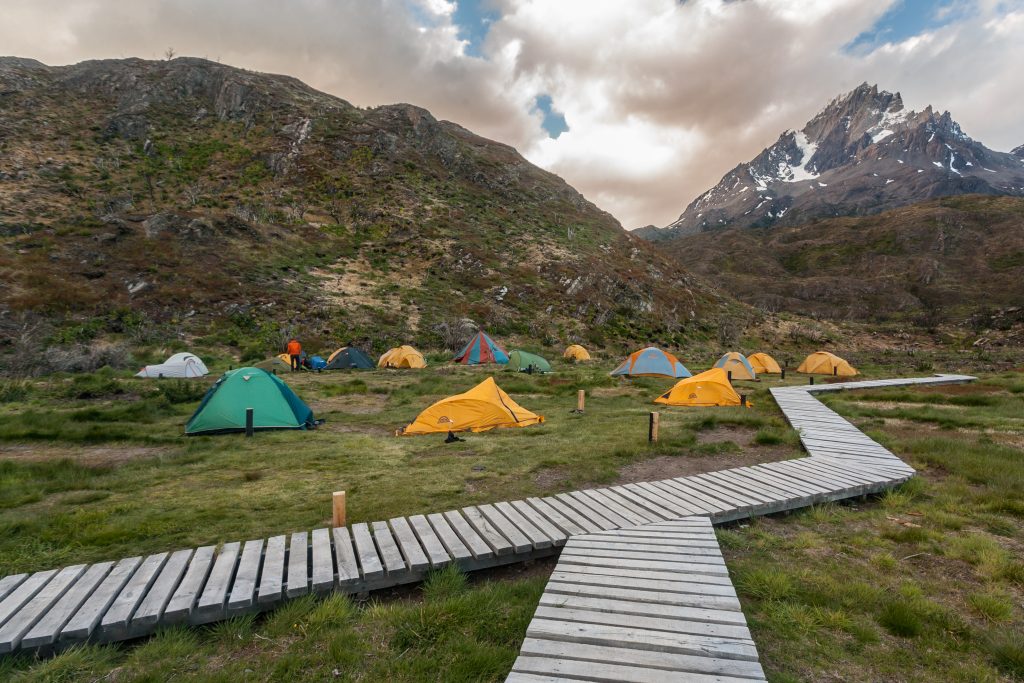 Refugios in Torres del Paine
Torre Central
60 bunkbeds divided between 10 mixed dormitories right beside the Tower Base trailhead. Extra points: well-stocked shop
Torre Norte
60 bunkbeds with comfortable lounge area with more basic amenities and no central heating. Extra points: cheaper than Torre Central and just 100m away
Refugio Chileno
32 bunkbeds divided between 4 dorms with more basic amenities. Extra points: just an hour and a half from the tower base
Los Cuernos
Spellbinding views across Nordenskjold Lake and the Cuernos peaks. 4 dormitories (36 beds) heated by woodburning stoves. Extra points: private rooms available
Cuernos Cabins
8 private cabins just steps away from Refugios Los Cuernos. Extra point: bathrooms exclusively for cabin guests
Paine Grande
The largest of the refugios and the most comfortable, this is a busy port of call for trekkers due to its privileged position beside Pehoe Lake. Extra Points: mini market, bar, restaurant
Refugio Grey
Beautiful location just meters from Lake Grey, this is one of the original refugios (60 beds) with more basic amenities. Extra Points: Location - a short walk from Glacier Grey look out
Refugio Dickson
Those embarking on the full Paine 'O' Circuit will enjoy the comfortable 27 beds at this secluded guesthouse with more basic amenities. Extra Points: Cozy communal area comprising of dining room, lounge, and bar.
The Treks
The W trek is the zone's most famous, involving all the classic sights such as the Grey Glacier, French Valley, and tower base. This trek is best enjoyed in April when the wind subsides and the autumnal colors pop. If you travel between December-February, be prepared for strong wind and busy trails (advanced bookings necessary). This trek includes a stay at EcoCamp Patagonia (and may include camping at the refugios if they are fully booked).
The full Paine or O Circuit is a 9-day trek that includes the W as well as more isolated, beautiful spots such as John Gardner Pass. A good level of fitness is recommended. Best time to visit is March or November when you have a good chance of seeing wildlife. You also have the option of upgrading to an EcoCamp dome (nights 1, 7, 8).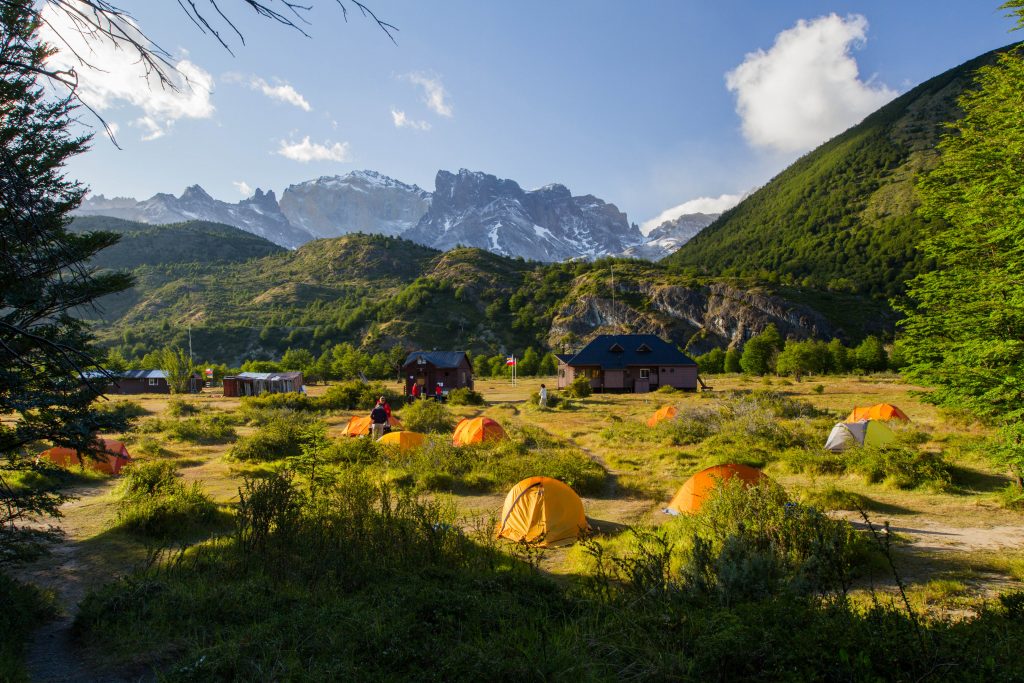 "I think it is nearly impossible to be within the beauty of Torres Del Paine and not exude positivity to those around," Keta Banks, former EcoCamp guest.
Do you want more information? Visit cascada.travel and learn about our programs