Los Dientes de Navarino (or Dientes Circuit) is known as the southernmost trek on Earth and has quickly gained international fame with its remote lakes, dramatic peaks and quiet trails in the wilds of Southern Patagonia. If you fancy exploring some of the least explored trails on Earth, this one must be on your bucket list.
In 5 days and 37 kilometers, you may experience both heat and chill, wind and snow, physical fatigue and excitement. But don't let the "short" distance lull you; here you won't hike more than 10 kilometers a day, making this trek relatively short in distances but truly intensely epic in scale.
1. Epic Location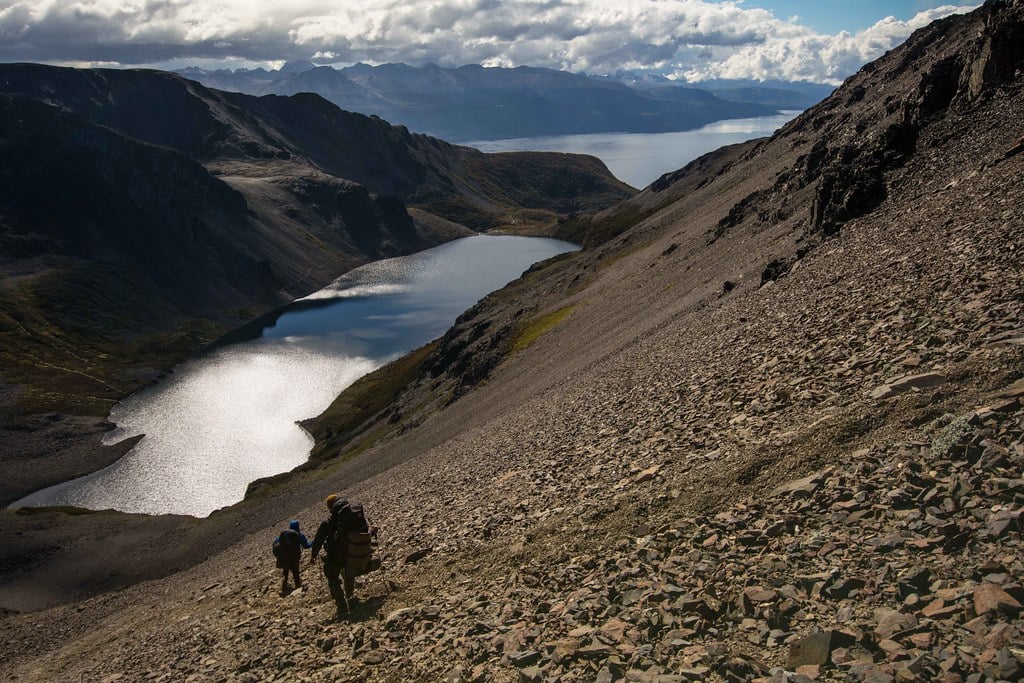 From Laguna Guanaco you can see the Beagle Channel and Argentina. Incredible viewpoint!
Located on Navarino Island in southern Chile, the trail is basically on the Southernmost Commune in the World (Cap Horn) - the nearest land to the Antarctic continent. The island is surrounded by Tierra del Fuego Island (north) and the famous Cape Horn (south) and about 2000 people inhabit the island; most of them living in Puerto Williams, the southernmost village on Earth and the starting point of the circuit. When we say southernmost trek in the world, we mean it!
2. Quiet Trails, (Almost) No Infrastructure
Unlike other famous circuits in South America (Inca Trail in Peru, W Trek in Chile, Laguna de los Tres in Argentina, etc.) few travelers explore the trails of Navarino Island. Even in high season (December to February) you may not meet more than 20 hikers on the circuit. As for the campsites, while some might seem busy because of the lack of space (such as Laguna del Salto), you should get a great personal space to put your tent...and there's distance between tents. Here, don't expect to find public toilets, stores or a tourist information desk. This is truly wild, truly quiet and isolated, hence the fact you should not forget anything when starting the trek. While a guide is strongly advised (trails are not well marked and some places - like Cerro Bandera & Paso Virginia - might get dangerous depending on the climate), 38 "Hitos" (landmarks) divide the trail so that hikers know where they are.
3. Otherworldly Landscapes
Unlike the granite peaks of Torres del Paine, these mountains are not that high, the highest peak (Pico Navarino) reaching 1,195m (3,921ft). Yet you may feel like you're in Mordor as you hike through "Paso Ventarrón", with those tooth-like dramatic peaks in the background and dozens of remote lakes. For most of the hike, you will hike above the tree line, which enhances the feeling of being high and allows you to observe the surroundings. On a beautiful day you may even see Cape Horn, the southernmost point on Earth (before Antarctica).
4. Short & Intense
Here is a simple example: on Day 2, hikers usually walk 7 kilometers from Laguna del Salto to Laguna Escondida. While experienced hikers may think that 7 kilometers is nothing, the hike may last 8 hours in case of snowfall. And even though you reach the "finish line" in just 5 hours, walks are intense and hikers should concentrate on their feet, as there are lots of unstable rocks and places where a fall could get serious. Some areas - like the slope to Paso Virginia - eventually gets very muddy. Gaiters and a good guide are a great idea. That said, intense days make for an epic journey through an incredible wilderness.
5. Unpredictable Weather
Patagonia is famous for its changing weather, yet the weather on Navarino Island may be the most unpredictable in the whole region. Some say they have experienced strong snowfalls in the heart of summer, after days of heat! The region is not as windy as western Patagonia (unlike Torres del Paine or Los Glaciares National Park), however you may experience strong wind gusts while wandering through the mountains and the unstable terrain means you'd better be careful. With an average high of 12C° (53°F) in summer months and temperatures as low as 0C° (32°F) at night, this constant weather "yo-yo" makes a hike a real adventure.
To sum it up, this video by Cascada Expediciones shows how epic "Los Dientes Trek" truly is (here is the link to the 6-Day Trek)!
Do you want more information? Visit cascada.travel and learn about our programs