Today is International Women's Day-- a moment to celebrate the strong and passionate females who have and continue to make an impact on the world around us. There are many women to commemorate on this special day, but one in particular really sticks out. Her name is Kris Tompkins, the former CEO of Patagonia Inc., founder of Conservación Patagónica and a powerful conservationist who has made great strides in protecting Southern Chile and Argentina.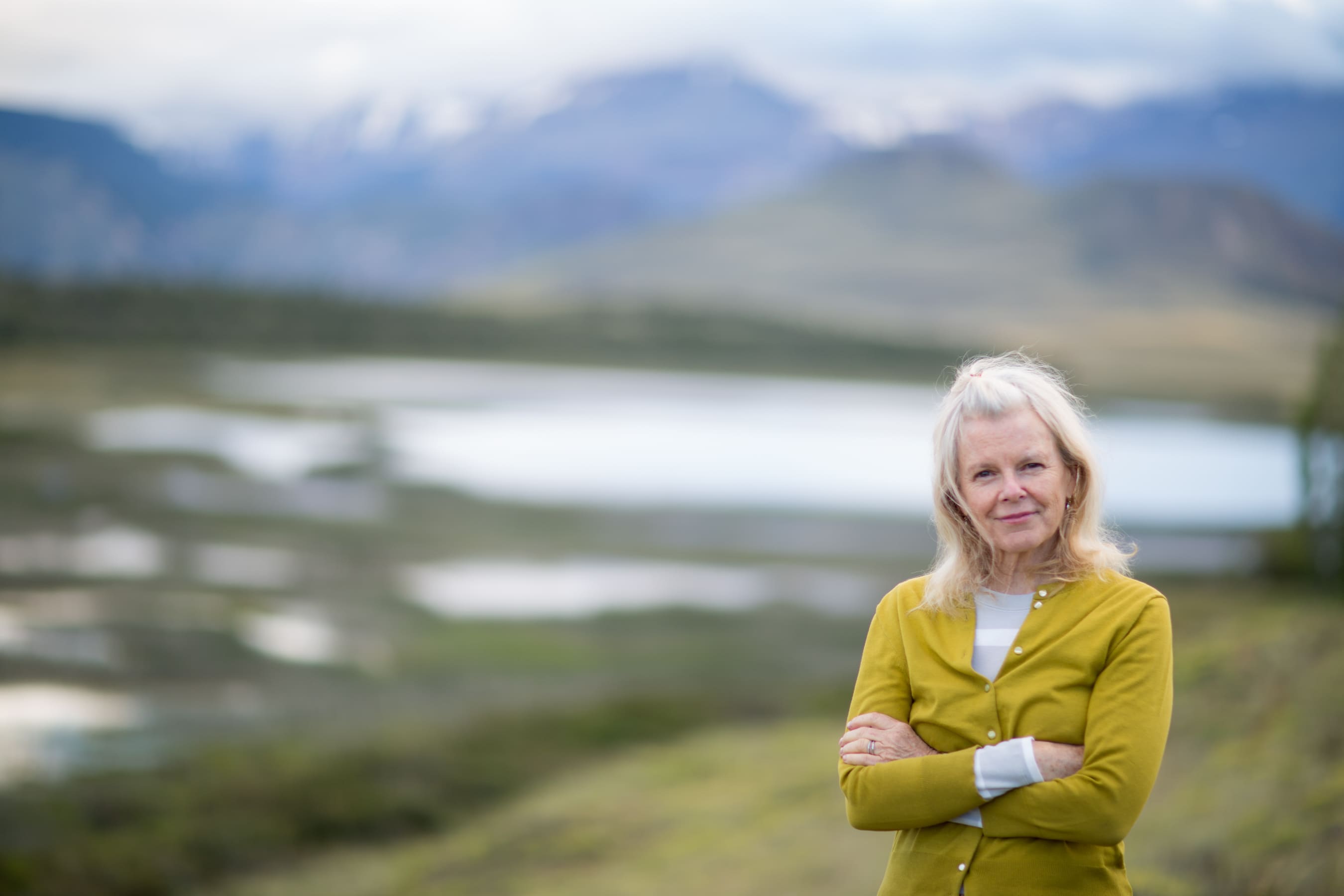 Kris Tompkins in Valle Chacabuco // Photo Credit: Tompkins Conservation
An Early Passion for the Wild World
Kris found joy in outdoor adventures at an early age. She grew up in Southern California on her family ranch and spent her childhood exploring the natural world. Through hiking, skiing and climbing she developed a true appreciation and love for beautiful landscapes.
When she was 15, Kris started working for Yvon Chouinard, founder of outdoor apparel company Patagonia Inc., who gave her a summer job at his climbing gear company Chouinard Equipment. Little did she know this small summer job was the start of something big.
Both Businesswoman and Adventurer
After finishing university, Kris returned to work for Chouinard Equipment, which eventually turned into what is known today as Patagonia Inc. She worked her way up, eventually serving as the company's CEO for 20 years. Patagonia Inc. takes pride in its "green ethos," supporting grassroots activism and making efforts to protect the environment.
In 1993, Kris left Patagonia Inc. to pursue her own projects and work alongside Doug Tompkins, her later husband and co-founder of The North Face. She wanted to make a lifestyle and career change, itching to work more closely in conservation.
Doug also shared Kris's interest in conservation and had a deep love for wild and remote places. It wasn't long until they both moved to Southern Chile, making beautiful Patagonia their new backyard.
Protecting Land and Promoting Biodiversity
After moving to Patagonia, Doug and Kris developed an extraordinary plan to protect and conserve its land. They used their business fortunes to purchase 2.2 million acres of land in the Southern Cone in Chile and Argentina. All of their land has been permanently protected and their hope is to eventually protect up to 10 million acres.
To protect the land, Kris and Doug started creating national parks. National parks are successful for numerous reasons. They create opportunities to connect and bond humans with the natural world, as well as conserve biodiversity and provide long-term institutional protection for the land.
In 2000, Kris founded Conservación Patagónica, an NGO and initiative owned by the duo's umbrella organization Tompkins Conservation. Conservación Patagónica educates and involves like-minded individuals to work towards national park creation and the protection and restoration of ecosystems. It's vital to protect special places like Patagonia, as they often run the risk of exploitation and the possibility of losing valuable plant and animal species.
Creating Chile's Route of Parks
The Tompkins have already made major progress through park creation and various green actions. But it was just a couple of years ago when they decided to take it one step further.
In 2017, the Chilean government and Tompkins Conservation signed an agreement proudly announcing the implementation of Chile's Route of Parks. It is an accumulation of 2,800 km of protected land and a network of 17 national parks, some old and some new, running from Puerto Montt down to Cape Horn on the country's southernmost tip.
According to Tompkins Conservation, "The proposal includes the largest land donation in history from a private entity to a country." They further stated that its total size is three times bigger than Yellowstone and Yosemite National Parks put together.
Not only will this route protect a huge quantity of land, but it will provide many other benefits for Chile. It will encourage local economic development, helping more than 60 communities grow and flourish. Additionally, people will have more access to Patagonia's hard-to-reach natural wonders and the route will strengthen Chile's image and reputation in the international travel community. Calling the initiative incredible is simply an understatement.
An Inspiration and Role Model in Conservation
Over the years, the Tompkins have had an indescribable impact in Patagonia. While sadly Doug passed away in 2015 from a kayaking accident, Kris continues working on their initiatives and making their shared dream a reality.
Without question, Kris has been a fantastic role model in the world of conservation. She helps educate and inform others through public speeches and discussions, as well as in her book Tompkins Conservation 25: A Quarter Century of Work to Save the Wild. Not to mention she has received multiple awards for her actions, such as the Carnegie Medal for Philanthropy, the Outdoor Inspiration Award, the World Tourism Award and more.
"Whoever you are and whatever you´re good at, you get out of bed every morning and you do something," said Kris in the Tompkins Conservation video. "You act. You step into the fray and you fight for a human society that is in balance with the natural world."
Do you want more information? Visit cascada.travel and learn about our programs