On October, 15th 2022 a team of 8 volunteers from EcoCamp Patagonia, Wheel the World and CONAF made history while hiking up Cerro Paine, one of the most demanding trails in Torres del Paine National Park, with a wheelchair user. The journey was long and exhausting. The group left the hotel at 9am and reached the viewpoint at around 4pm.
It was not the first time Álvaro Silberstein wandered through the trails of Torres del Paine national park in a wheelchair. In 2016, he was the first wheelchair user to do the W Trek, Torres del Paine's most famous trek. This time, 6 years after his first great accomplishment, Álvaro stayed at EcoCamp and conquered one of the most spectacular mountains in the park.
Here's the full story.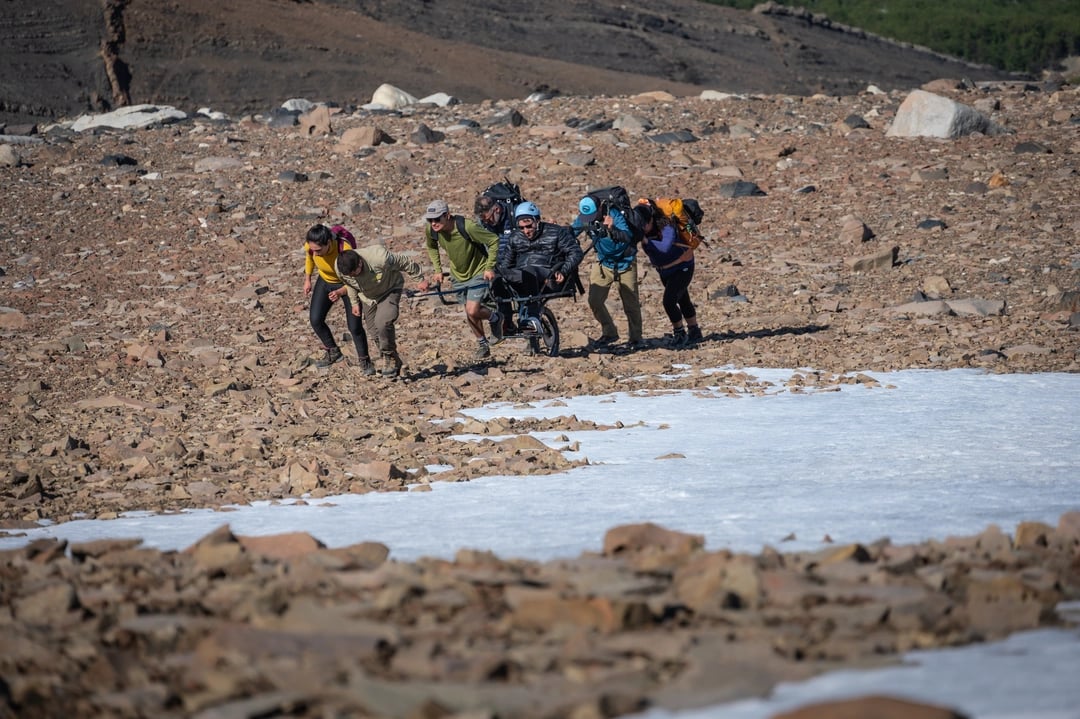 At the age of 18 years old, Álvaro Silbserstein had a car accident. He suffered a spinal cord injury at level C5 and became paralyzed from the chest down. Today, he uses a wheelchair. He can partially move his arms, but not the fingers of his hands. This traumatic experience did not stop him from fulfilling his dreams.
"One gradually realizes that human beings adapt. I got ahead with a lot of support from my family, I went back to study at the university, I worked, I went back to doing my sports," Silberstein said.
As a native Chilean, Álvaro has always been eager to explore the southernmost region of his country to see the beauty of Torres del Paine national park. In 2016, Álvaro finally traveled to Torres del Paine with some of his best friends. He became the first wheelchair user to hike the W Trek, Patagonia's most iconic multiday hike. To do so, Alvaro and his friends asked for the support of local organizations and tourism businesses (including EcoCamp). They could buy a special hiking wheelchair - the Joëlette - that was perfectly adapted to Patagonia' rough terrain.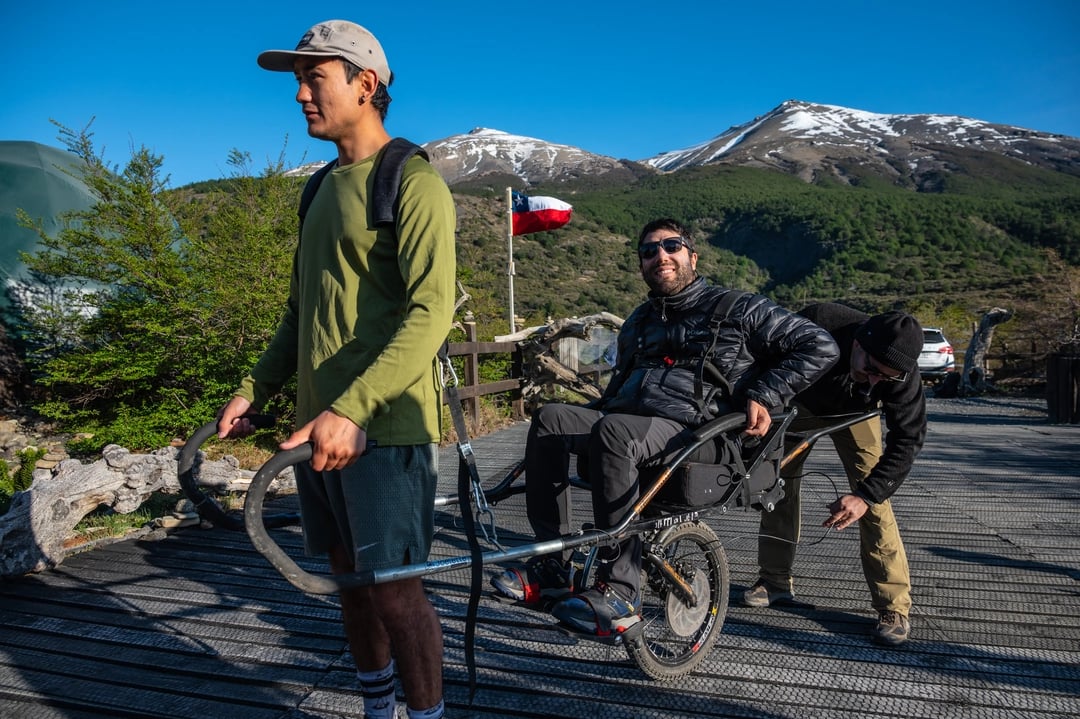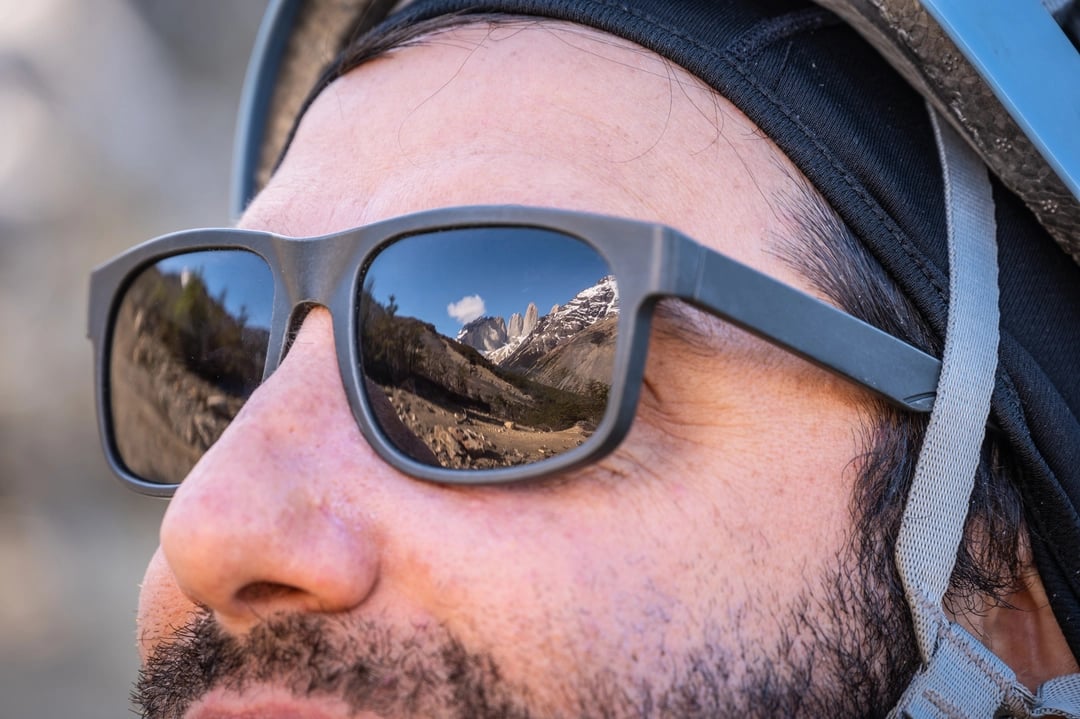 That was the beginning of Wheel the World, an inspiring company that has a worldwide presence to make the world a more accessible place through adventure travel.
Today, the wheelchair is at EcoCamp so anybody can request to use it. And while Álvaro had founded Wheel the World, he hadn't had the chance to travel back to Torres del Paine since 2016. In 2022, Álvaro contacted EcoCamp regarding the possibility of staying at the hotel.
EcoCamp has an accessible Suite dome for wheelchair users to stay at the world's first geodesic hotel. Álvaro could stay here with his brother Alejandro, and enjoy the comfort of the community domes while making new friends. But the best was yet to come, as he was proposed to hike to Cerro Paine, one of the most demanding (and spectacular) trails in Torres del Paine national park.
7 team members - including the experience manager, yoga instructors and guides - volunteered to make this unique experience possible. A CONAF park ranger (Nicolas) was also part of the team.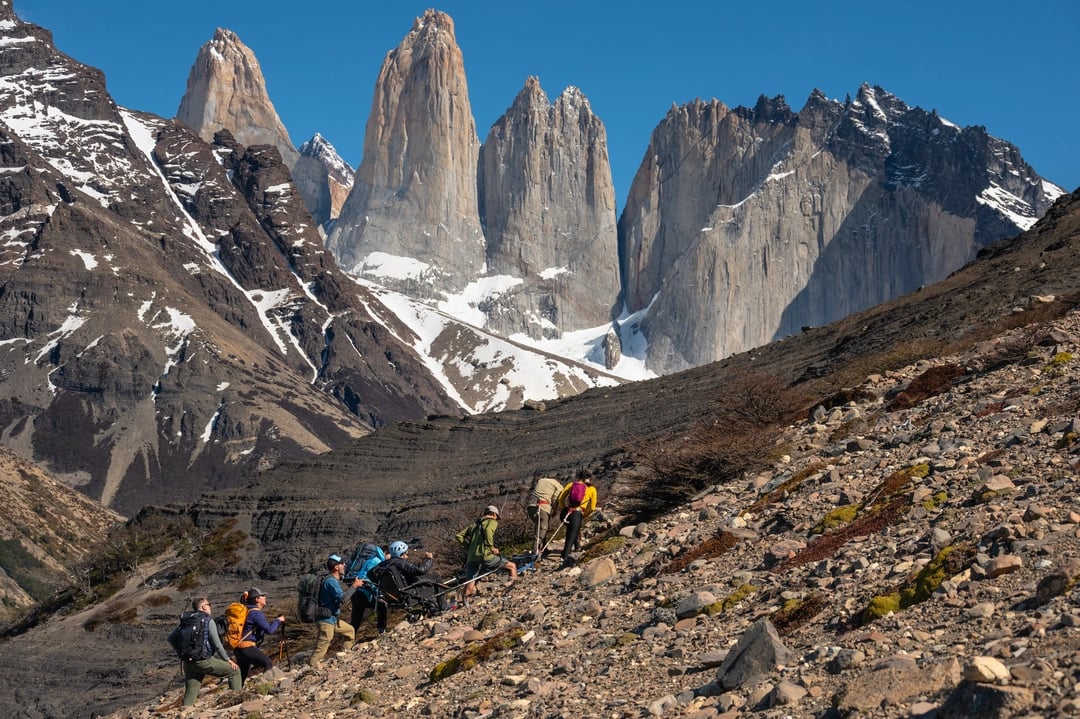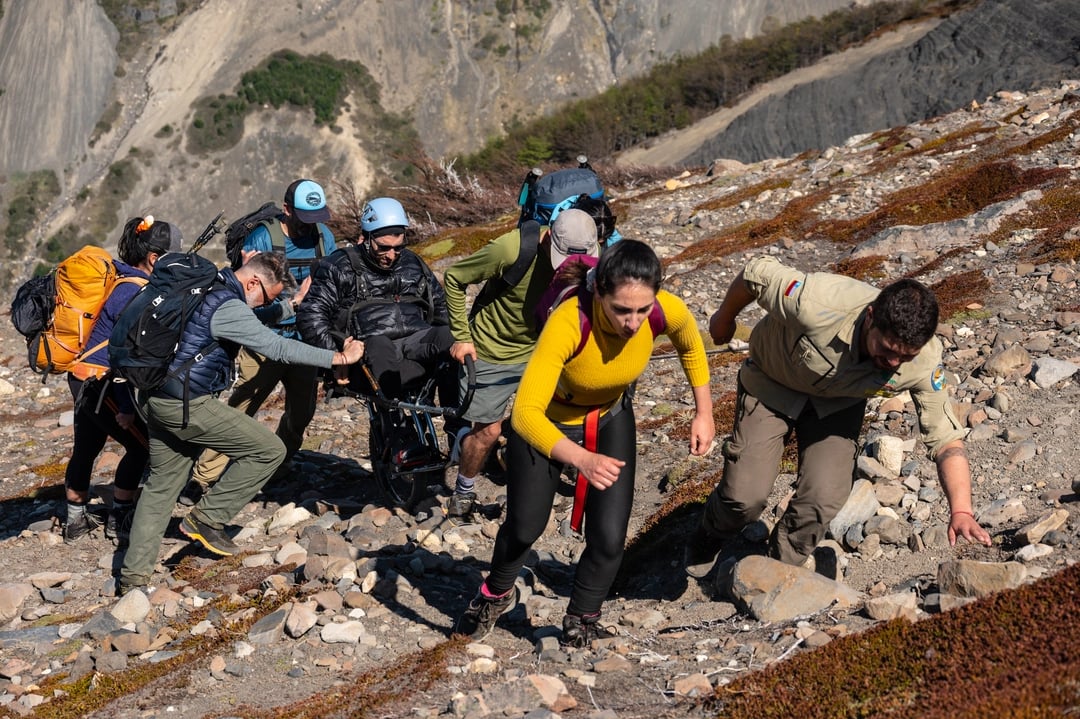 After a short training on how to use the Joëlette wheelchair, the team left EcoCamp at 9am. The hike was exhausting, as Cerro Paine is known for its steep slope (above 1000 meters / 3300ft). Each one of the volunteers made a difference and Álvaro felt incredibly grateful. The team took several breaks along the way to have some quick rests and admire the view of the granite spires, on a clear day with no wind.
Finally, the inspiring group of humans reached the main viewpoint at around 4pm, and took an hour to celebrate over breakfast.
The hike down was easier (and quicker) - and full of fun and adrenaline - and the team reached EcoCamp at around 7pm.
That was a historical moment. No wheelchair user had ever hiked on Cerro Paine before, but everyone here expects such an expedition to happen again soon.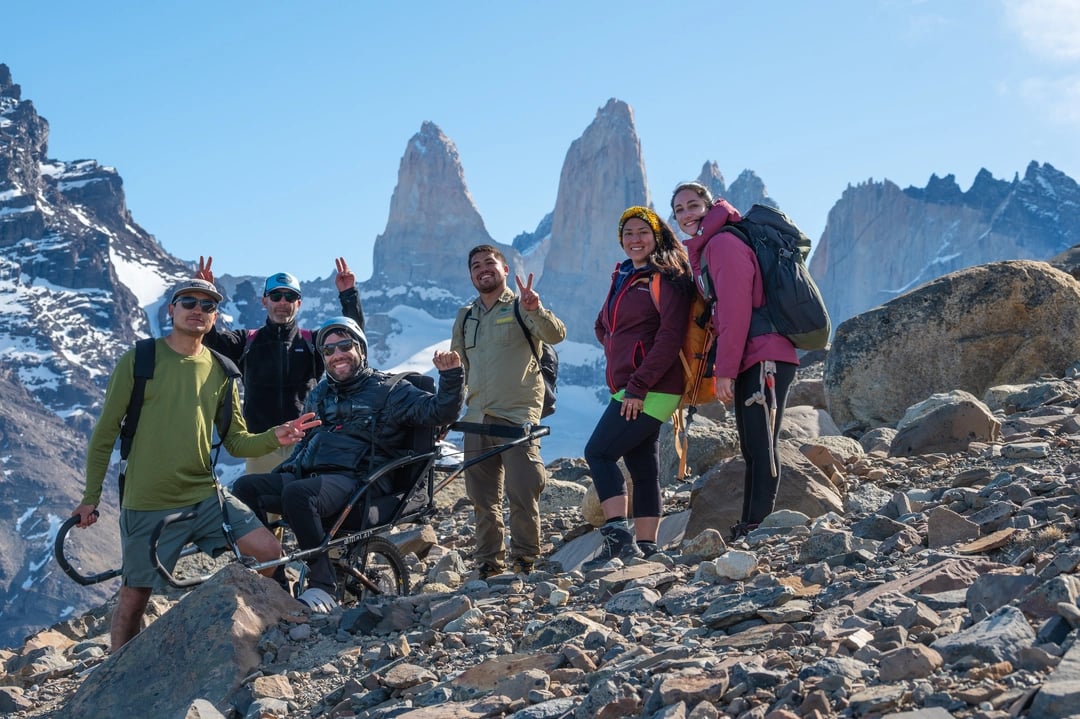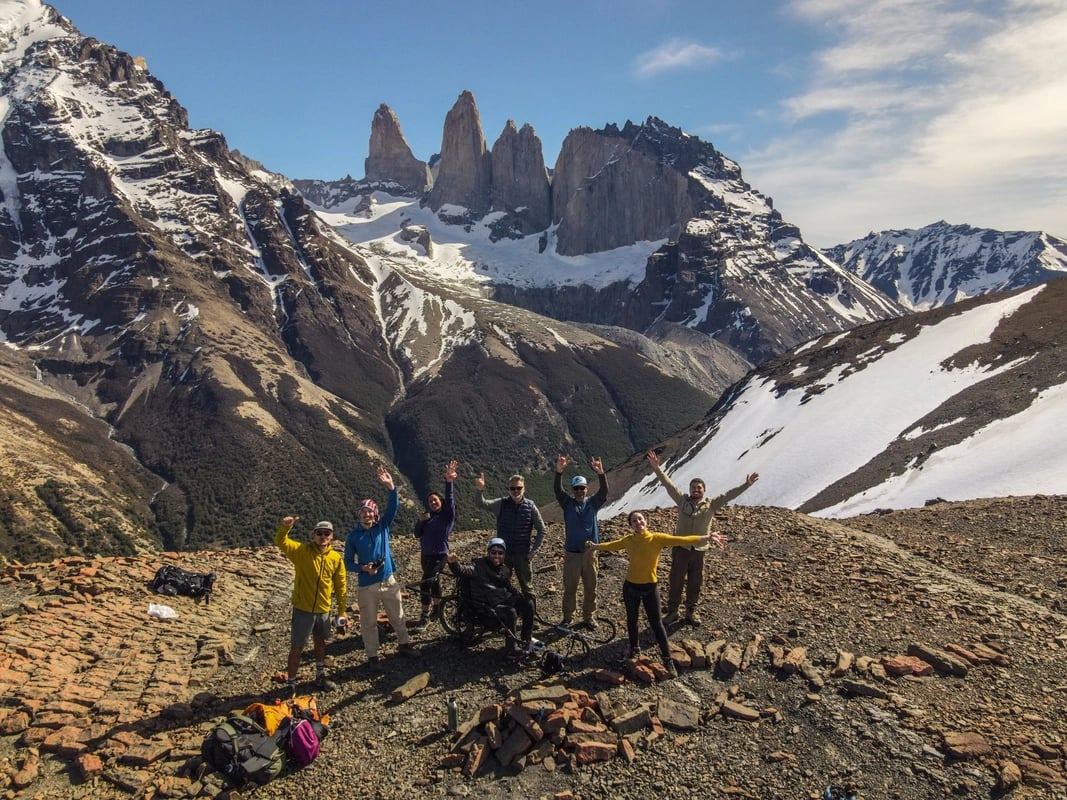 And while hiking Cerro Paine with a wheelchair involves greater logistics, the Joëlette wheelchair will remain at EcoCamp for everyone to explore Torres del Paine. And Wheel the World is getting bigger while opening new destinations for wheelchair users.
"To accomplish this kind of summit makes me realize that my disability is not an impediment for pretty much nothing. To be in that place, held by other people, is a gift. I am very grateful to have that kind of experience. This is like a new boost to show the world that we must work towards making destinations more accessible and I believe that the community of the tourism industry in Torres del Paine is more inspired to consider accessibility through all the value chain". Said Álvaro before leaving EcoCamp.
Want to learn more about accessibility in Torres del Paine? Watch our award-winning short film "Adventure is for All".