This year, travelers are turning to a new kind of packing list, loaded with latex gloves, masks, face shields and hand sanitizer. While these new crucial items may help prevent the spread of COVID-19, have you ever wondered how they will impact the environment?
According to an article in The Guardian entitled 'More Masks than Jellyfish': Coronavirus Waste Ends Up in Ocean, conservationists are warning us about the potential increase in ocean pollution due to the COVID-19 response. Divers in the Mediterranean are already finding tons of pandemic debris underwater, with some items that may take hundreds of years to fully decompose.
As travelers, what can we do about it? How can we follow the safety recommendations and explore in an eco-friendly way? It's not as difficult as it may seem! In fact, there are plenty of simple ways you can reduce your waste and travel sustainably during the COVID-19 pandemic. Let's look at a few easy tips:
1. Get a Reusable Mask
Conservationists are always urging people to opt for reusable products and it's no different when it comes to masks. The best thing you can do is wear a mask that has more than one use. There are even masks that are made with eco-friendly or recycled material!
Here at EcoCamp, we are creating a special mask for our travelers in -- Patagonia-style! Our masks look similar to a Buff, decorated in cool patterns and colors that represent the region. Each EcoCamp mask comes with a filter and can be washed and used multiple times throughout your trip.
2. Always Leave No Trace
While traveling outdoors, it is extremely important to "leave no trace." It's the best way to minimize your impact and help protect the beautiful places you're visiting.
Leave no trace is a set of seven basic principles developed by environmental experts to help conserve nature. This is especially important now, when there may be limited staff working in the parks and nature reserves. Learning about each of these principles and putting them into practice is a great way to travel sustainably. Click here to learn for a basic overview of the leave no trace principles.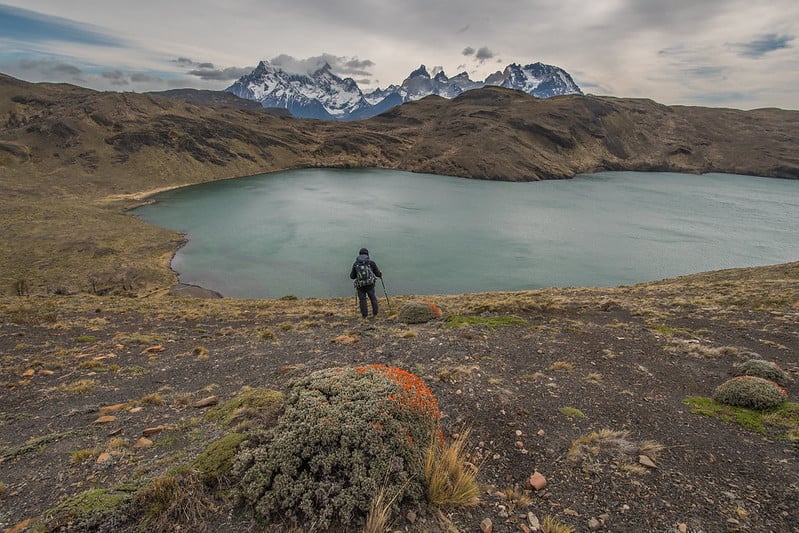 3. Wash Your Hands
Instead of using gloves (which can contribute to COVID-19 pollution), practice frequent hand washing. According to the Centers for Disease Control and Prevention, gloves will not necessarily protect you from getting COVID-19 and may spread germs. They recommend using gloves while cleaning or caring for someone sick, but not for everyday use.
Instead, it is advised to regularly wash or disinfect your hands with soap or hand sanitizer. Also be sure to use or bring your own biodegradable soap or eco-friendly hand sanitizer while traveling.
4. Do Your Research
When you are unfamiliar with a city or country, it may be difficult to employ the best green practices or understand new regulations that may be in place during the pandemic. You might not know where the recycling center is or how to find eco-friendly or reusable products. That is why it is crucial to prepare beforehand and do your research!
Learn about the place you are visiting and search for tips on the best way to travel sustainably in that location. You can also travel with an environmentally-conscious tour company or stay at a sustainable hotel, like EcoCamp.
At EcoCamp, we make it easy for travelers to employ green actions and we teach them how a fully sustainable hotel operates. Through our onsite sustainability tour, travelers can learn all about unique green actions, like composting toilets, a biofiltration system or renewable energy. We also have great online resources to help our travelers learn about Patagonia and the environmental threats facing the region.
5. Spread the Word
The best way to make a real change is to spread the word. Show people why it is important to travel sustainably, explain the severity of environmental threats and help promote green practices. You can start by sharing this article on social media!
Also feel free to check out our other educational resources, like our YouTube channel or blog.