What is sustainable food?
While most people know that sustainability aims to protect the environment, few of us really know the huge negative impact food has on the planet. Today, food accounts for about 25% of the greenhouse emissions released into the atmosphere. The agriculture industry causes 60% of deforestation, clearing and farming. You get it: our eating habits directly contribute to climate change. And this is something we at EcoCamp are not proud of.
When it comes to sustainable food, a simple way to define it is to showcase food that is healthy both for our bodies and the environment. Sustainable eating is the exact opposite of junk food. It means you'll eat something that will provide you a balanced diet while facilitating the conservation of the environment.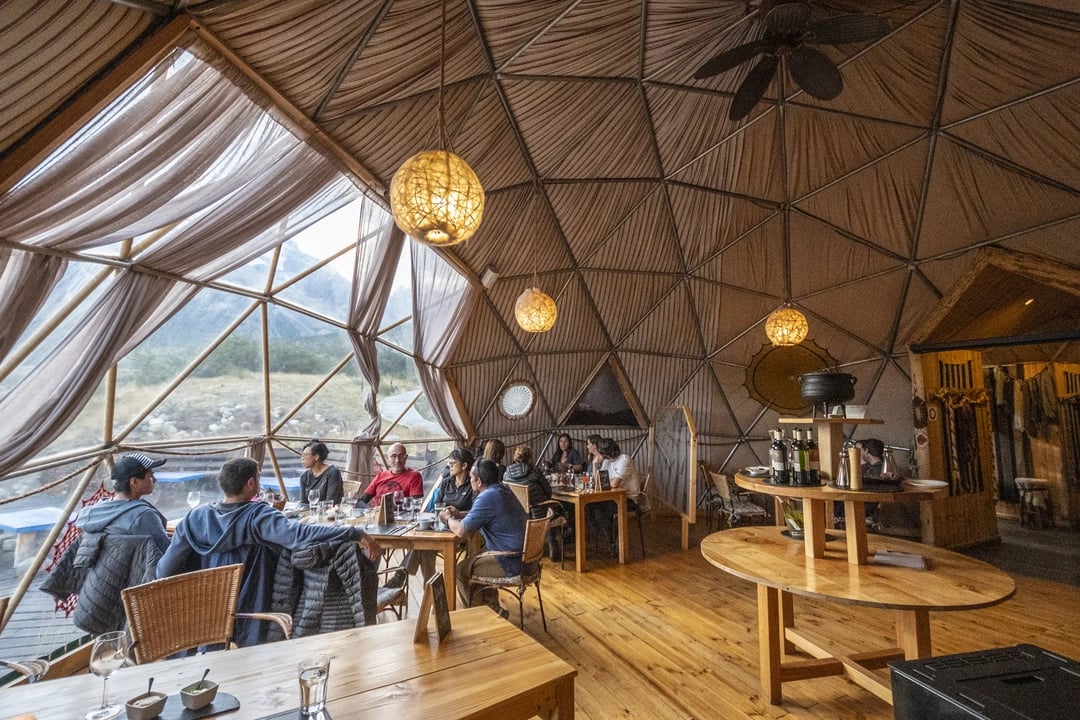 There is definitely a worldwide trend that shows more and more people are changing their habits towards sustainable eating, especially since the COVID-19 pandemic (check out this interesting publication by Forbes).
At EcoCamp, we know sustainable food is not only good for the planet and the people; it is also incredibly tasty.
The Tips of EcoCamp to Provide Sustainable Food
EcoCamp applied a few rules to make the food more sustainable. These are tips you can apply at home, and that will considerably change the way you see food.
Grow your own food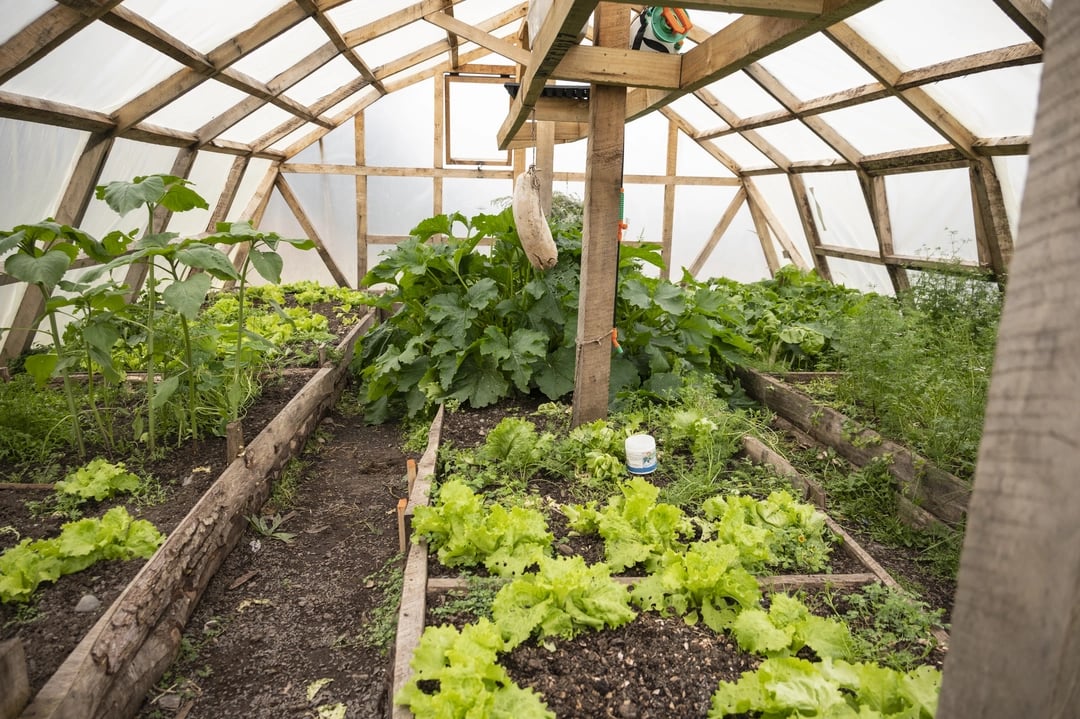 By growing your own food you'll make sure to cut the need to transport food over long distances. You'll therefore release less greenhouse emissions into the atmosphere and make sure your fruits and vegetables are grown in an organic way. It doesn't even require a lot of space.
We at EcoCamp took advantage of the pandemic to build a small greenhouse that provides vegetables and spices for both travelers and team members. Here you'll find lettuce, coriander, radish, tomatoes and other vegetables you'll have for dinner.
The left-overs are used to produce compost that is used to grow food, so it's a cycle!
Eat a great variety of food
If you focus on just a few types of dishes, you may limit the nutrients you'll get from the food. Our best recommendation is to diversify the type of foods you eat, and we applied that motto at EcoCamp. For instance, you'll find a great variety of proteins, such as fish, seafood, local meat, oats and lentils.
When it comes to special diets, we listen to everyone. Here, you'll find delicious food for all, including gluten-free, vegetarians and vegans.
Eat more plant-based foods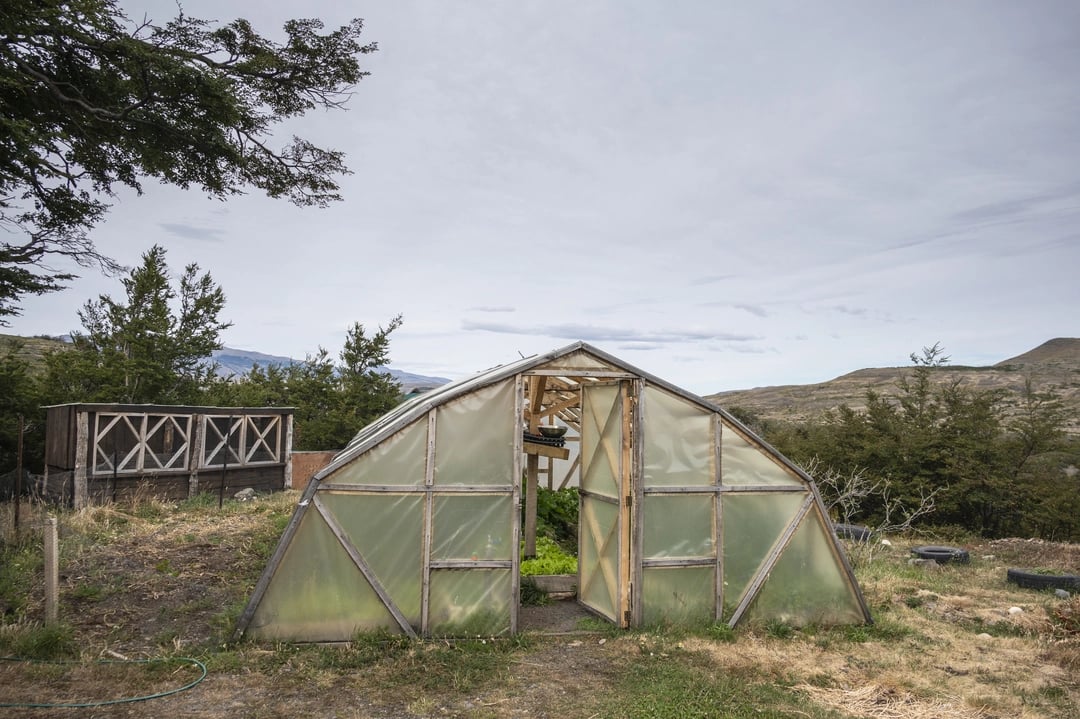 It is proven by science that plant-based foods are healthier than animal-based options. And while we understand that meat lovers may want to taste the delicious Patagonian beef or lamb, every daily menu includes at least one vegetarian option. So in the daily 3-course dinner, you'll be able to include a vegetarian starter, main course and dessert, all of them incredibly delicious!
Avoid generating waste
Food packaging waste is a global issue. It is estimated that about a third of the waste you'll find in dumbs is food-related. It includes bottles, grocery bags, wrappers and any kind of food packaging (plenty of plastics!). At EcoCamp, we want to tackle that issue and aim to become a zero-waste hotel. The greenhouse surely helps us reduce the amount of waste that is produced by buying these products from the outside.
But apart from that, there is huge work to reduce the amount of waste we produce. EcoCamp avoids buying products from the supermarket, instead the hotel buys fruits and vegetables from local producers that promote loose sails. No packaging, the product only!
And in the case there is packaging, our team members separate the waste for further recycling. The food left-overs are used to create compost at EcoCamp and whatever cannot be used for compost (cooked food) is sent to a local farm in Puerto Natales to feed the pigs. Everything comes with a purpose. Isn't it cool?
Support the locals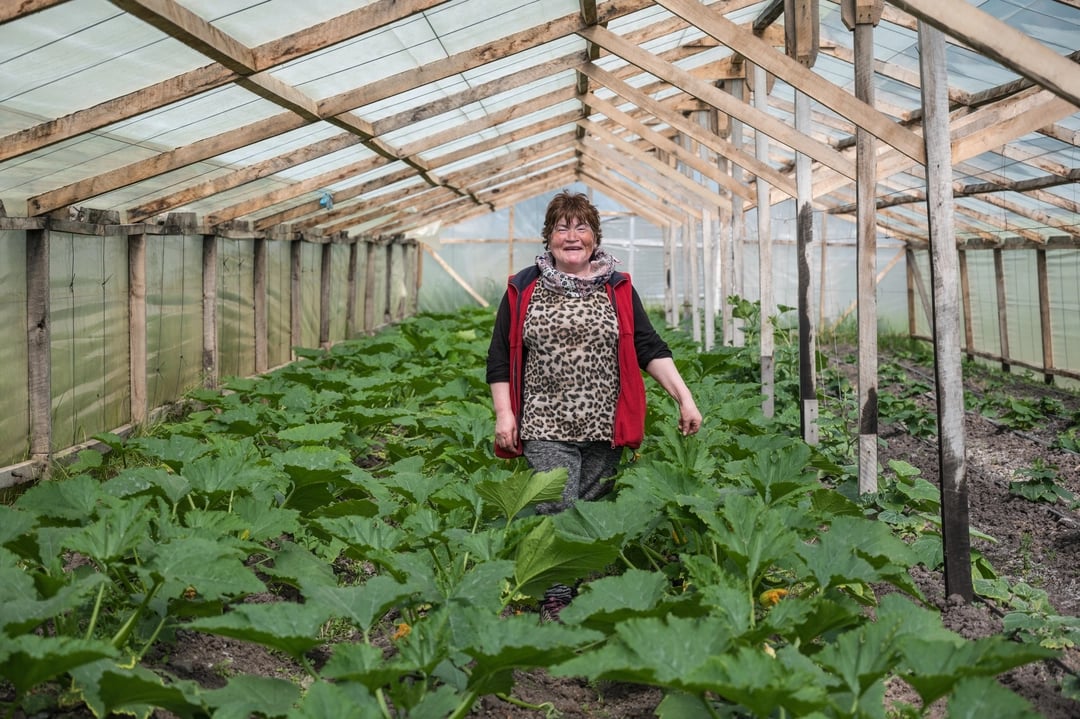 Supporting the local community is a great way to support family-businesses while buying quality products. Most products you'll find at EcoCamp were bought in Chile's Magallanes region. When it comes to food, we are proud to support families in Puerto Natales that provide us with some incredible organic fruits and vegetables. Whatever doesn't come from our greenhouse is grown in a small farm in Puerto Natales, that we've been supporting for quite a few years!
We also make sure to buy good local meat; for instance the lamb you may have for dinner is a special cut (frenched shops) that comes from a free animal.
The EcoCamp gastronomy
Chef Alejandro Ponce Michea started working at EcoCamp in 2021, after years working as a chef in some of the best restaurants of Torres del Paine National Park. Alejandro knows what passion means. He was born in Viña del Mar and quickly got into cooking thanks to his grandmother. As she used to cook for the guests, Alejandro would help her by buying the products. This was the beginning of his special relationship with Chilean flavors and ingredients you find in his delicious meals today.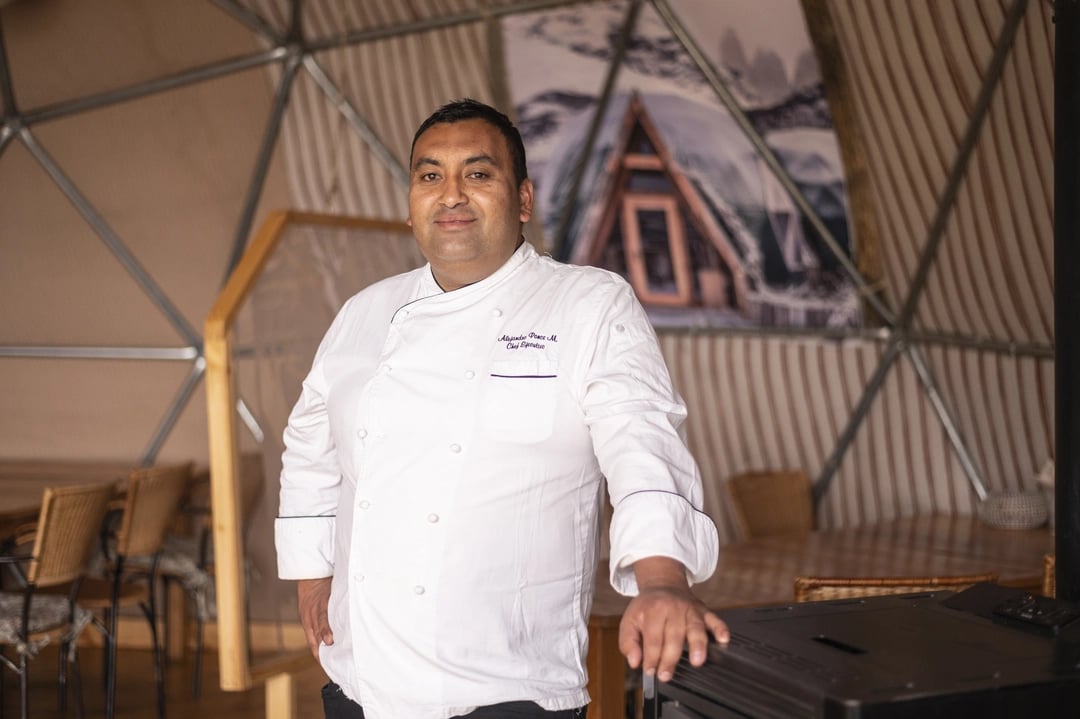 His cooking is a tribute to the diversity of Chilean cuisine, with a special taste for the south. There is definitely an influence of the great island of Chiloé and Patagonia, with products such as local potatoes and the southern hake. But his signature cuisine goes far beyond Chilean cuisine.
Some of his dishes revisit Chile's gastronomy with an artistic touch, which is as unique to the eyes as it is in the mouth. Thanks to his kitchen team of 11, travelers can get the best surprise after a day hiking in Patagonia's finest national park. This is an overview of some of his best dishes.
Austral hake with cochayuyo jam, michuñe potatoes and yellow peppers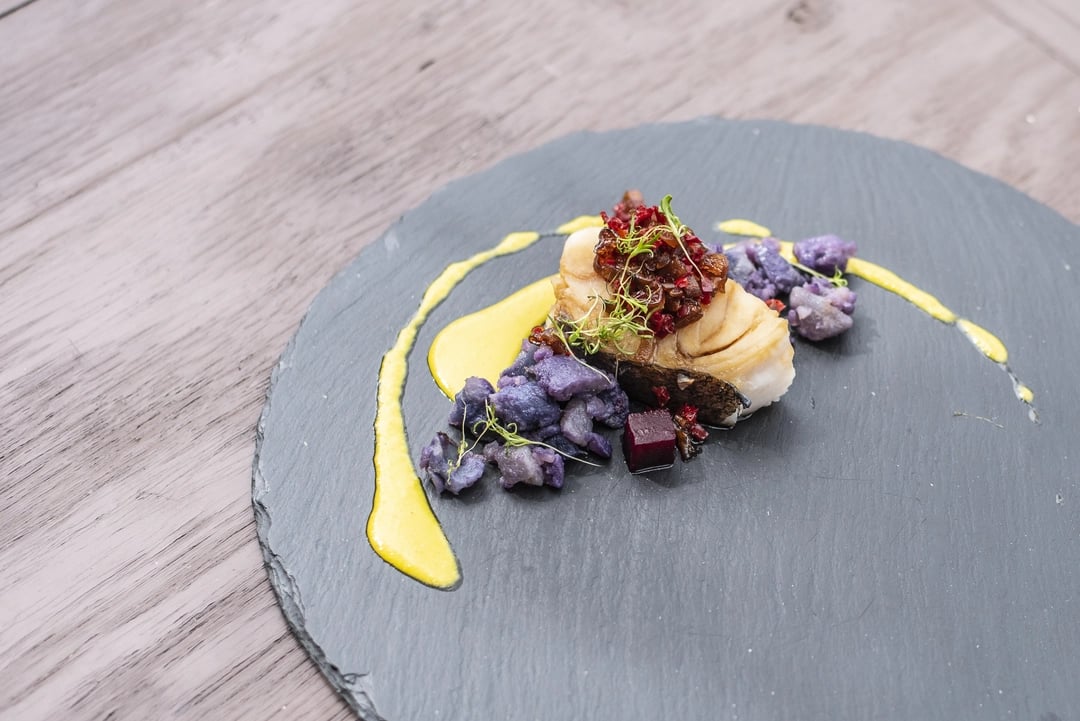 One of the most delicious fishes you'll find in Patagonia, mixed with native potatoes and the cochayuyo, a seaweed that can only be found in the coastline of Chile and Peru.
Vegan brownie, beetroot, orange sugarloaf sorbet and chocolate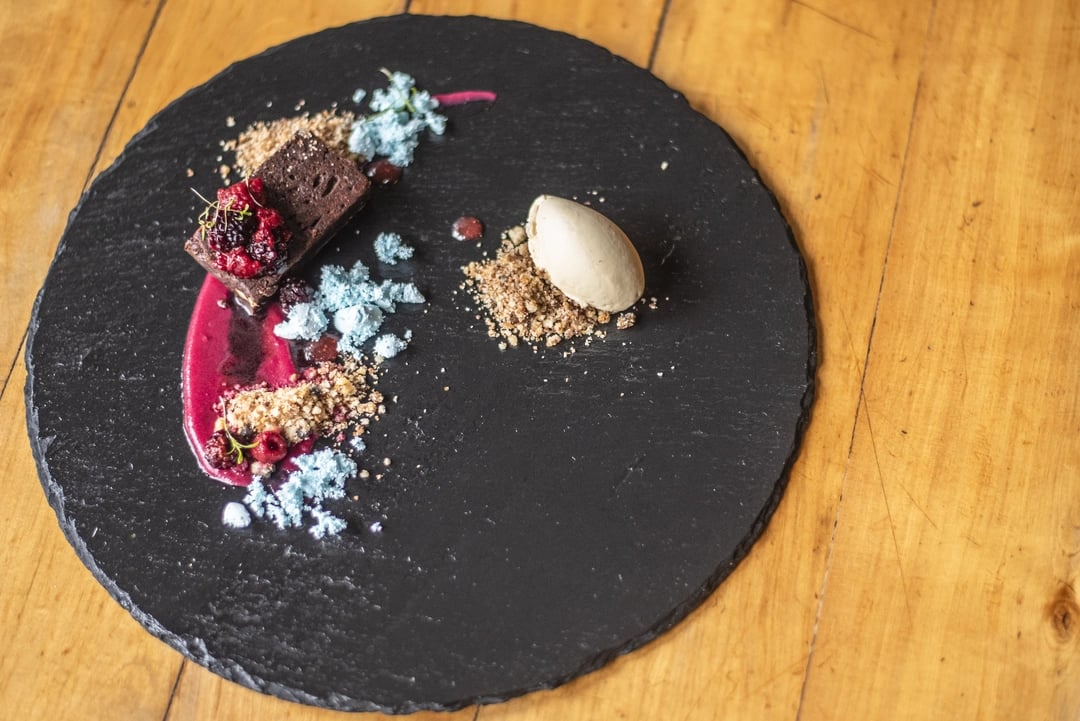 The proof a vegan brownie can be incredibly yummy, especially when it's mixed with such a surprising sorbet that tastes like the best Chilean pastry. As simple as that.
Lamb chop and peppermint served with crispy chickpeas and mushrooms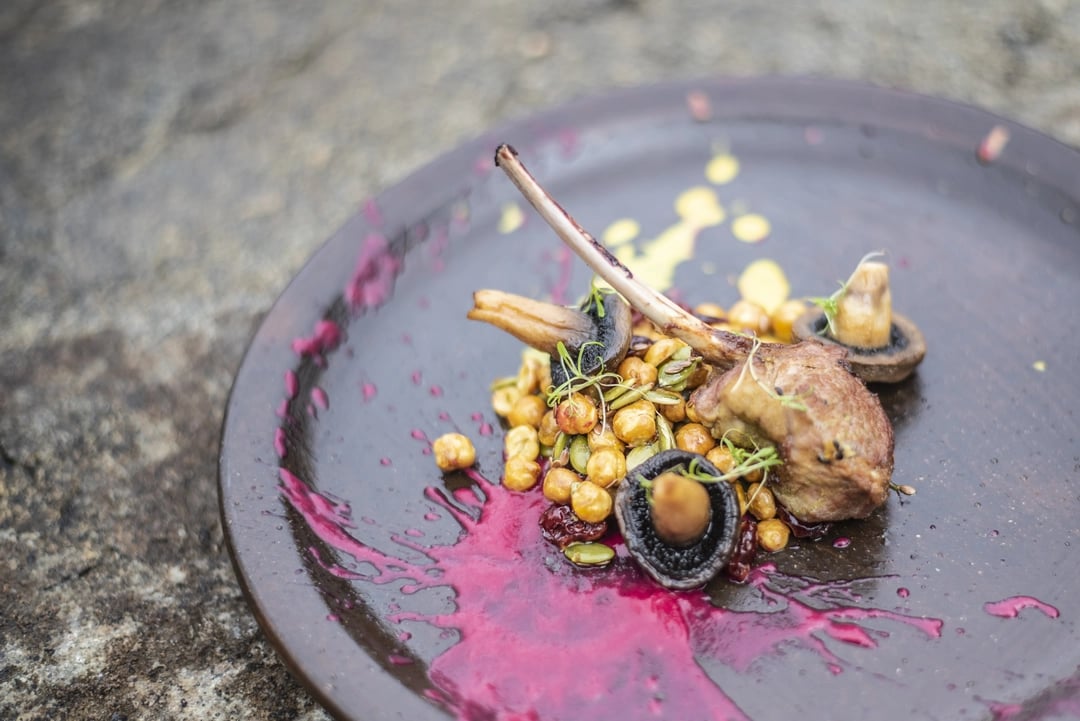 For some reason, Patagonian lamb acquired an international reputation. It is not only yummy, it is also healthier than most of the lamb you'll find in other regions. The lamb here has a very low fat content as compared to other lamb, due to the diet of natural grass and the large extensions of land. This preparation takes lamb to a "whole nother level", with the most delicious cut ever (lamb chop). Bon appétit!
Tasting of Chilean sweets, roasted peanut mousse and berries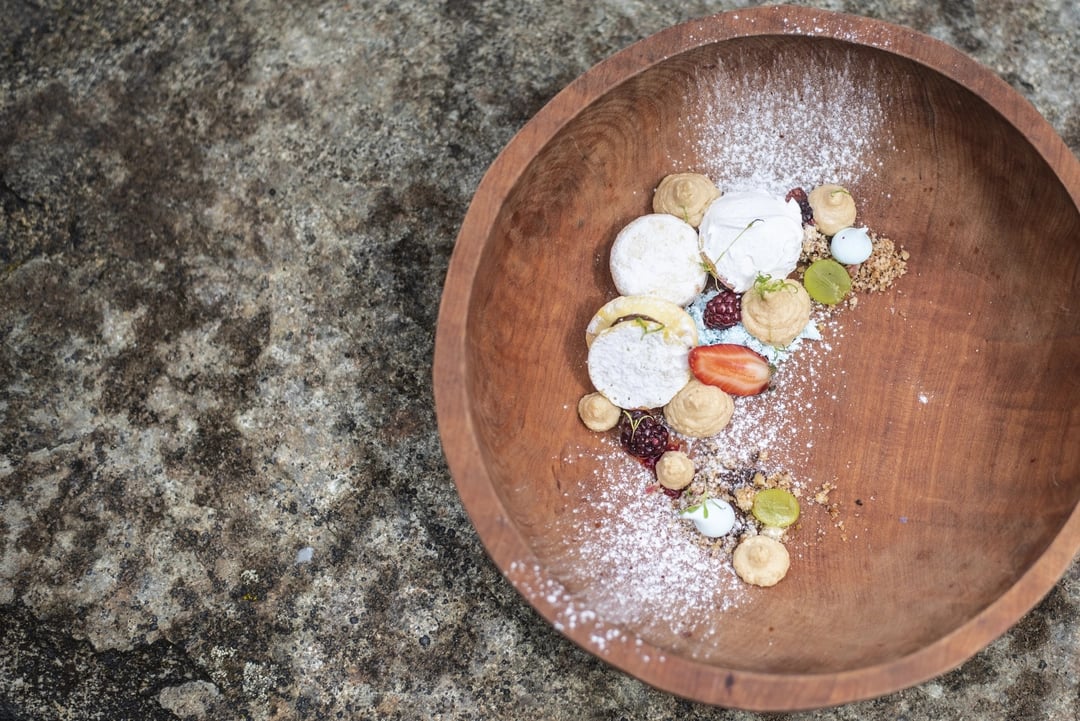 We won't spoil you on this one. This dessert mixes some of the most classical Chilean sweets with local berries. If you're a dessert lover, this will be heaven.
Crispy southern hake with coriander mousse, native potatoes and beetroot confit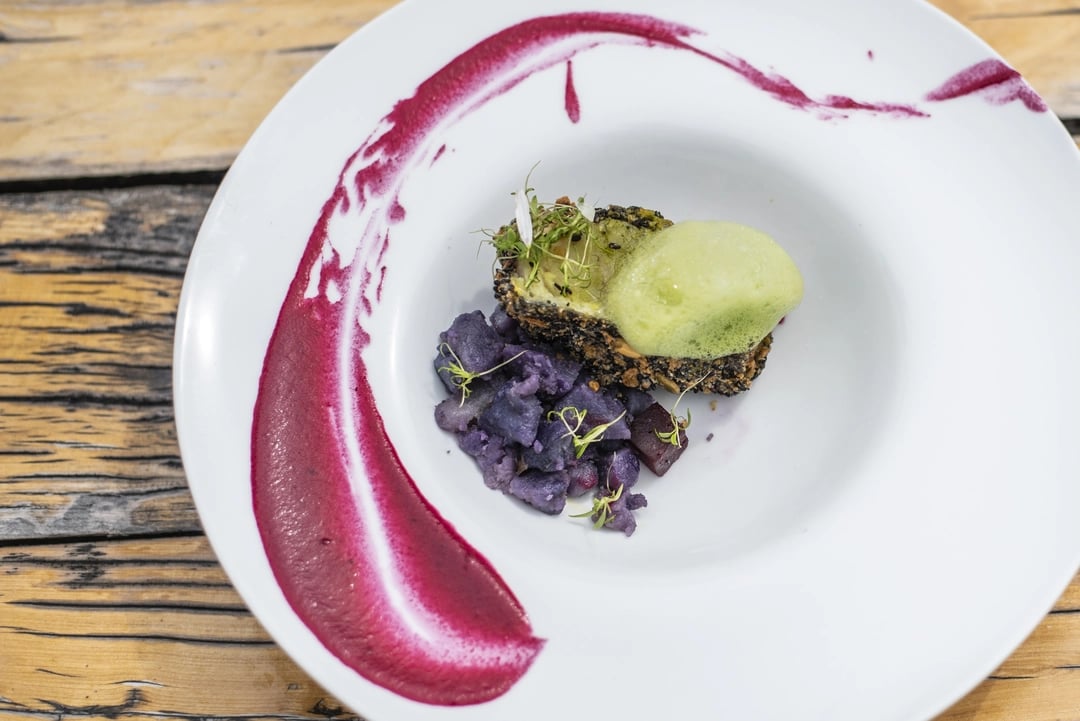 Patagonia's delicious fish was revisited with a surprising coriander mousse and "michuñe" potatoes, a unique species that comes from Chiloe island.
Textures of tomatoes, goat cheese mousse, crispy lamb ham and basil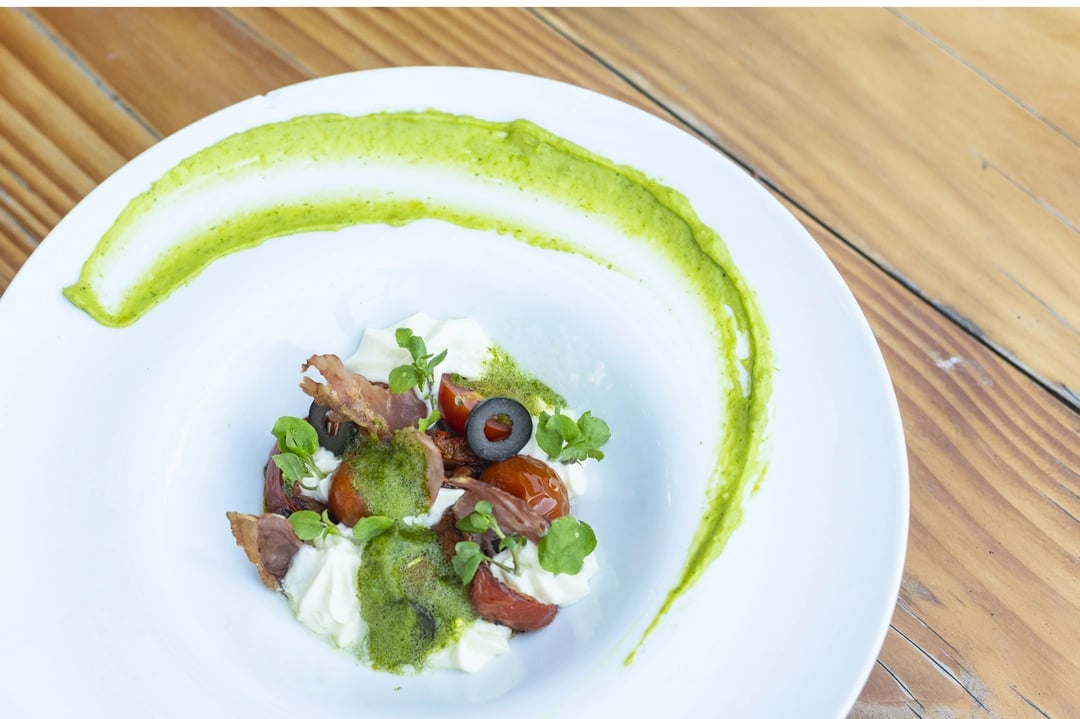 Tomato lover? The tribute you were looking for!
Inspired by sustainable food? Get more inspiration and take a look at our programs (like the Wildlife Safari or the legendary W Trek or Paine Circuit) to make your Patagonia dream come true!