Hey you! You want to stay in the world's first geodesic hotel - EcoCamp Patagonia - but aren't sure which dome fits your style? No worries, we are here to help you. All the EcoCamp domes are cool and comfortable. They are located in a spectacular place, Torres del Paine, Chile's finest national park! At EcoCamp, you'll find 33 domes to accommodate travelers. In fact, there are more domes, as all the team members sleep in domes and you'll find some surprising domes around, such as the Welcome dome, the Community Domes and the Yoga dome.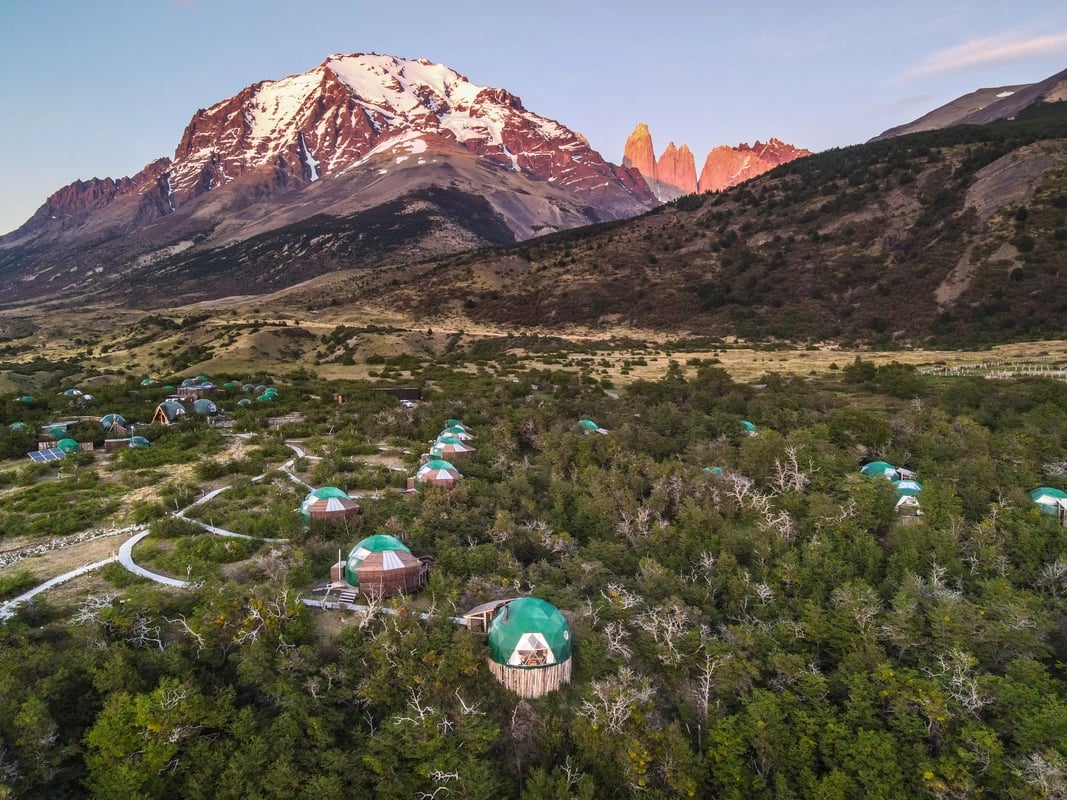 Let's focus on accommodation. The domes are divided into 3 categories : Standard, Superior and Suite. Out of the 33 domes, 30 have a capacity for 2 persons, whereas 3 Suite domes can accommodate up to 4 personas (see "Suite Dome Loft" below. Want to learn more? This is what the domes at EcoCamp Patagonia look like.
Suite dome
Size : 28m2 / 300 ft2
Capacity : 2 persons
Amount : 13
You'll love if… : You look for the most comfort, enjoy more space and fancy something romantic
Suite domes are the largest domes at EcoCamp and offer a spacious private bathroom, with a composting toilet and a nice shower. There is gas heating in the bathroom and wood-fire heating near the bed, which travelers love as something beautifully rustic (or romantic, depending on the experience you're having!). The large window captures plenty of light during the day and is a good way to stay connected with the landscape. Like in all domes, smaller windows allow a better regulation of the indoor temperature. Also, there are plugs to charge your phone and camera, and a hot-water bottle with tea and coffee if you fancy a hot drink before going to bed.
Definitely the coziest dome for travelers in the heart of Torres del Paine National Park!
Suite Dome Loft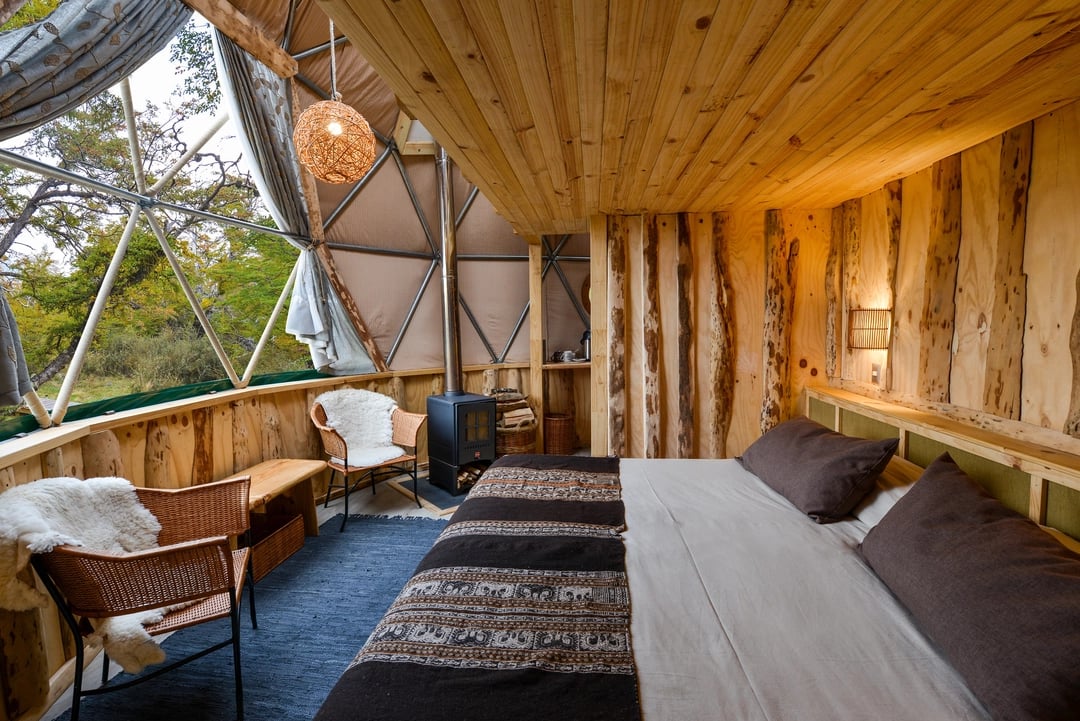 Size : 37 m2 / 398 ft2
Capacity : 4 persons
Amount : 3
You'll love if… : You look for the most comfort, travel with family or friends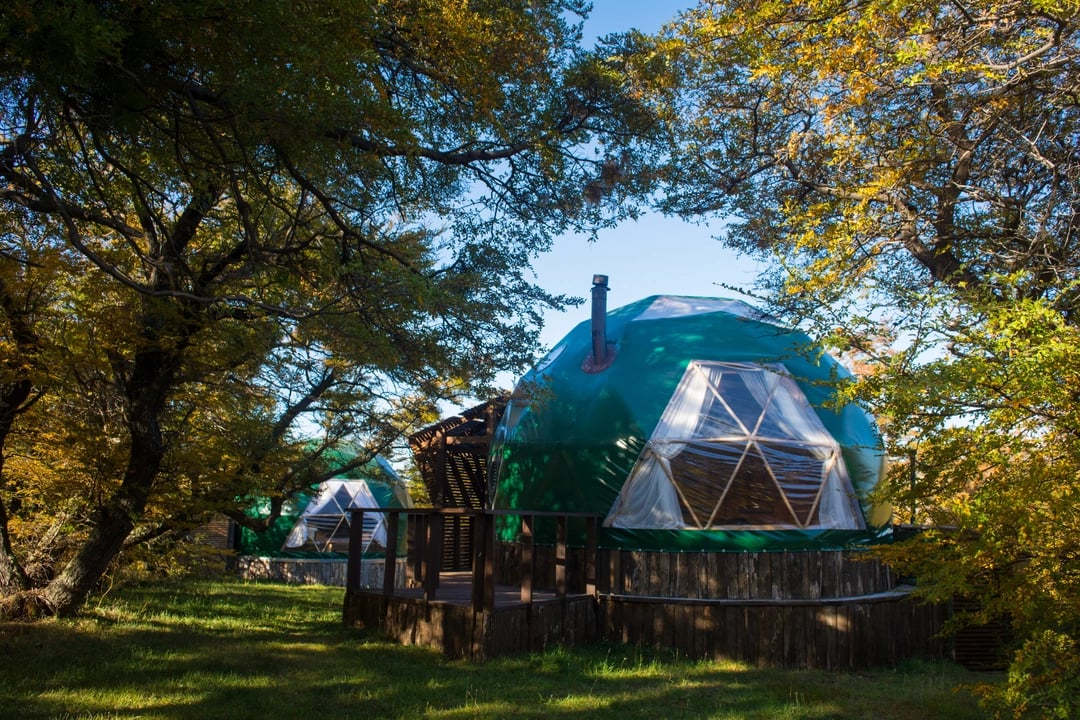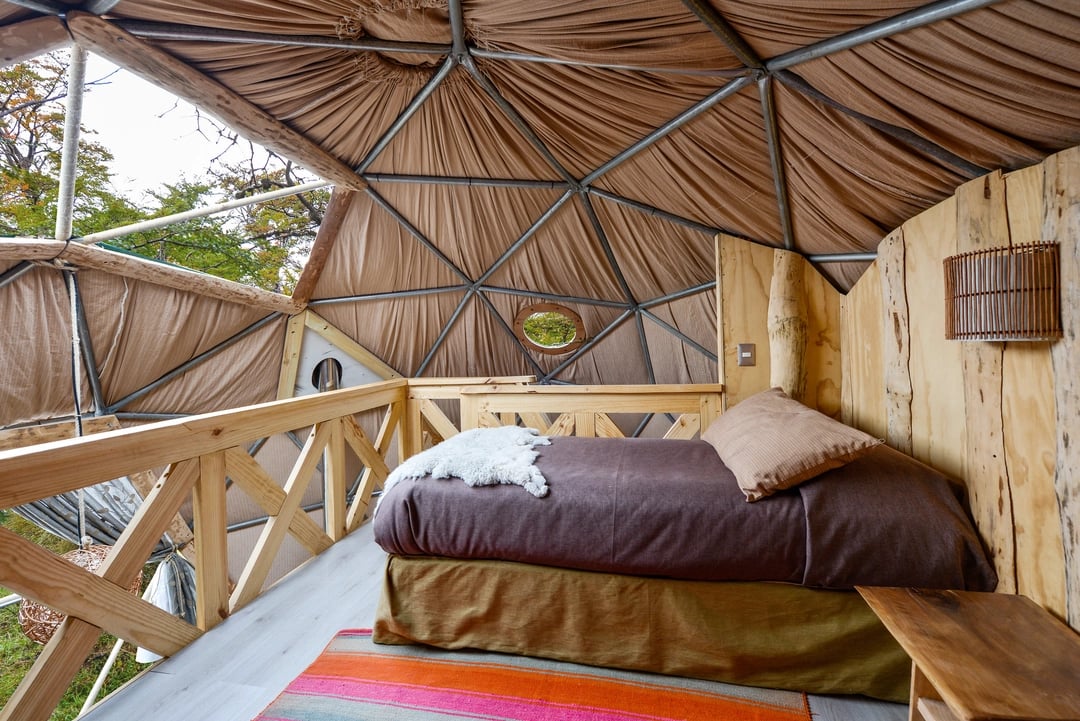 Just like the regular Suite Domes, the Suite Dome Loft has a private bathroom with gas heating, wood-fire heating, electricity and a large window. The second floor with two additional beds marks the difference - the Suite Dome Loft is 32% larger than the regular one. This dome is the best option for groups of friends or families, and children tend to love the second floor (domes are indeed a cool playground)! There is an additional large window on the second floor to capture the most light, and a private terrace to chill out and observe the local birds.
Superior Dome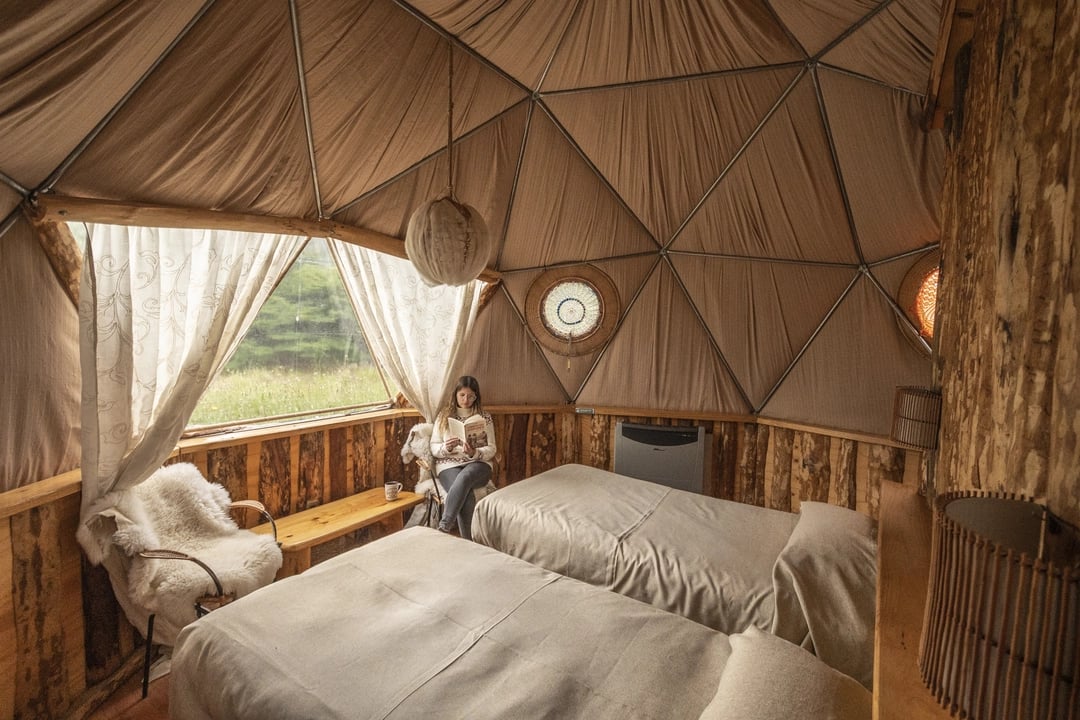 Size : 23m2 / 250 ft2
Capacity : 2 persons
Amount : 4
You'll love if… : You look for space and comfort, want a more affordable option than the Suite Dome
Superior Domes are equipped with private bathrooms and propane gas heating. They are a great option for travelers looking for more space than a Standard dome, and more simplicity than a Suite dome. The private bathroom is less spacious than the Suite dome, but you'll find a fair amount of comfort in the Superior dome, with electricity, a cozy bed and a hot-water bottle for tea or coffee after a day exploring the park. Finally, there is also a wide window to watch the stars at night.
Standard Dome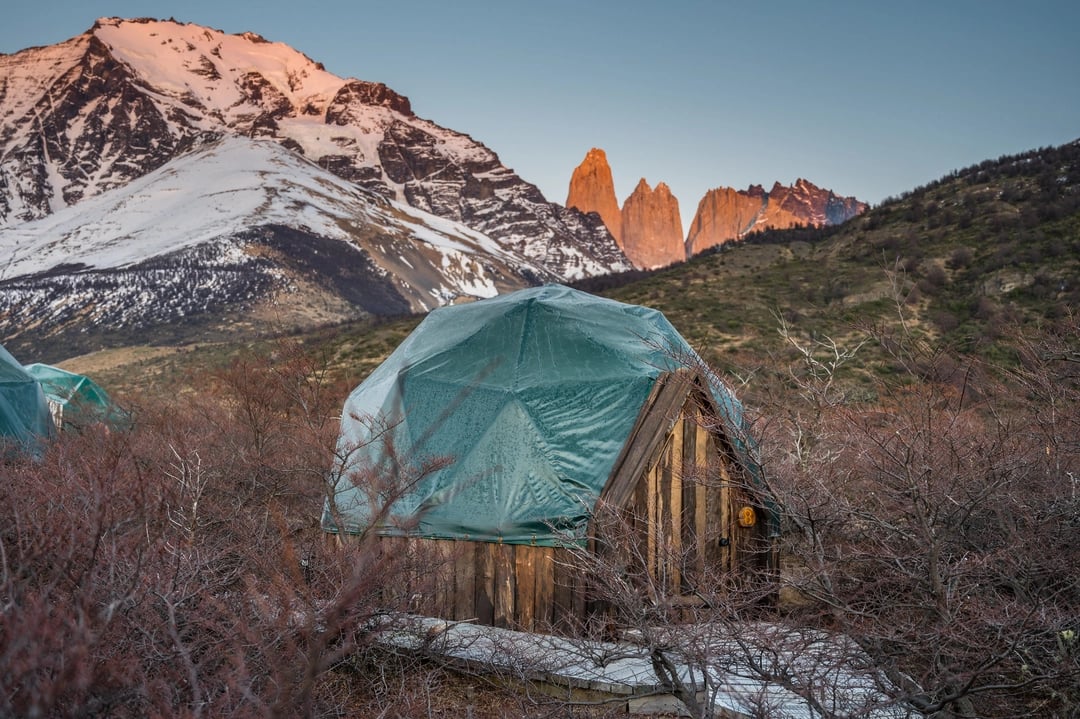 Size : 10m2 / 108 ft2
Capacity : 2 persons
Amount : 13
You'll love if… : You look for simplicity and a spirit of adventure, love to camp with comfort, want the most affordable option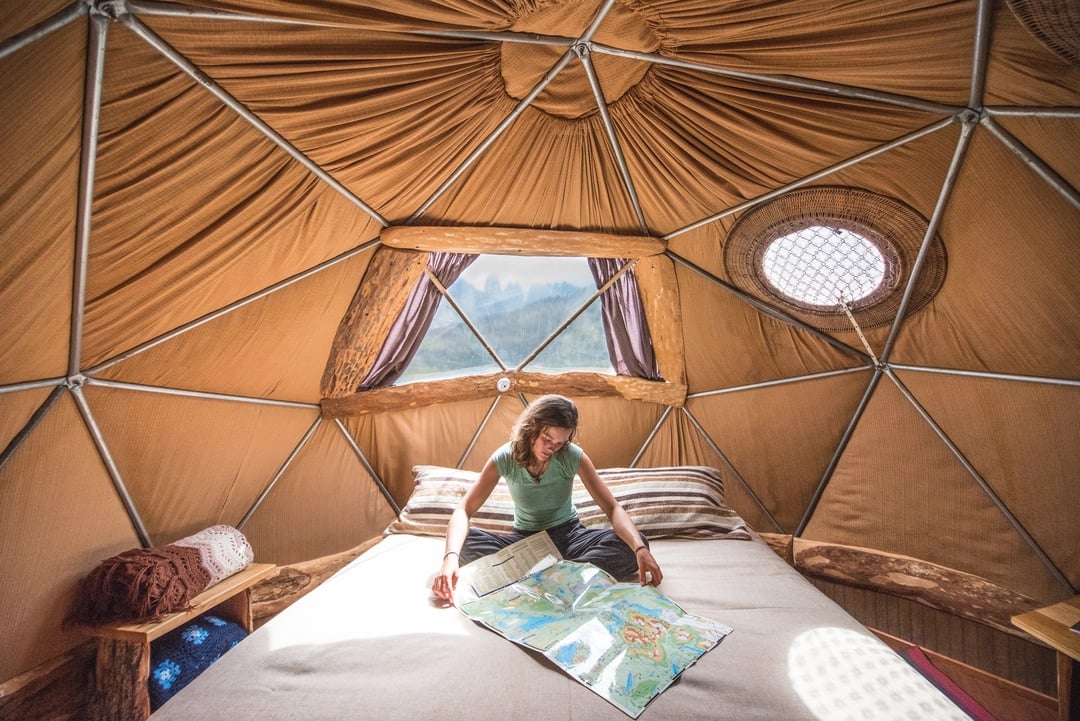 Standard Domes were the first domes ever built at EcoCamp, back in 2001. They are the roots of the hotel, and mix the simplicity of a tent with the coziness of a hotel. There is no heating or electricity, but you will find a large heated shared bathroom, with hot showers and composting toilets. If you need to charge your phone or camera, no worries! There are plugs available in the community domes and at the front desk (Welcome dome). Standard domes are larger than a regular tent, they have a warm bed (twin or queen size, you choose) and have LED lights if you need to see at night. Finally, the window in front of the bed is a great way to watch the stars at night from your bed.
The other domes
At EcoCamp, not everything is about accommodation. Staying here is an experience that will stay with you forever, and it has to do with the connection both with nature and fellow travelers. In that sense, the community domes are the best place to connect. These four interconnected domes feature a large bar dome, with some epic mixology and a true spirit of community. Here, you'll meet your guide for the daily briefing and make new friends after dinner.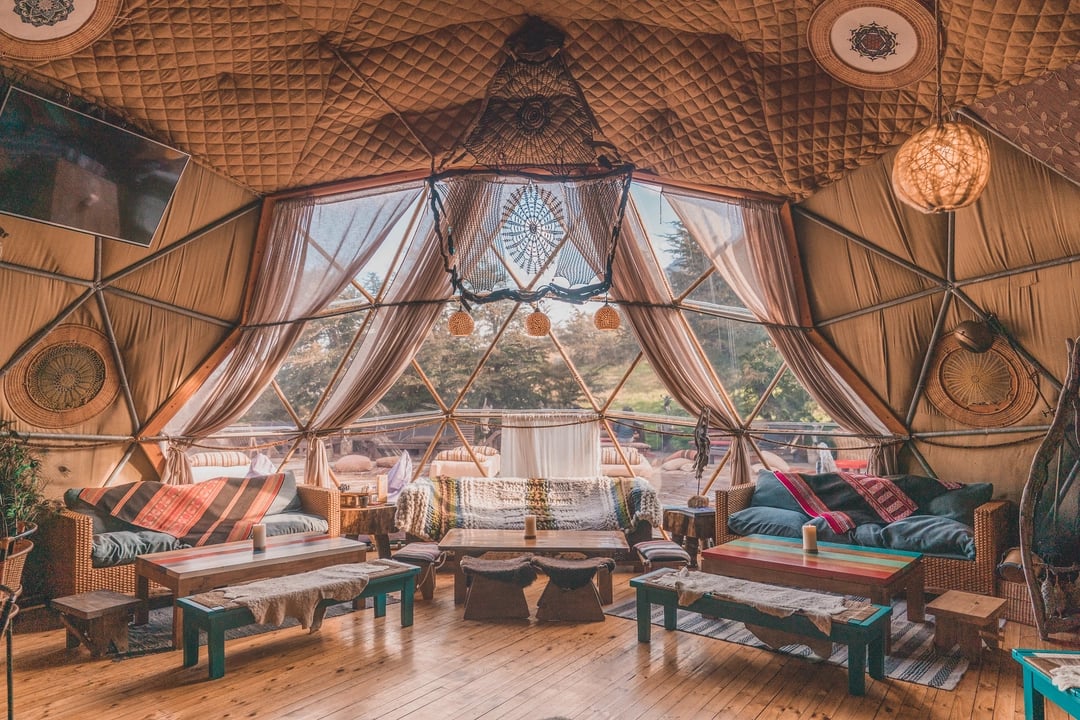 The community domes also feature two large restaurants, where you'll enjoy the daily breakfast and dinner. In the morning, travelers prepare their lunchbox for the day in the park. A smaller living dome is there for people seeking quietness, with a small library featuring books about Patagonia.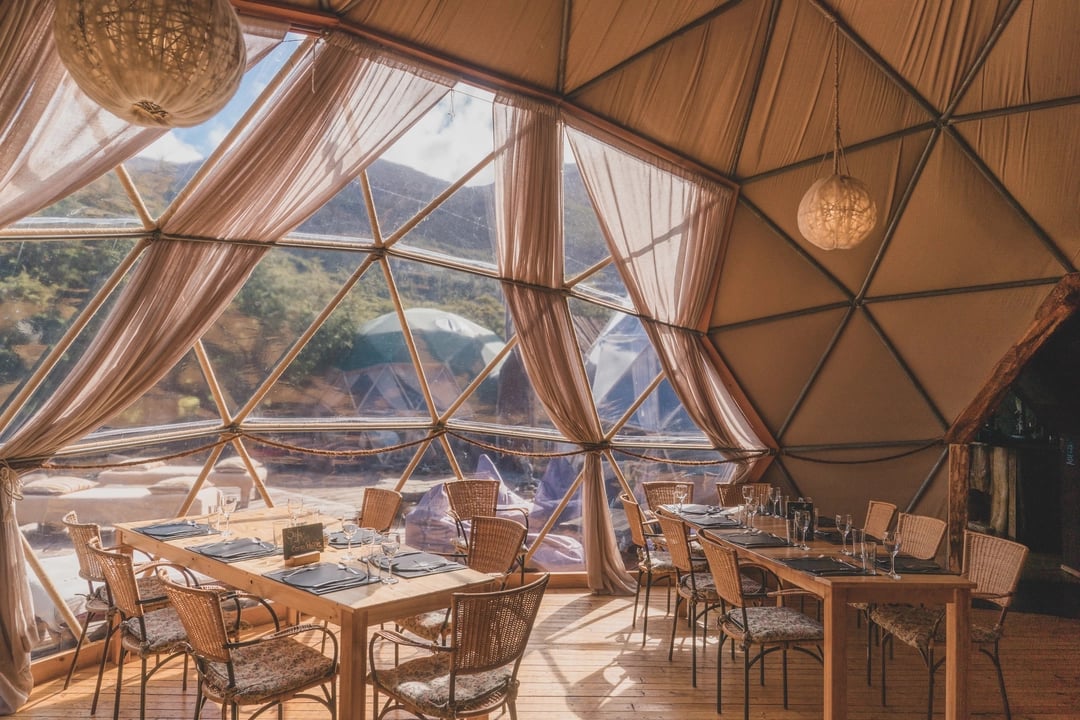 The first dome you'll see while reaching EcoCamp is the Welcome Dome, basically the front desk of the hotel. It is connected to a beautiful gift shop dome that features local handicrafts and mountain clothing.
Finally, the Yoga Dome is a (very) large dome that is perfect for yoga sessions. The dome is heated and has a wide window to watch the sun rise while stretching or meditating. Daily yoga classes are offered in the early morning and after travelers come back from their daily excursion in the park.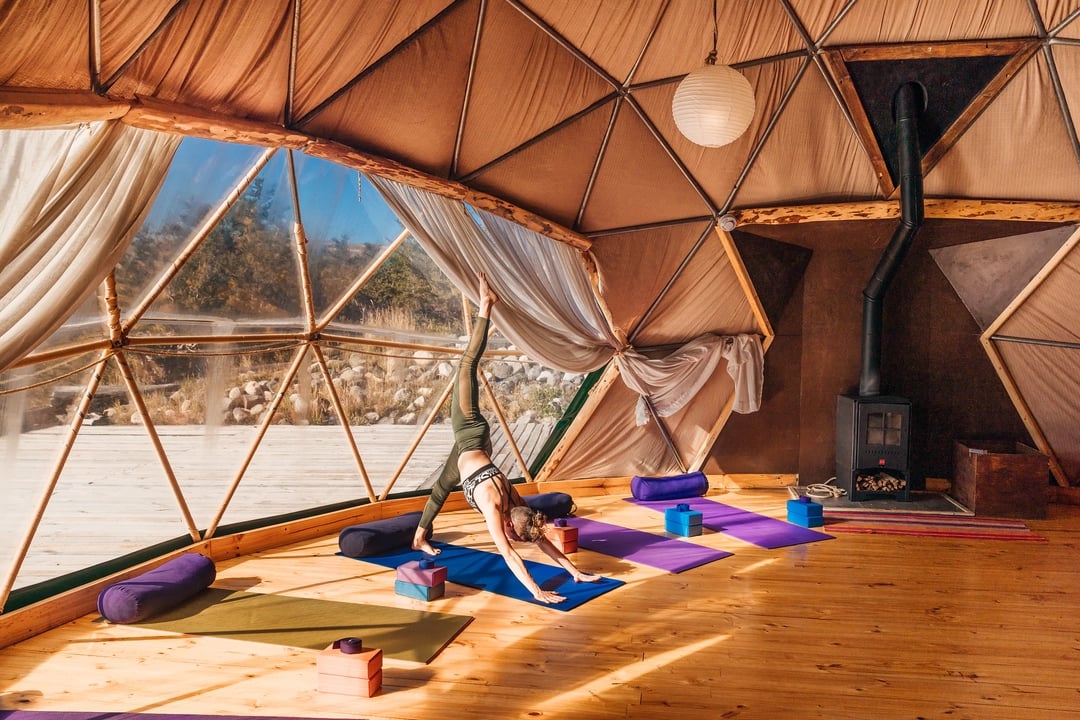 The only structure that is actually not a dome here is the Man Keokén Massage room, a beautiful piece of architecture located next to the Yoga dome. Book your well-deserved massage in the Welcome Dome!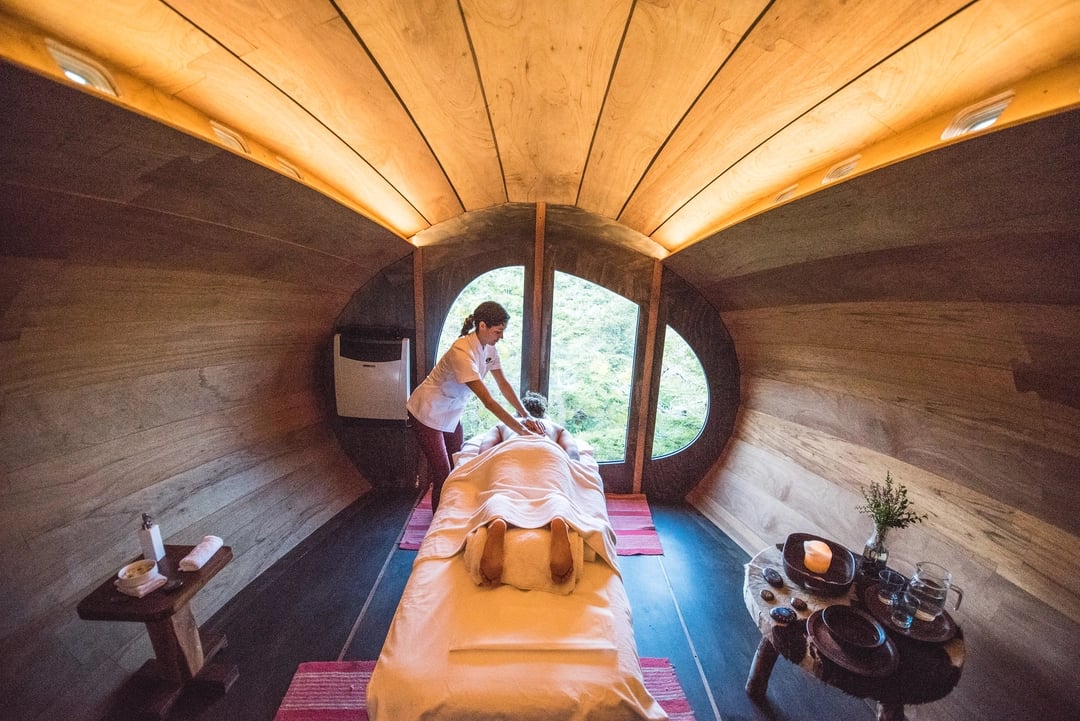 If you're looking for more information about our domes, explore EcoCamp in pictures.
There are many ways to enjoy the domes at EcoCamp. Most travelers choose a multi-day program such as the Wildlife Safari, the W Trek or the Torres del Paine Circuit (among others). If you're interested in traveling with us, check out our programs in Torres del Paine National Park!