Calling all foodies! Prepare your taste buds for some good eats at EcoCamp Patagonia, our geodesic dome hotel in Torres del Paine National Park. This tasty food combines flavor with sustainability! With locally grown produce and ingredients, EcoCamp's culinary team creates creative meals that show off the flavors of Chile. Keep reading to learn what's on the EcoCamp Patagonia restaurant menu for you!

So, What's the Food Like?
EcoCamp's culinary team works to provide options for all types of travelers and eaters. That means it is the perfect spot for vegetarians, vegans, those who are dairy or gluten-free and those with any allergies or specific dietary preferences. There are also meat options available!
Meals are new and experimental. The team offers a new creation every day for travelers, so they never repeat a meal during their trip.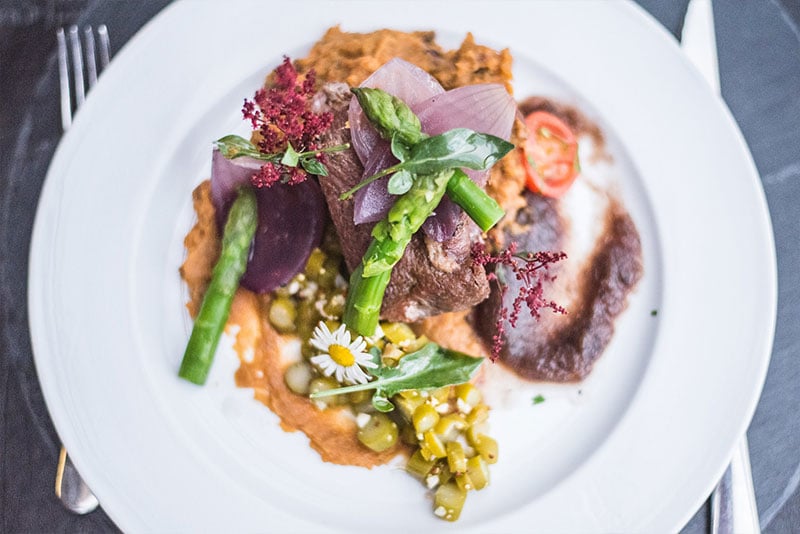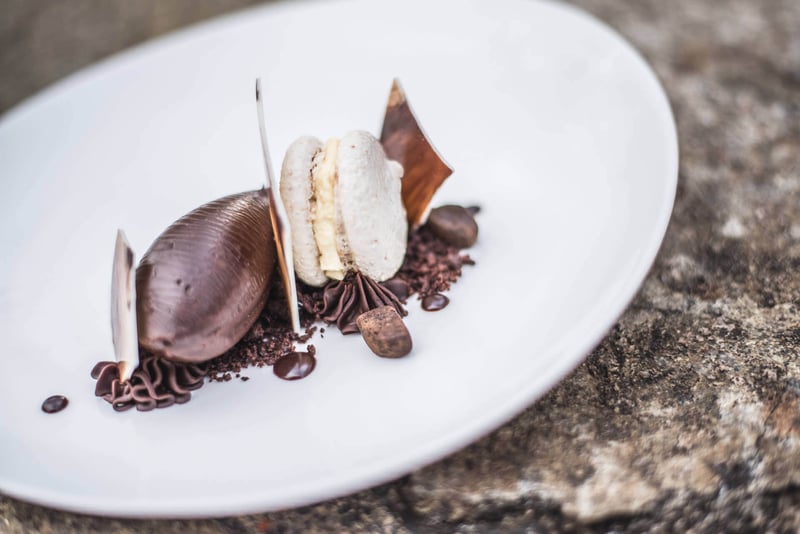 This is how your meals go…
Breakfast? Expect a colorful array of juice, muffins, granola, yogurt, fruit, eggs and more! EcoCamp lays out an all-you-can-eat breakfast buffet each morning. It's important to get fuel and energy for the day as most guests spend all day exploring Torres del Paine.
Lunch? As EcoCamp excursions are normally several hours long, travelers bring a box lunch to eat outside in the park. After breakfast, travelers head to the lunch preparation station to make their own creation. We offer sandwiches and salads, accompanied by healthy fruit or trail snacks.
Cocktail? At the end of an active excursion, EcoCamp welcomes back its guests with a daily cocktail and snacks. The cocktail changes daily and is created by our professional mixologists. Juice or water is also available for kids or those who don't want a cocktail.
Dinner? This is the best meal at EcoCamp! Dinner is three-courses, consisting of an appetizer, a main course and a sweet dessert. There are always different options to pick from and guests are never disappointed. Each meal is rich, vibrant and full of flavor!
Who Makes the Food?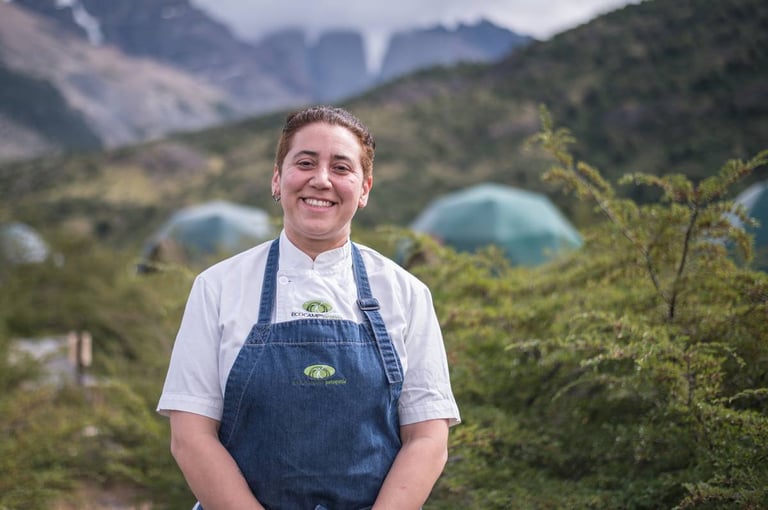 Here at EcoCamp, the culinary team consists of roughly 28 passionate staff members. This includes chefs, waiters, bartenders, dishwashers and our Executive Chef Macarena Vega (picture above). Each team member brings something special to the team and according to Macarena, together they work as a very disciplined group. The team tries new recipes, tests flavors, draws pictures of what the dish should look like and absolutely perfects each meal.
Additionally, Macarena is inspired by her background in Chile. Many of her ideas come from his life in the Chilean countryside.
What Makes It Sustainable?
Besides its heavenly flavors, guests love EcoCamp's food because it is sustainable. How is this possible? Well, for starters, EcoCamp buys local ingredients whenever possible! This short distance from the farm to your plate means a lower carbon footprint. Not to mention, the food is fresher and the local economy flourishes. "Fresher is always better," said Fourcade, who also sees the value in buying local produce and ingredients.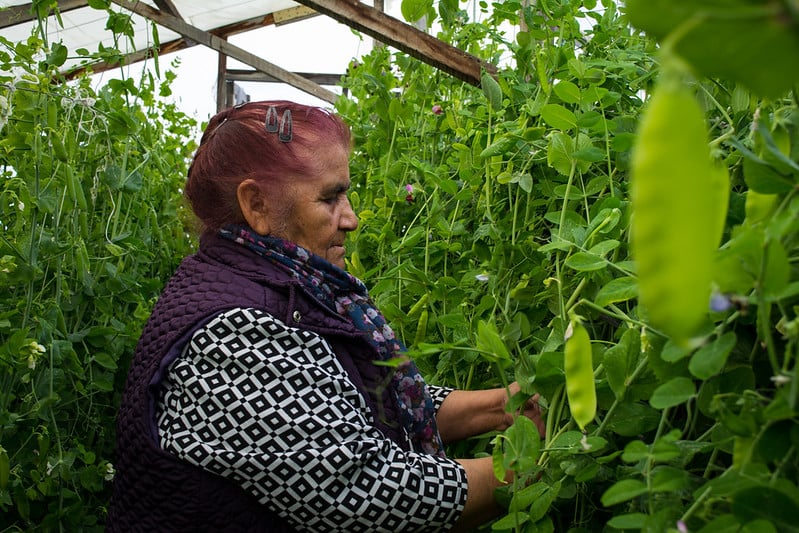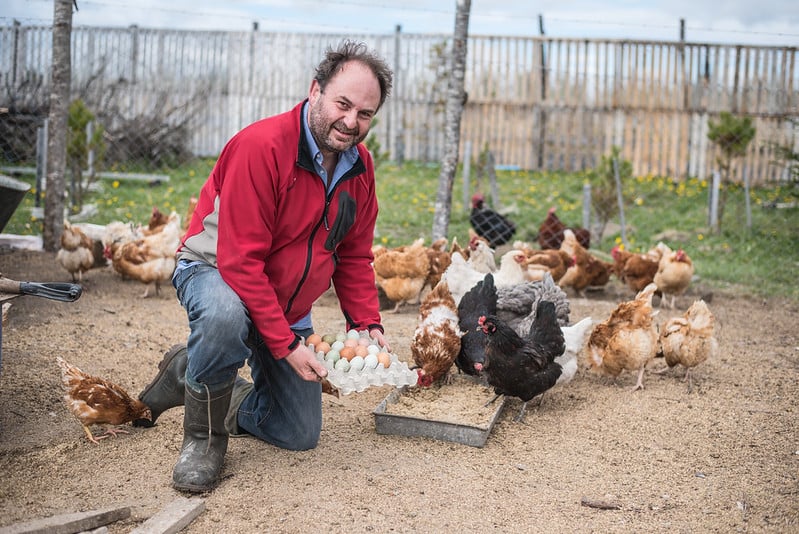 At EcoCamp, we work with a variety of local farmers to pick the juiciest fruits and richest veggies. We also purchase free-range eggs and our coffee is roasted locally. Lunches are packed in our reusable lunch boxes and guests select their dinner at the beginning of the day (that means no food is wasted!).
Tasty, sustainable food is what dining EcoCamp is all about! Don't believe us? Come visit us and see for yourself.
Did you like our blog post "What's the Food Like at EcoCamp Patagonia?" There's more where that came from! Stay tuned for all of our upcoming blog posts and newsletters. Sign up for our email list now so you never miss a beat.