When it was built in 2001, EcoCamp Patagonia was the world's first geodesic hotel. What does that mean? Well, before that year no other hotel in the world were using geodesic domes as accommodation. But nowadays domes are almost everywhere. Many hotels decided to install domes, and thousands of people live in domes. There is a great reason to explain that : geodesic domes are simply incredible.
And beautiful, too.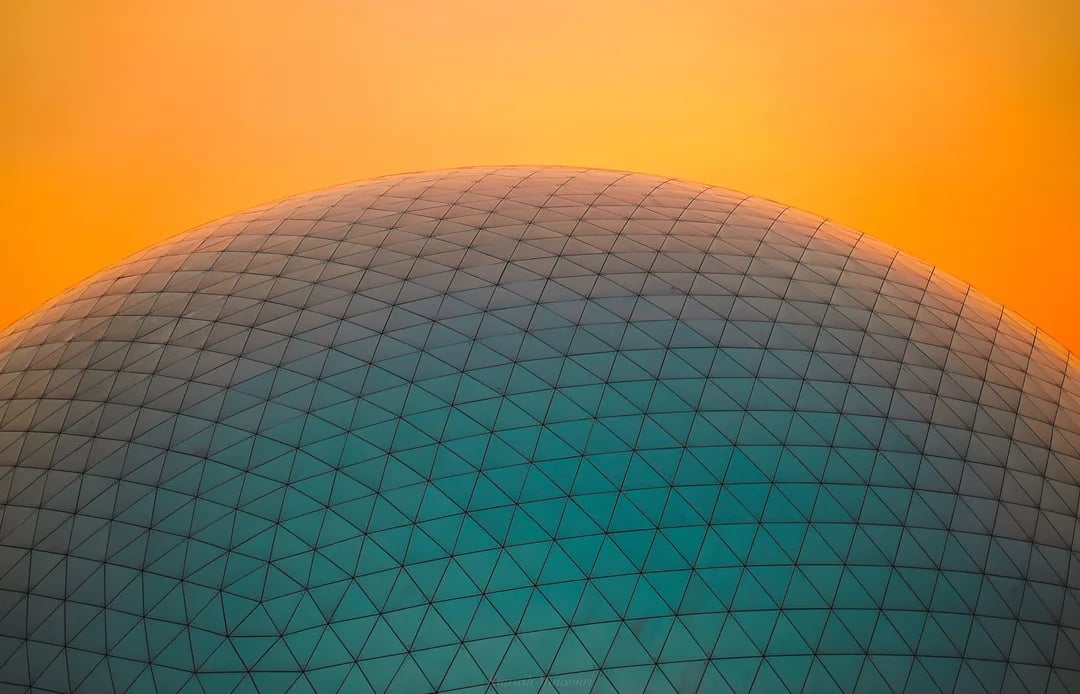 Domes are an important part of Human history. From the Late Stone Age (between 50,000 nad 39,000 years ago), the dome-shaped tomb was used as a replication of the god-given shelter, made permanent as a venerated home of the dead. Think about the stupas of India and the tholos tomb of Greece! Domes were also associated with the Heavens of Ancient Persia and the Hellenistic Roman-world, as the circle represents eternity and perfection.
You've got it: domes involve plenty of mysticism.
There are many more reasons that explain why they are awesome structures! Here is a short list that describes why we love geodesic domes.
1. Geodesic domes are full of energy
You'll notice it straight away if you sleep or meditate in a dome: their energy is powerful.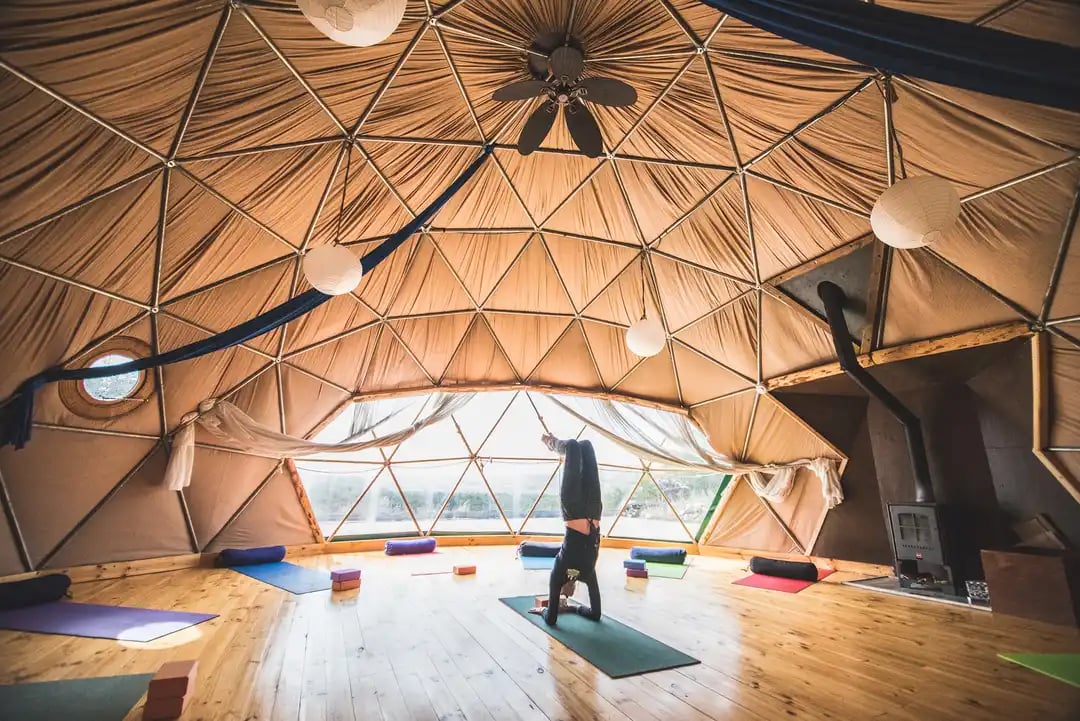 Domes can reflect sounds and create fantastic echoes as they are concave from below. In the 15th century, the chants of the clergy were projected in the Byzantine churches thanks to the half-domes. Nowadays, some of the best concert halls on the planet are dome-shaped (check out the Royal Albert Hall in London).
And it's not only about music. Having a dome in Patagonia is the best way to connect with nature. At EcoCamp, you will listen to the wind, the rain and the birds from your bed. It feels like the dome is talking to you, and it's incredibly soothing!
This is why there is a Yoga Dome at EcoCamp, so you can "Namaste" while enjoying this incredible energy.
2. Geodesic domes are very efficient
Domes are in fact the most efficient structure known to men. The spherical shape of the dome allows air and energy to circulate without obstruction, which is particularly great in Patagonia (with winds of up to 250km/h). Domes are aerodynamic structures, so they can withstand earthquakes and hurricanes without a problem (there is even a study about it)!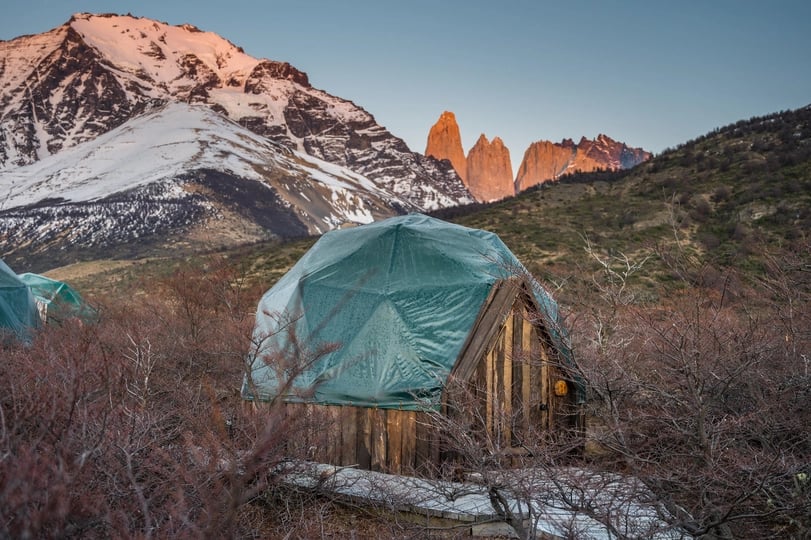 The distribution of weight across the dome is the most efficient you can think of. Stress is equally distributed along the entire structure!
Finally, domes cover the most living area with the least surface area, which means you won't need to occupy too much space, even if you aim to build a large dome. Actually, the larger the dome, the more efficient it is. If you double the diameter, you will enclose eight times the volume!
3. Geodesic domes help saving energy
The high volume-to-surface ratio allows domes to occupy 30% less surface area than traditional buildings. If you do the maths, you'll realize it takes at least 30% less energy to heat or cool them. Continuous airflow is guaranteed inside the dome (there are no stagnant corners), so less energy is required for air circulation and to maintain even temperature.
This is how cool the spherical structure is!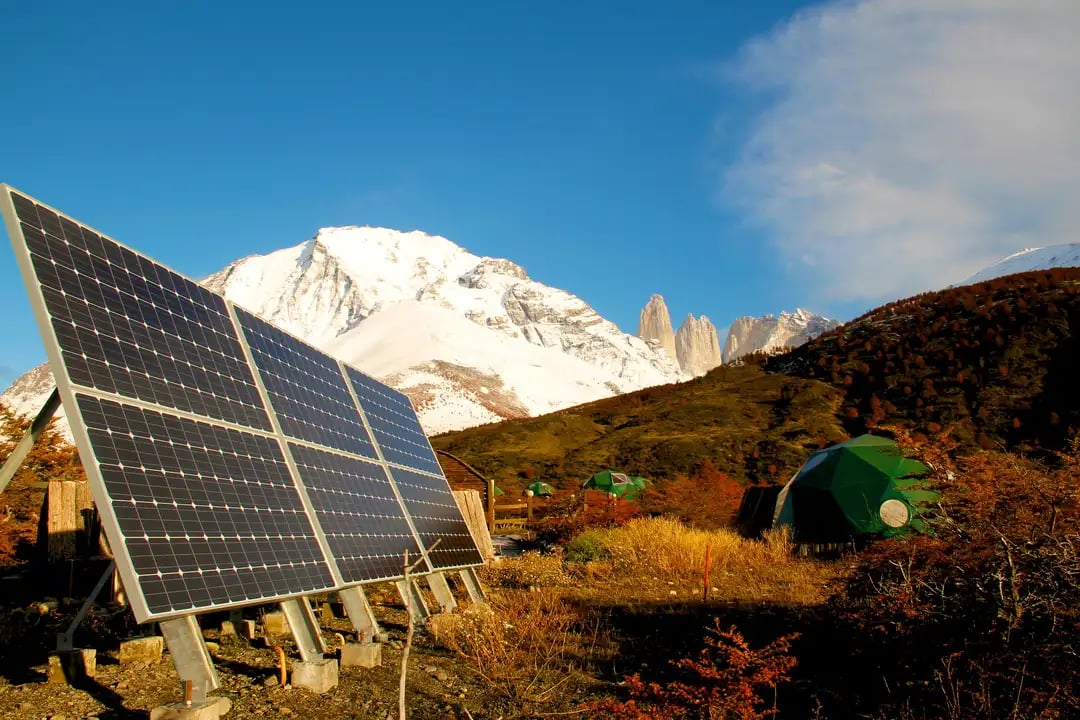 Also, depending on the material the dome is made of, domes are easy to heat on a sunny day, and you can easily ventilate them with appropriate windows or a simple fan at the top. This is what we do at EcoCamp, where we use "Fisiterm" (a layer of polyester fibers) for insulation.
Geodesic domes are also great to optimize natural light. At EcoCamp, we have large windows to capture the sunlight, so we can turn off the light during the day!
4. Domes require less materials than conventional structures
...And yet outperform them in structural tests! While building a dome, you won't probably even need to use concrete, and you can get creative when it comes to choosing a dome cover (wood, PCV, woodchips, etc.).
Geodesic domes are also quick to assemble - way quicker than traditional buildings - and it usually takes just a few people to erect a dome. At EcoCamp, some staff members are trained to erect a dome in just a couple of days!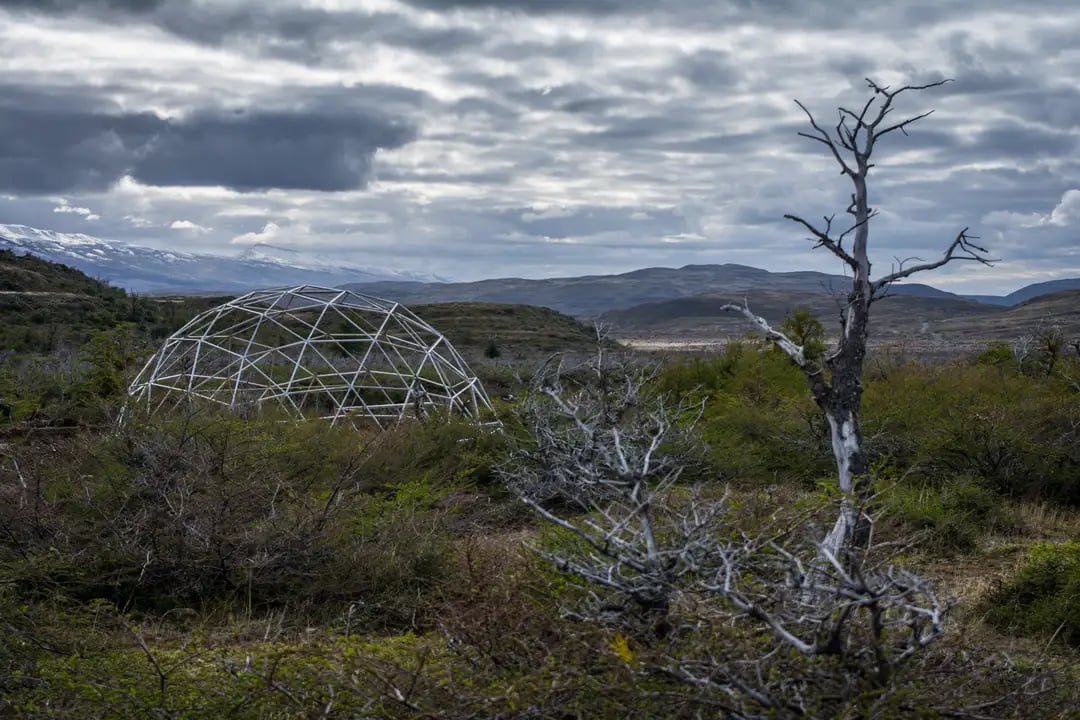 Needless to say, you won't need internal columns or interior load-bearing walls to build a dome : the geodesic dome supports itself!
At EcoCamp, domes were built on wooden platforms and are connected with wooden walkways to avoid soil erosion. No concrete was used to build them! And it's not just a matter of using less materials, it is also a matter of reducing the impact on the environment.
5. Geodesic domes are flexible (so you can get creative!)
Hotel room, yoga dome, restaurant, bar dome...you can do pretty much anything with a dome!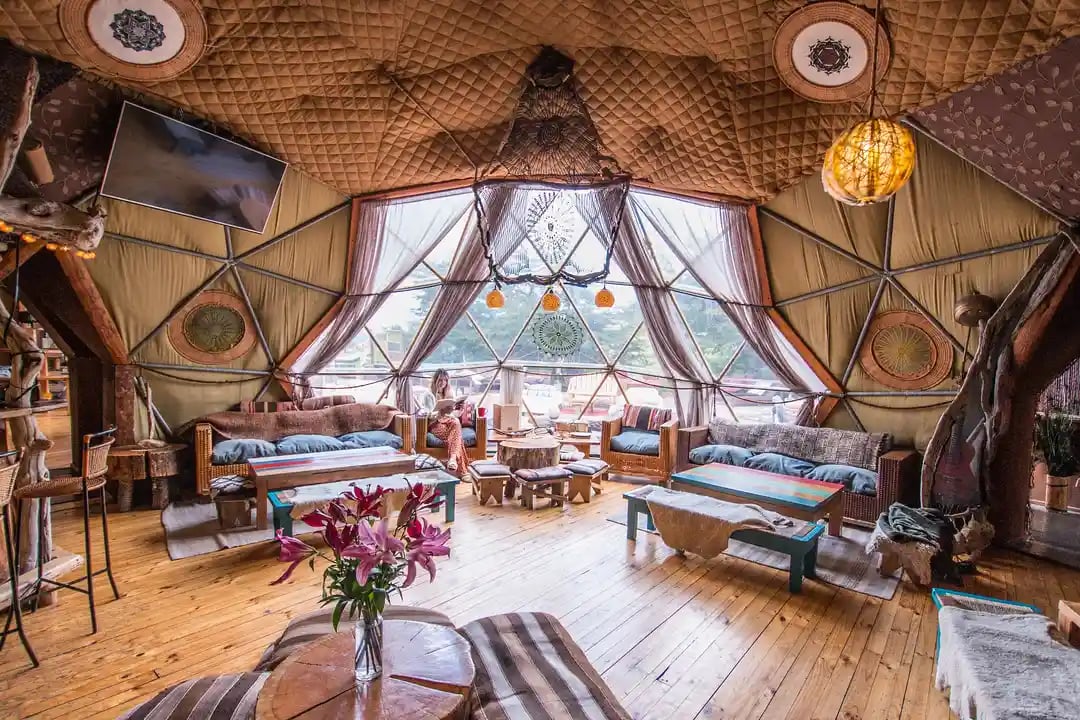 About 50% of the triangles in the domes' lowest row can be removed without weakening the global structure, so you can play with the amount of doors and windows. Extensions can be built to connect the domes and/or create beautiful entrances.
You will find domes of all sizes. At EcoCamp, the smallest domes - Standard Domes - are 10m2 (108ft2), while some domes are 4 times as big (37m2/398ft2 for the Suite Loft Dome).
By walking through EcoCamp, you will see some interesting designs. In the Community Domes - 4 interconnected domes that are the social hub of the hotel - you will find a living dome, two restaurants and a beautiful bar dome. There is a "Welcome dome", without a doubt the most peculiar front desk you will find in Torres del Paine National Park. There is also a Gift Shop Dome, a Yoga Dome and three different types of domes that are used as accommodation.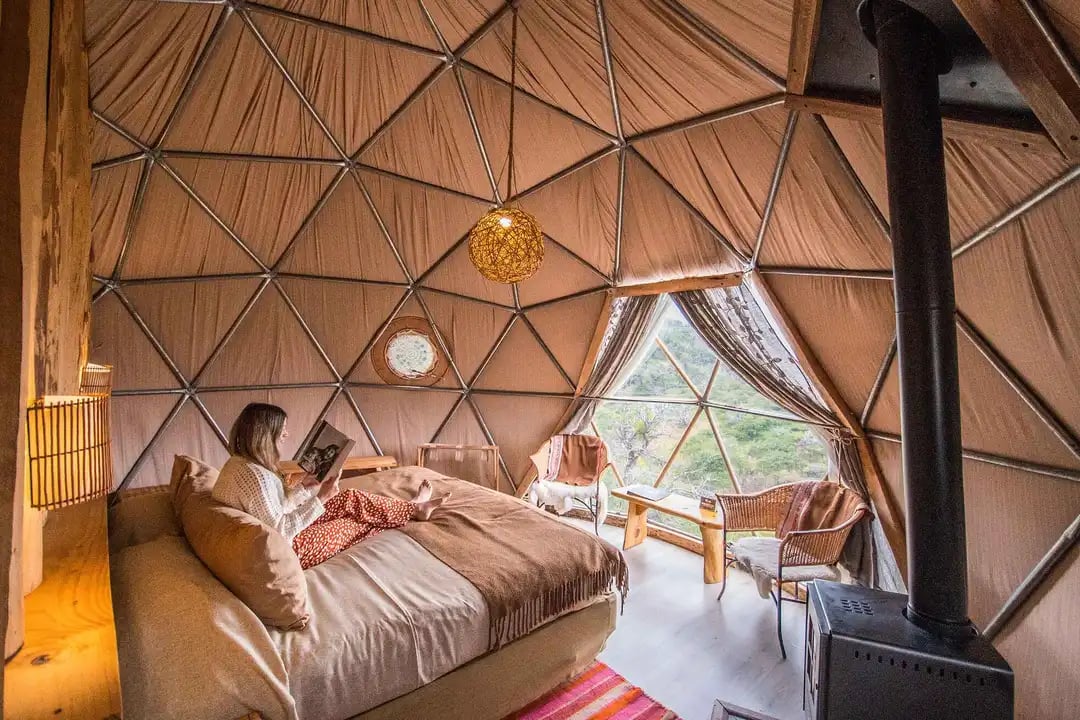 Picture above : Suite Dome from inside
You can choose between the Standard Dome (a simple but beautiful small dome with no electricity), the Superior Dome (an intermediate dome with private bathroom and propane gas heating), the Suite Dome (a spacious, amazing, comfortable dome with private bathroom and pellet heating) and the Suite Dome Loft (a 2-floor cosy dome that's the best fit for families).
What's your choice?
Bonus: Geodesic domes have a fascinating history
The history of geodesic domes is worth writing a book. The rigid triangular elements of the dome define this hemispherical thin-shell structure that was designed after World War I by Walter Bauersfeld, a German engineer. At that time, Walter was working as Chief engineer of the Carl Zeiss optical company. He wanted to house a planetarium projector in a new kind of planetarium: this is when the first geodesic dome was patented.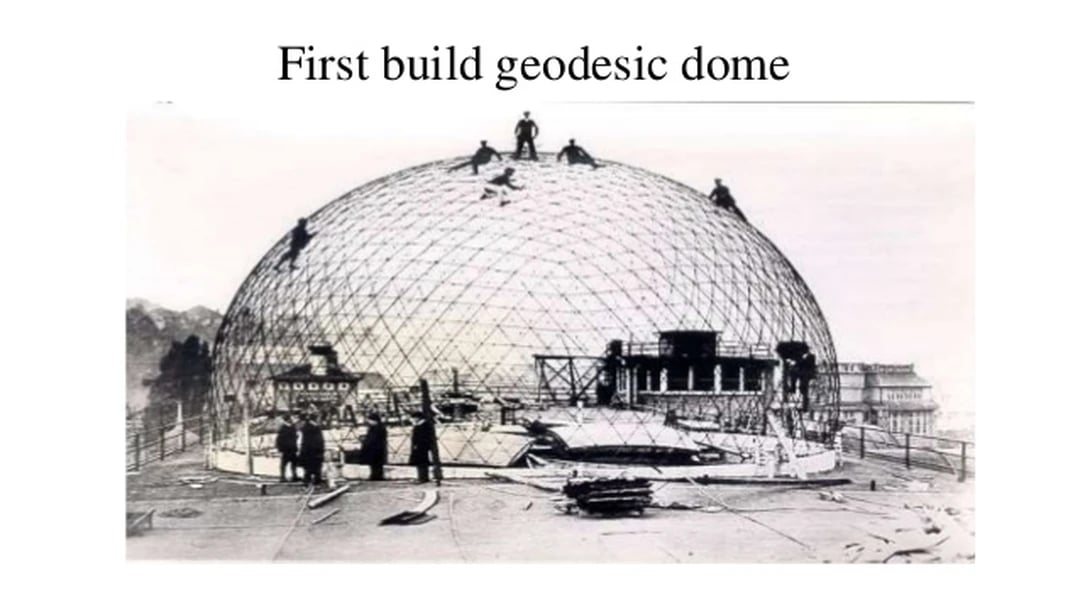 Right after world war II (1948), American architect Buckminster Fuller coined the term "geodesic" from field experiments at Black Mountain College, in North Carolina. While Fuller is not the original inventor, he is credited with the popularization of geodesic domes in the U.S. where he received a patent in 1954.
Domes were quickly adopted for specialized uses, such as radar stations in Canada, storage facilities, weather observatories and auditoriums. The U.S. marines even experimented with helicopter-deliverable geodesic domes in the 50s. It was introduced to a wider audience in 1964, as a pavilion for the World's Fair in New York City. In 1975, a geodesic dome was even built in the South Pole!
Some world famous domes were built in the 80s, such as Spaceship Earth in Walt Disney World Resort (Florida) and Science World in Vancouver, Canada.
And in 2001, Yerko Ivelic, Nani Astorga and Javier Lopez created the world's first geodesic hotel in Torres del Paine National Park, Chile. The domes were designed to resist Patagonia's strong winds and as a tribute to the indigenous Kawesqar people, who used to move from one place to another while building and removing dome-like dwellings.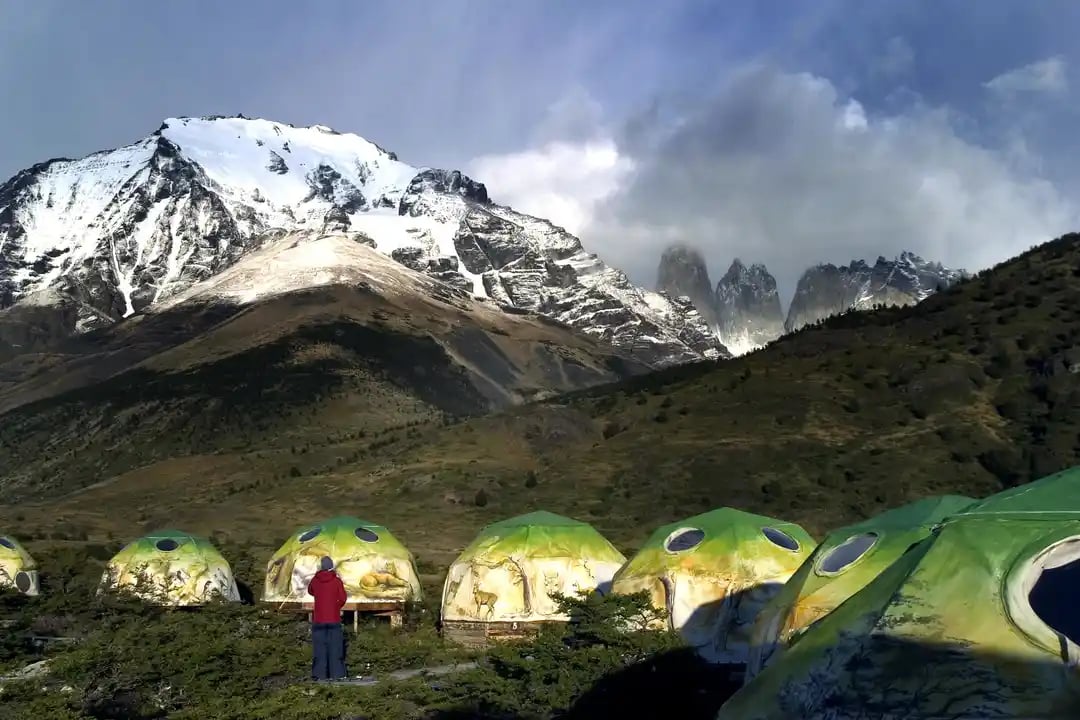 Picture above : Standard Domes - the first domes built at EcoCamp - in the early 2000's. Today, all the domes have a green cover.
The geodesic domes you'll find at EcoCamp were designed to avoid impacting the environment, so they can be removed without leaving a footprint. It happened in the mid 2000's, when EcoCamp changed its initial location to a new one (its current location). Also, there is a whole concept of sustainability, with the use of renewable energy, composting toilets and support of the local community that made EcoCamp an example on a global scale.
Check out this video to see more of the sustainability of EcoCamp!
Fancy staying in the world's first geodesic hotel? Check out EcoCamp Patagonia's adventures or contact us to book your Patagonia trip now!