Take one quick look at Torres del Paine National Park and you'll quickly realize just how unique its geography is. From vast valleys to icy glaciers to the magnificent Paine Towers that gave the park its name, Torres del Paine truly has it all.
Let's take a closer look at everything it has to offer: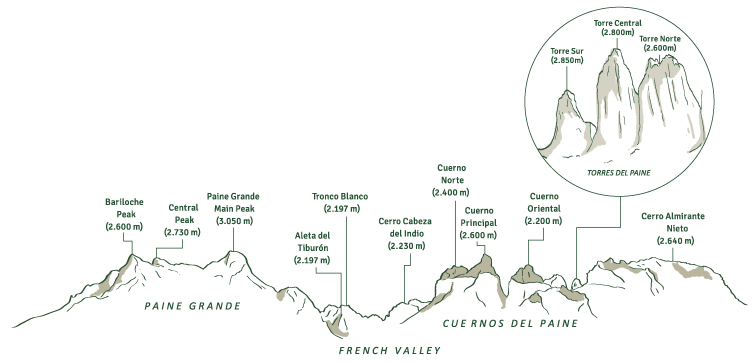 The Paine Massif
When you think of the Torres del Paine, the first thing that may come to mind is the famous Paine Massif and of course, its three jagged granite Towers. So much of the landscape in the park is dominated by this mountain group, also known as the Cordillera del Paine. Technically the massif is part of the Andes, however it acts an independent mountain formation with its own characteristics.
It has an origin can be dated back to at least 12 million years ago. During this time, sedimentary layers of the earth were lifted up and later worn down through glacial erosion. What was left was the hard, resistant granite rock that we see today. It's a classic example of this natural process, clearly demonstrating the difference in color between sedimentary and granite rock.
Making up the Paine Massif are several specific mountains, each offering something beautiful and unique. These are the major mountains that can be seen:
Cerro Paine Grande (Big Paine Mountain): 3,050m.

Cerro Paine Chico (Small Paine Mountain): 2,650m.

Torres del Paine (the Paine Towers): These are the most famous mountains in the park, made up of three peaks. The South Tower is 2,500m, the Central Tower is 2,460m and the is North Tower 2,260m tall.

Cerro Fortaleza (Fort Hill): 3,000m.

Cerro Catedral (Cathedral Hill): 2,220m.

Cerro Negro and Los Mezillos (Black Hill and the Twins): 2,450m.

Cerro Escudo (Shield Hill): 2,700m.

Cuernos del Paine (Paine Horns): This is one of the viewpoints that can seen from the famous French Valley trek. The Horns are: 2,600m (central), 2,400m (north) and 2,400m (east).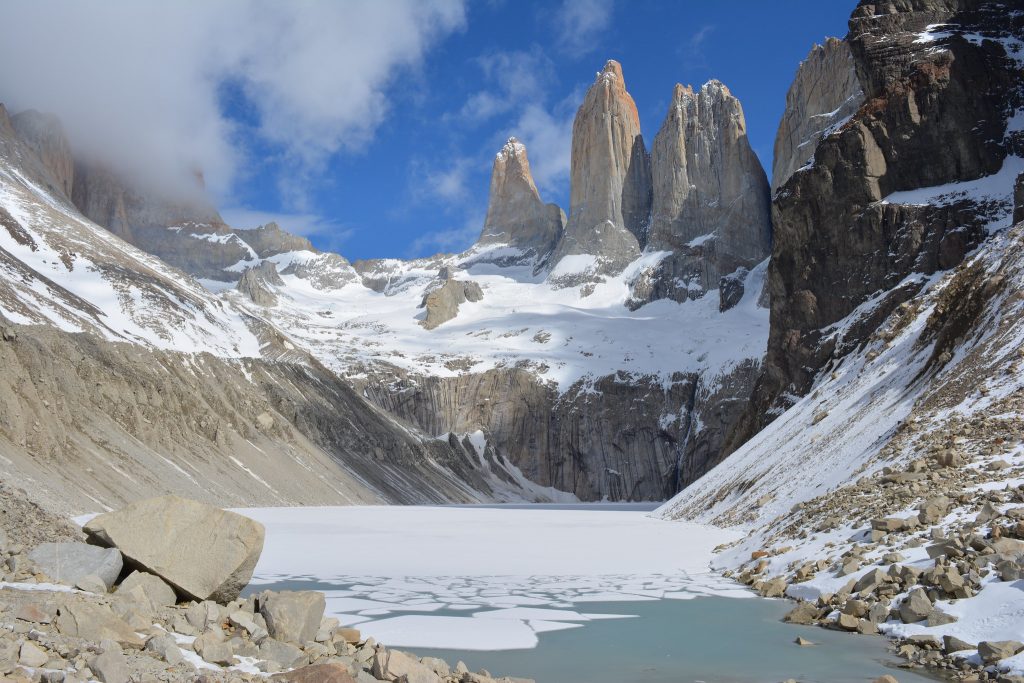 The three Paine Towers.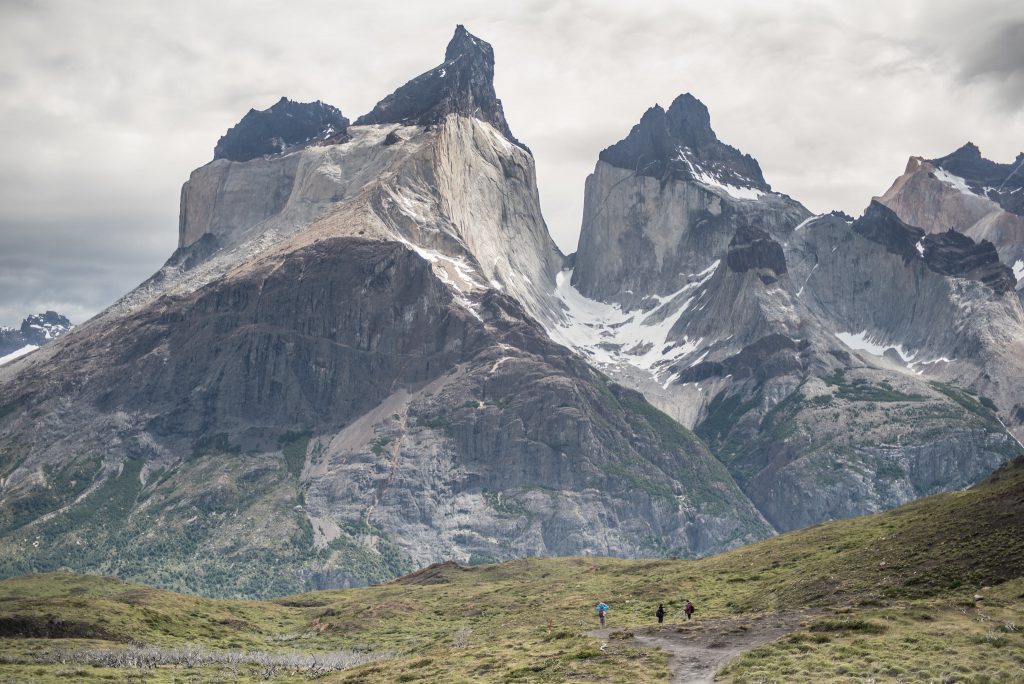 Cuernos del Paine.
Glaciers
The region of Patagonia is full of massive, icy glaciers! In Torres del Paine, the main attractions to see are: Grey Glacier (270 square km), Dickson Glacier (71 square km) and Tyndall Glacier (331 square km), which make up some of the Patagonian Southern Ice Field and its outflow.
The Southern Ice Field is the second largest ice field in the world, consisting of more than 12,000 square km. It actually is part of the Patagonian ice sheet which is still left from the last glacial period. Sadly, due to climate change, the area is diminishing year by year and is contributing to our rising sea levels.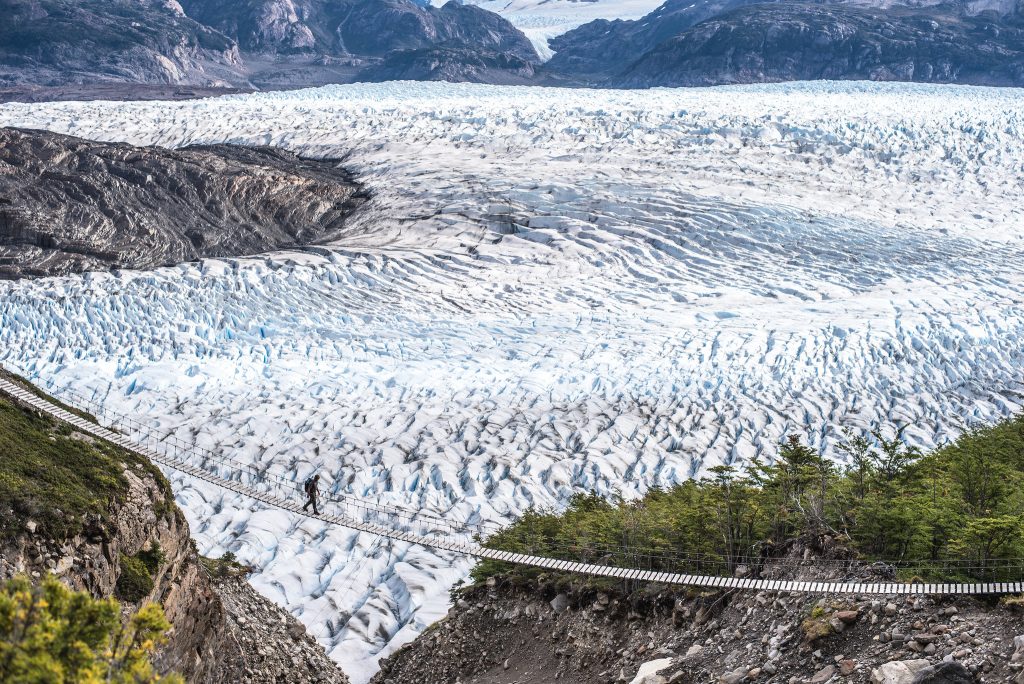 Grey Glacier.
Lakes
Within Torres del Paine, there are various large lakes making up 90 square km of surface area. Each lake is different, but many have a strong turquoise color to them. This intense coloring is due to rock flour particles that are left from glacial erosion, which as a result make the water appear milky. Some of the well known lakes include:
Grey Lake: This chilly lake is fed by Grey Glacier, consisting of up 32.6 square km.

Nordenskjöld Lake: A 28 square meter lake that runs into Lake Pehoe through Salto Grande. This lake was named after European explorer and geographer Otto Nordenskjöld, who discovered it in the 20th century.

Pehoe Lake: This lake is fed by the Paine River and runs through Salto Grande. It is also the lake you cross in order to hike in the French Valley.

Dickson Lake: Another glacially-fed lake is Dickson Lake, which is drained into the Paine River.

Sarmiento Lake: This lake makes up a surface area of 90 square km and goes as deep as 315 meters.

Del Toro Lake: Only a small portion of this giant lake is in the national park. In total it 202 square km in size and up to 300 meters deep.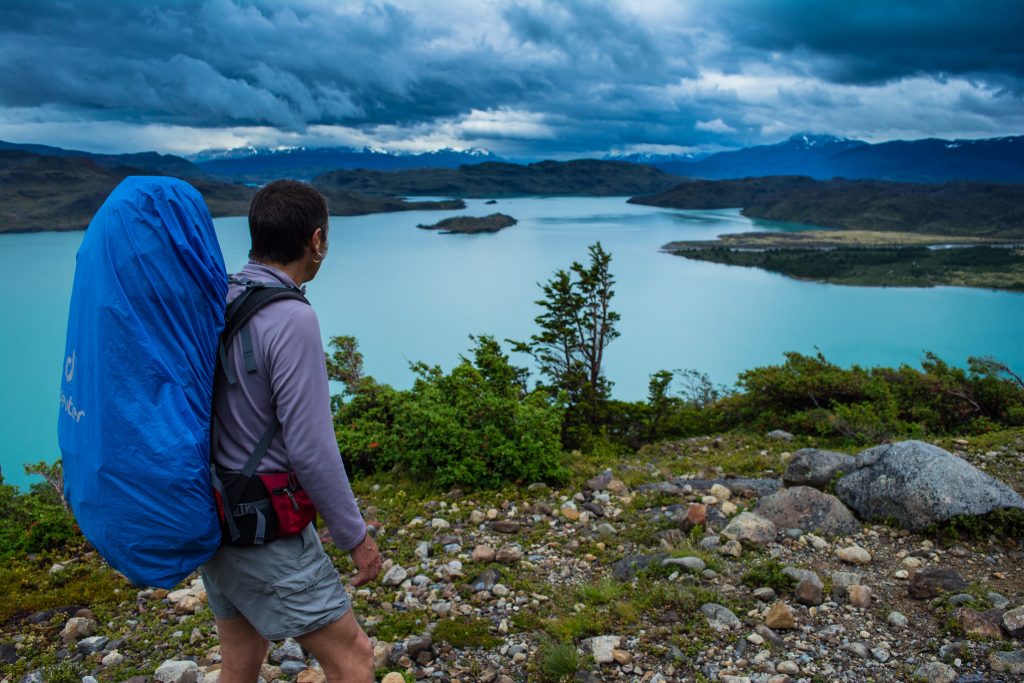 Nordenskjöld Lake.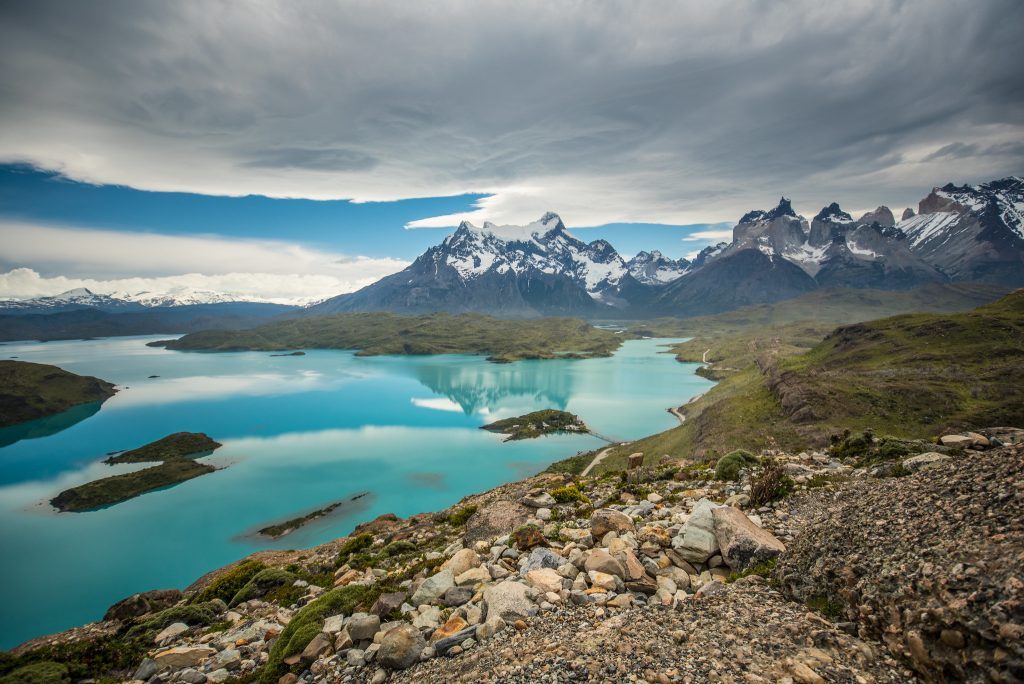 Pehoe Lake.
Waterfalls
There are three major waterfalls in Torres del Paine. The first, Paine Waterfall, takes the name of the park and can be found on the Paine River between Blue and Amarga Lagoons. Next is Salto Grande, which translates to "Great Falls," as it reaches a height of 65 meters. While the last is Salto Chico, meaning "Small Falls" and is located between the southern tip of Pehoe Lake into Toro Lake.
The waterfalls are small in comparison to places like Iguazu or Niagara Falls. However, they offer something special to the landscape here in the Torres del Paine. Many travelers enjoy viewing these waterfalls and admiring all of its incredible natural surroundings.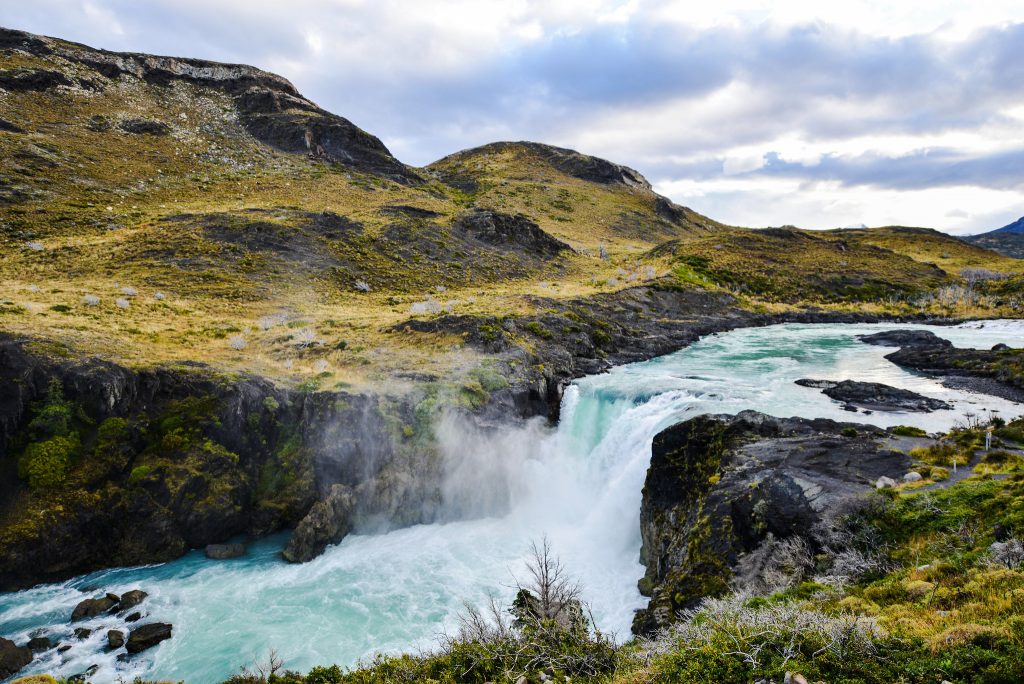 Salto Grande.
Rivers
Various rivers run through the park, helping connect all of these magnificent land masses together. There are four major rivers to look at: Paine River, Grey River, Serrano River and Pingo River.
Paine River: This river is sourced by Dickson lake, which as mentioned above is a glacially-fed lake. It runs through various bodies of water, including Paine Lake, Nordenskjöld Lake and Pehoe Lake, and eventually empties into Del Toro lake.

Grey River: Like Paine River, Grey River is also glacially-feed and is an outflow of Grey Lake. In total it is about 20km until it eventually merges with Serrano River.

Serrano River: In addition to receiving water from Grey River, Serrano flows into the inlet of the Last Hope Sound.

Pingo River: This river also runs into Serrano.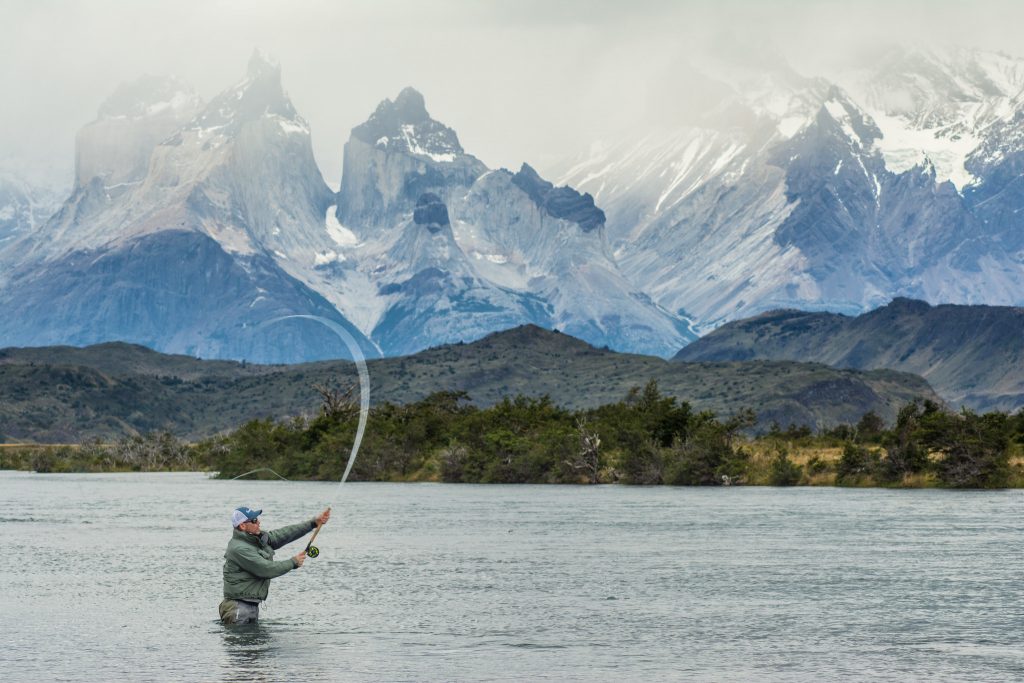 Serrano River.
Do you want more information? Visit cascada.travel and learn about our programs