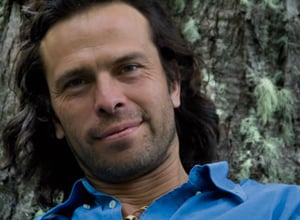 A civil engineer and trekking & kayaking enthusiast, Javier heads the sales and marketing team at Cascada and draws the design sketches for EcoCamp's Geodesic domes.

As an engineer of sustainable technology and someone personally and profesionally affected by the damming of Chile's Bio Bio river in the 1990's, Javier is passionate about stopping Chile's Mega Dam projects such as HydroAisen. Read his interview discussing the alternatives for energy in Chile and why it's imperative to look to other solutions which don't involve destroying Chile's beautiful landscapes and natural assets.

In June 2013 Javier was invited to participate in the SOFOFA Chilean Federation of Industry (a private, non-profit industry association founded in 1883) conference in Santiago talking about innovation in Chilean projects. The video (in Spanish) begins by presenting EcoCamp and showcasing its features and the reasons behind its innovative creation. Javier then talks about EcoCamp's replicas across Chile and Europe and how EcoCamp was created intentionally to be copied by other developers, with the aim of promoting low-impact, environmentally-friendly lodging in areas of wilderness (many EcoCamp replicas have unfortuantely copied only the design and not the sustainable tech features but at least they're still lower impact than a traditional hotel!). Javier ends by discussing the challenges faced in the creation of EcoCamp and the keys to a successful business strategy which include a fundemental cause you believe in, innovation (in the case of EcoCamp all of its green technology and composting bathrooms) and perseverance (banks and organisations aren't always willing to support new innovative ideas!).