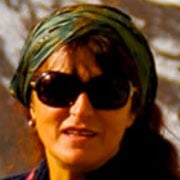 Nani Astorga runs the
Animal Refuge at Cascada de las Animas, a nature sanctuary in the Andes mountains close to Chile's capital Santiago. The sanctuary is owned and managed by Nani and her family and the land has belonged to her family for six generations. The property officially became a nature sanctuary in 1995 following a highly publicised battle in the early 1990s between the Astorga family and the Chilean government who were supporting the installation of a huge pipeline through the heart of
Cascada de las Animas
to bring gas from Argentina to Chile.
Nani was instrumental in the fight against the Chilean government and the gas company and, along with her family, was defiant in her stance against the government whom she believed to be immoral in its prioritisation of profits over protection of natural resources. Nani knew that all of the land's reforestation efforts, erosion control and wildlife reintroduction at Cascada de las Animas would be wasted if the pipeline was given the go ahead and so together with her family she held firm against the government. The dispute culminated in the
forced police removal of peaceful protesters
(including Nani) blocking the road to get to Cascada de las Animas, an event which attracted significant press interest and whose condemnation ultimately led to the gas company rerouting the pipeline around the Astorga's land and the government naming the property a nature sanctuary.
The Astorga family endeavour to not only protect the land from harm but also to develop and implement conservation initiatives so the area actively benefits from their presence. Over the last 10 years over 30,000 trees have been planted in the sanctuary and many native flora & fauna species have been protected from harm.
Nani was introduced to white water kayaking in the mid 1980's in Cascada de las Animas and after a brief training spell in North Carolina she returned to Chile as a kayak instructor on the Maipo river at Cascada de las Animas. It was here in the late 1980's that she taught
Javier Lopez
and husband-to-be
Yerko Ivelic
how to kayak and soon afterwards the three of them formed the eco adventure company
Cascada Expediciones
, specialising in kayaking & rafting and later hiking expeditions. Through her work with Cascada, Nani took groups of tourists from North America and Europe to Chile's most remote river spots, living by and promoting Cascada's sustainable tourism goals.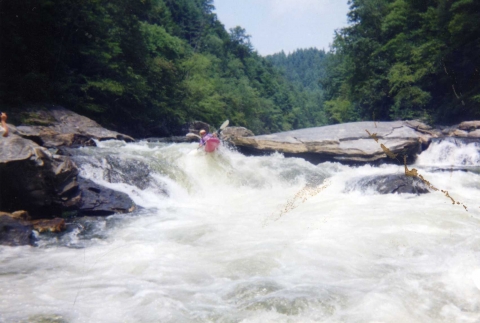 White water adventure in Chattooga river, North Carolina
In 2001 Nani, Yerko and Javier opened Chile and Patagonia's first fully sustainable accommodation,
EcoCamp Patagonia
. EcoCamp was unique in its concept and environmentally conscious design, leaving no footsteps behind in the wilderness. While Javier sketched the geodesic dome design and Yerko installed the green technology (EcoCamp's electricity is powered 100% by solar and hydro energy), Nani took on the responsibility of kitting out EcoCamp with locally designed furniture and locally crafted products from nearby town Puerto Natales. In addition she hand-designed many of EcoCamp's unique features including curtains, cushions, blankets and napkins. She also helped hire staff from the local community and ensure quality training was provided. Nani remains a joint owner of EcoCamp and frequently visits to help wherever she can and ensure everything is running smoothly.
A zen moment in Comau Fjord in northern Patagonia
In 2003 Nani decided to focus her efforts on flora & fauna conservation back in Cascada de las Animas and opened Refugio Animal Cascada. The Refugio has three central aims - helping conserve the area's biodiversity, providing a rehabilitation and reproductive centre for native animals including animals confiscated by
Chile's Agricultural & Livestock Ministry
(SAG), and developing an environmental education plan for the local community.
To date the centre has received over 350 animals, ranging from mammals such as pumas & foxes and reptiles including snakes & tortoises to birds including owls, eagles and condors. Nani and her team care for the animals, providing the rehabilitation they need to be released back into the wild. It's not uncommon for animals to be transferred to Refugio Animal after treatment elsewhere, as was the case with two black-chested Buzzard eagles who were found injured just outside of Santiago and after being operated on at a local zoo were taken to Refugio Animal for over a month of treatment and acclimatisation before being successfully released into the wild.
The centre is financed through of mixture of voluntary support and donations from Chilean companies. Budgets are low and more resources are needed to fully capitalize on the potential work to be done at the centre, with its ability to treat injuries and help animals acclimatise under Nani's leadership.
The Refugio regularly welcomes groups of scholars, school or university aged, to teach them about the protection of wildlife and Chile's native species. The aim of these visits is to educate and promote awareness of the importance of local flora & fauna protection as well as introduce the concept of ecotourism and its attributes to students. Nani also participates in local community meetings about the region's ecotourism initiatives, using her experience in both
Patagonia
and the
Chilean Andes
to help develop concrete initiatives designed to protect Chile's flora & fauna and ensure that future generations from Chile and the rest of the world can enjoy Chile's biodiversity and wildlife-rich landscapes in the years to come.