It is rather difficult to remain totally humble when one of the most famous Travel magazines worldwide (Travel + Leisure) chooses you as the Best Hotel in Chile (and in Patagonia). Even more difficult to do so when they elect you as one of the Best Hotels in the World (32nd) and the 2nd Best Resort in South America. Instead of just celebrating, we decided to share the secrets that made the 1st geodesic hotel in the world (EcoCamp) distinguish itself among the best. Because we know this achievement can inspire others – and we love to inspire.
1. Pioneer Concept

When it comes to alternative hotels, it's all about concept. When EcoCamp was founded by Chilean engineers, Yerko Ivelic and Javier Lopez, in 2001 their aim was to create the first fully sustainable hotel in Patagonia. Yet eco-friendliness was not powerful enough to make their hotel unique so Yerko and Javier began thinking about a concept that would make sense with EcoCamp. They were inspired by the dwellings of the ancient Kaweskar tribes (indigenous people that once inhabited Southern Patagonia), in which people used to gather at night after a day spent hunting and fishing. From there they designed the world's first geodesic domes and EcoCamp was born. Travelers would connect with nature and each other and have an experience of a lifetime in in harmony with remoteness of Patagonia.
2, Life-changingExperience

Those who work at EcoCamp regularly see guests crying when it comes time to say goodbye. At EcoCamp, the staff – while providing high-quality service – does everything to make travelers feel like at home (while very far away from home) and it is common to see new friendships between team members and travelers. This not-too-formal relationship makes EcoCamp a mind-blowing human and natural experience; thus attracting like-minded people who experience a very strong connection with the place. See to believe (or watch our short video "Deeper Than Nature" that underlines the life-changing experience of EcoCamp's guests).
3. Location, Location, Location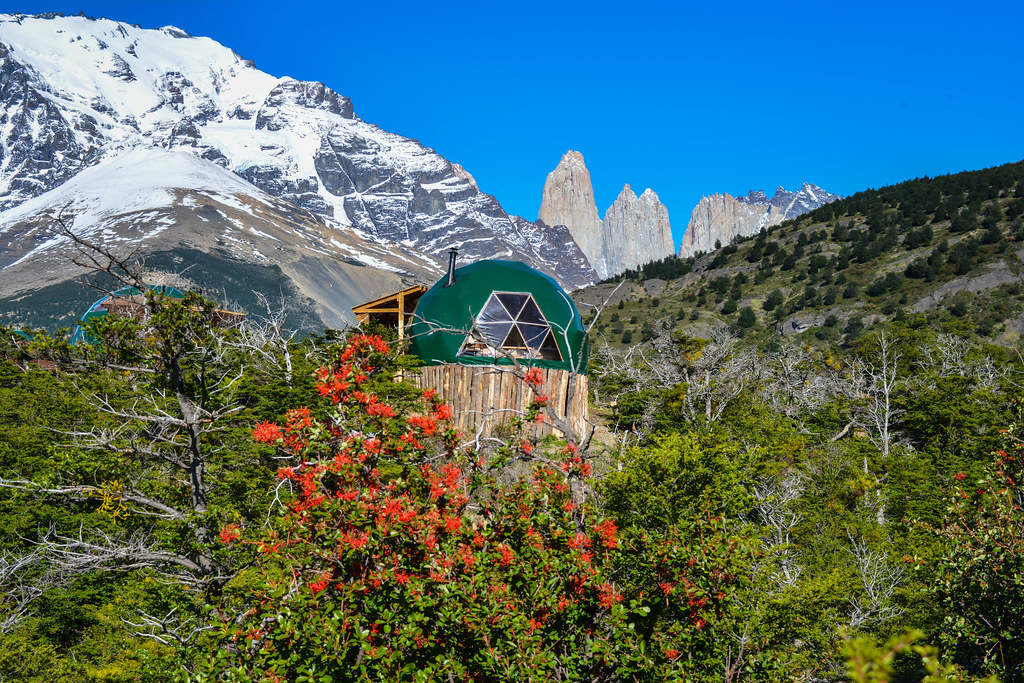 Should we really elaborate on THIS awesome place? EcoCamp is located in the very heart of Torres del Paine National Park, considered by many as "the finest National Park in South America" and elected in 2013 as "The 8th Wonder of the World" by Virtualtourist.com readers (amongst 300 other destinations worldwide). From the domes, guests can see the iconic granite towers that give their name to the park, and other mountains covered by glaciers and forests that make the scenery truly wild. And if it was not enough, EcoCamp is also located on the perfect spot to start the famous trekking routes (W Trek and Torres del Paine Circuit) without having to drive. Lace up your shoes; you're near (if not in!) some of the beautiful landscapes on the planet!
4, Eco-Friendliness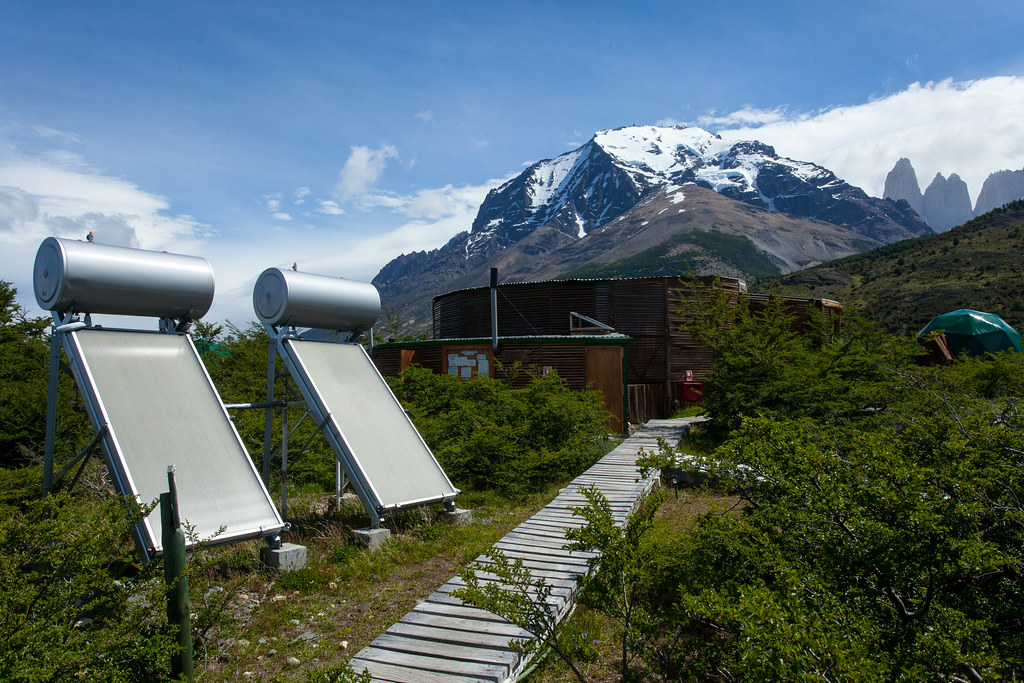 Now, more than ever, being eco-conscious should be an absolute priority for all companies, no matter their area. EcoCamp has very quickly become an example of eco-consciousness amongst tourism providers around the world because here sustainability applies to both guests and staff members. 100% of the energy provided at EcoCamp is renewable (70% hydraulic, 30% solar) while the entire EcoCamp community uses composting toilets (a Biofilter system that guarantees no water contamination). Waste is separated to be recycled while natural resources (such as water and light) are optimized to reduce the hotel's footprint.
5. Immersive Tours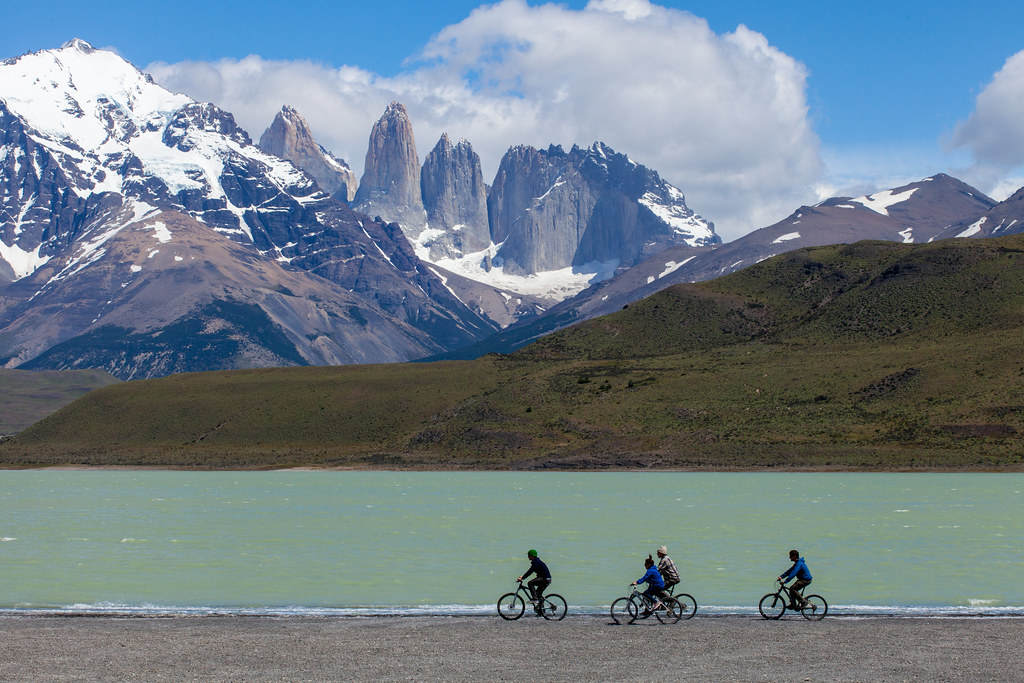 Most of EcoCamp's guests love hiking, yet many travelers come just to have a relaxing time as a family, or to step away from the city for a few days as a couple or group of friends (as well as solo travelers). The increasing complexity of traveler needs has spurred us on to continuously improve our tours while adding more varied experiences. Amongst them, guests can track the pumas with a mountain lion specialist, observe the wild horses inhabiting a restricted area of the National Park, hike on off-the-beaten-path trails that are amongst the most beautiful in South America, fish in remote rivers, or go on a Multisport Adventure that mixes kayaking, horseback riding, mountain biking and hiking. All of that with no Wi-Fi so that you can truly experience the adventure. Who said there was nothing to do in the wilds of Patagonia?
6. Revitalized Community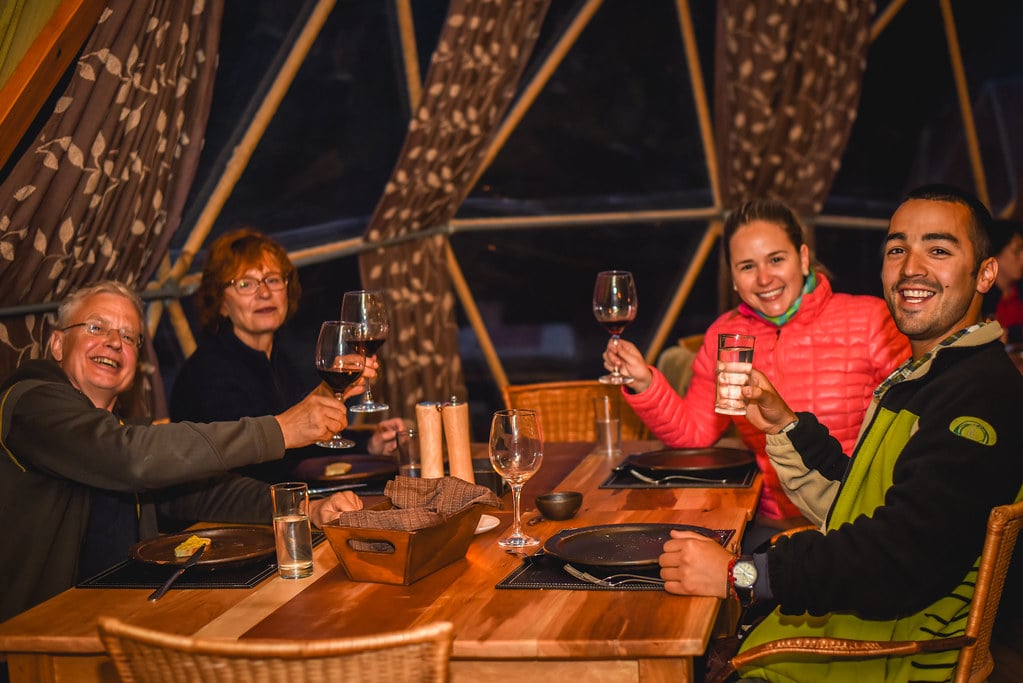 As we said before, the sense of community at EcoCamp is unlike any other hotel. Here, guests spend their days wandering incredible landscapes with the same group of people and their guides. These guides are not only guiding, they even share meals with the guests so that at some point they become the traveler's' best friends. This concept of community was inspired by the region's indigenous people (but instead of the campfire you'll get delicious Chilean red wine). No worries though - if you want privacy, EcoCamp can be very intimate too (ask the dozens of honeymooners who come every year if you don't believe me).
7. Adventure Leaders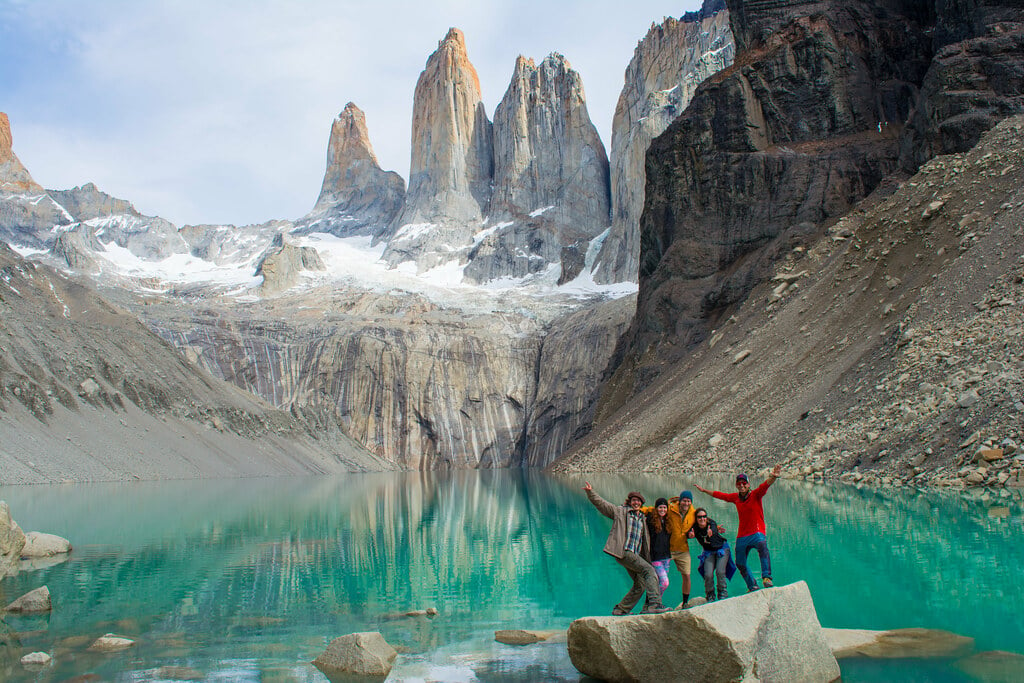 The founders of EcoCamp grew up with a true passion for the outdoors, kayaking, rafting or hiking almost every week. EcoCamp is a place for outdoors lovers and for this reason EcoCamp offers incredible trekking routes such as the 5 and 7-Day W Trek and the Torres del Paine 9-Day Circuit, the most epic trekking route in Southern Patagonia. Our passion for adventure is a natural progression: our founders also own Cascada Expediciones, the leading Adventure Travel company in Chile, providing adventure tours in Chile, Argentina, and Bolivia.
8. Expert Guides
Believe it or not, guiding in Patagonia can be a tough job. The world's end is indeed famous for its notorious winds and unpredictable weather which makes hiking sometimes difficult. Guides must be trained to deal with all quirks of nature yet at EcoCamp, guides apply much more than safety. EcoCamp's guides may be defined by their (there is no order of importance here): sense of conservation, love for nature, passion for Torres del Paine National Park (and Patagonia in general), sense of well being, and desire to meet new people. This makes our guides so much more than other guides; instead of just following and learning from a guide, guests spend a great time with a new friend, both at EcoCamp and on the trails. Pretty cool, isn't it?
9. Gastronomy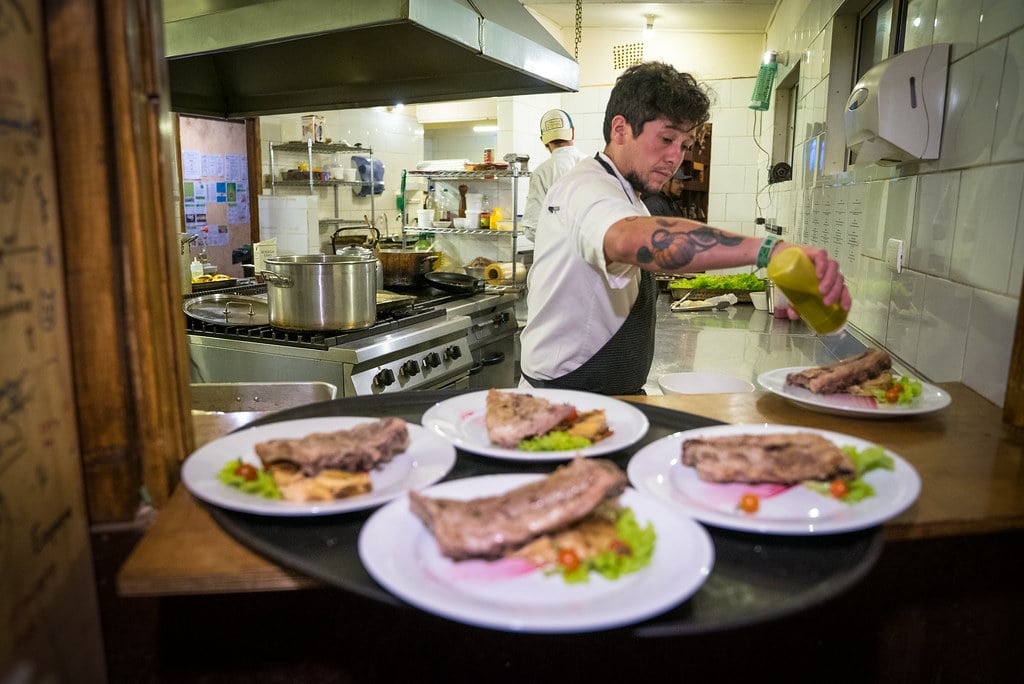 Being two hours away from the nearest town (Puerto Natales) does not mean you can't offer great food with great products. Most of EcoCamp's fruits and vegetables are grown in Pto. Natales where we support local farmers while carefully planning our meals around seasonal (often organic) products. EcoCamp works with a passionate team of cooks and our Head Chef, Claudio Fourcade, has a true passion for highlighting the best of Chilean cuisine while adding some surprising touches to make dishes truly unique. A good meal is the icing on the cake after a long day hiking in Torres del Paine National Park.
10. We Are Locals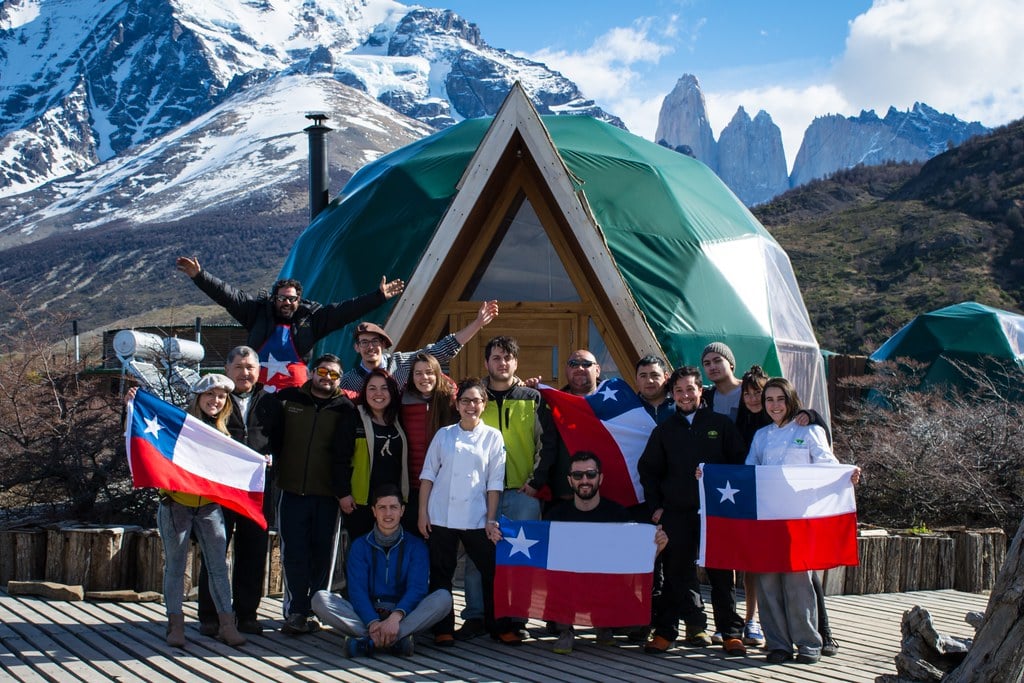 EcoCamp is a Chilean-owned business and most of its workers are proud Chileans who are more than happy to share their culture with guests. EcoCamp knows that "local" is an important keyword in sustainability, and therefore works with as many locals as possible. EcoCamp loves music and you will hear the sweetest Chilean music while in the Community Domes, and you can even celebrate like a local on our Public Holidays (we do themed events). In brief, if you want to learn about Chile and its secrets, EcoCamp is the place…
Do you want more information? Visit cascada.travel and learn about our programs