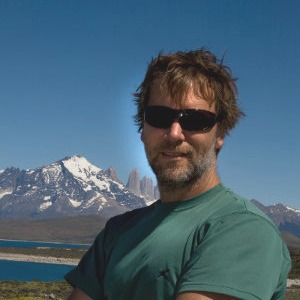 Confident and ready, Yerko braced himself to begin his kayak descent of the Maipo River. Having been kayaking a handful of times in flat water, he was sure that he had acquired the skills to be able to handle real white water kayaking. What had started as a simple elective subject earning him credit at university that year, river kayaking now had him so motivated that it was a mere detail that neither his teacher, nor him, nor the two friends accompanying him had ever kayaked in white water. The first of the three to go, Yerko paddled out into the rush of white water and away with the current he went... Fifty metres later the kayak had capsized and Yerko, with no idea how to do the Eskimo roll, was being swept downstream while frantically trying to breathe and stay afloat! About 2km later he managed to haul himself up onto the river bank, almost hypothermic, and lament the loss of his kayak. Needless to say the experience quelled any desire to get back in a kayak!
That is until three and a half years later, when Yerko recieved a call from university friend Javier Lopez telling him about a professional kayaking teacher who lived in Cajon del Maipo. Her name was Nani Astorga, and unbeknownst to either of them she was to become the love of Yerko's life (along with kayaking).
After classes from Nani and an instructor course, Yerko and Javier took to the rivers in the south of Chile and kayaked their way through beautiful scenery and pristine nature. Check out Yerko kayaking on the BioBio River between 1992-1996.
"The combination of remote nature and the physical and emotional challenge of kayaking left us in a state of harmony with nature and our companions at the end of each day. It was such a change from the urban life we were used to, and we realised that this sensation, this state of being, was something that was really changing our life for the better. And suddenly it came to us - People needed to feel connected to nature, and whatever business that gave people this sensation would probably be a successful one, one we could make a living from and give people a life-changing experience".
And thus Cascada was born! Yerko admits the strangeness in the lack of planning, but that despite being an outcome-planning civil engineer by profession it really was a strong case of intuition. Intuition which paid off - Cascada enjoyed its early days as a small kayaking company from before expanding to include Rafting in 1993 and then Trekking in Torres del Paine in 1995.
The big question on Yerko's mind was how they could make the most of Torres del Paine and provide accommodation which was resistant to the unrelenting wind and rain. Where could clients enjoy relaxing and sleeping after a long day trekking, which didn't involve building damaging infrastructure?
"Javier had just returned from Africa, enthused by the safari tents used over there which were big, comfortable and even had bathrooms. We knew these tents wouldn't last ten seconds in the Patagonian wind, but we kept thinking about how we could adapt the idea. One day a book of old photography fell into our hands, including photos of the ancient inhabitants of Torres del Paine, the Kaweskar, putting up semi-spherical tents insulated with guanaco skins. Soon after, again coincidentally, we came across a book about Richard Buckminster Fuller's Geodesic domes. The dome idea suddenly clicked and we knew it would work...EcoCamp Patagonia was going ahead!"
The 'eco' part of EcoCamp came naturally - apart from the domes lending themselves to minimal impact on the terrain, Yerko had always envisaged eco-friendly accommodation in the park and dedicated himself to green technology implementation.
Despite eco-tourism being a relatively new concept in the world, certainly very unspoken of in Chile, Yerko had always been environmentally-friendly. "Being 'eco' was natural for me. As kayakists, Javier and I had seen the beauty and fragility of nature. We'd been witnesses to the whirlpool of development destroying river Bio Bio with dams. In addition, my wife Nani is very protective of nature and a lover of the earth, animals and all things organic. These two factors made me a defender of eco-tourism from the outset".
Yerko is very proud of the international recognition EcoCamp has received for its policies. He feels very gratified to have been selected in National Geographic's 100 Best Adventure Travel Companies two years running, having admired the magazine from an early age. Pushed to choose between all of EcoCamp's green awards, he says the environmental certificate ISO14001 awarded to Cascada in 2007 made him proudest. "The ISO14001 meant that we had achieved a goal we set ourselves a long time ago - It was possible, in a national park, to have a successful hotel which strictly protected the environment. It was no longer a theory, it was a reality."
Yerko is passionate about travelling, discovering new places, meeting new people and trying new things. He wants everyone travelling with Cascada to feel the same thrill he feels every time he kayaks down a river, treks in Torres del Paine, or wakes up in a new place looking out at a magnificent landscape. For him, travelling is not necessarily about the place but about new realities which let you grow and connect with yourself and nature.
"I want our clients to feel that they've had a unique experience, one that they'll never forget...If in 5 years someone asks them about Chile I want the first thing they remember to be the wonderfully intense dawn colours in Torres del Paine, which they enjoyed looking out at through their dome windows, the furious steam of the Tatio geysers in Atacama against the bright blue sky, or the day they realised they had the physical and mental power to complete that day's trek, despite thinking they'd never be able to. If we manage to impart this sensation then I think you could say we've done a good job, that we're contributing to making the world a better place in every sense, and that Cascada is an exceptional company".