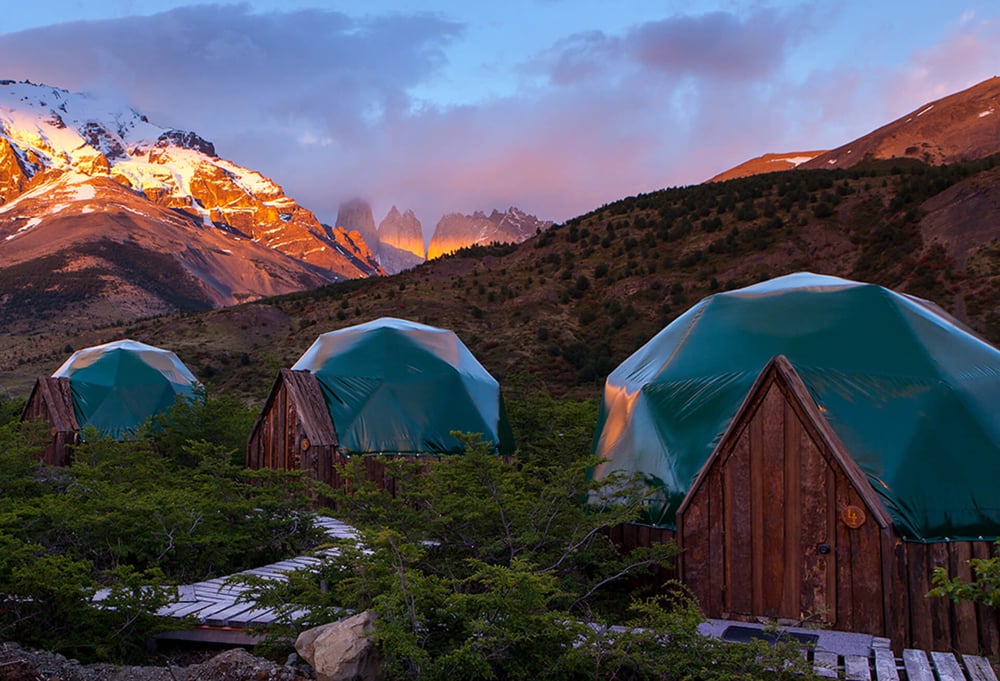 1. Prime Location in the Heart of the Park
EcoCamp is located at the foot of the Torres del Paine and is the only hotel in the park with a view of the spectacular granite peaks, allowing guests to appreciate the Torres at sunrise as they wake up and again at sunset. Plus, no journey time is needed to start trekking; guests step out of their dome and pick up the trail leading to Las Torres or along Los Cuernos path lined with Patagonian flora and fauna.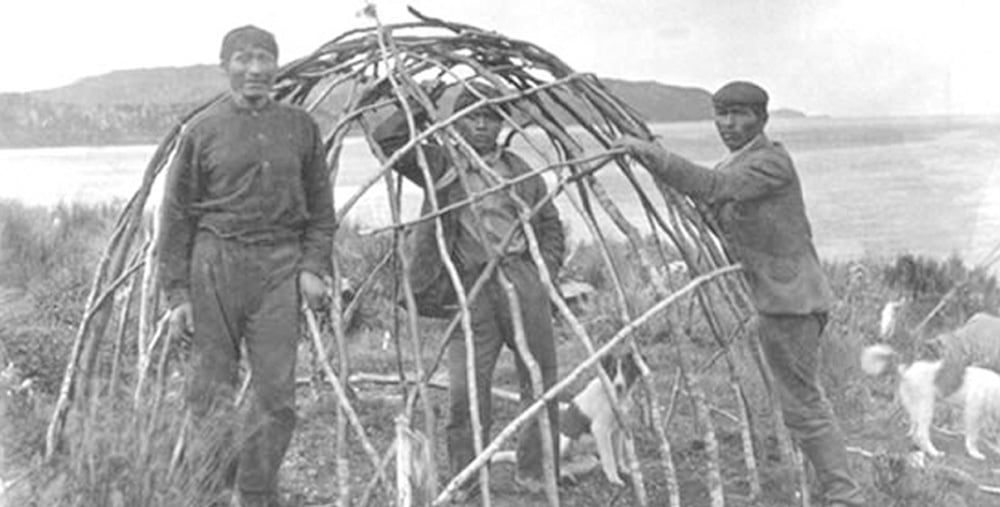 2. Pioneering Concept
EcoCamp's revolutionary geodesic domes were the first of their kind in the world when they were built in 1999. They soon because a staple design model for similar hotels all over the world, but they retain their unique originality due to their indigenous heritage, being modeled on the ancient Kaweskar tribe's huts in Patagonia. EcoCamp domes also blend into their surrounding environment making them a uniquely harmonious refuge in the wilderness.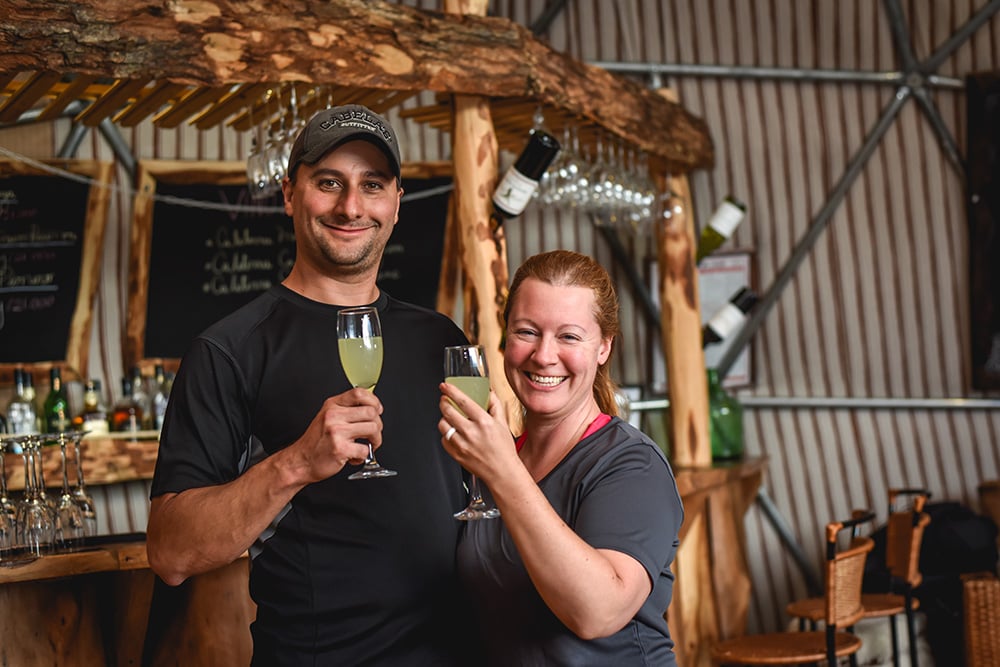 3. Once-in-a-Lifetime Experience
EcoCamp's unique lodging concept means you are guaranteed the experience of a lifetime as you walk through the wilderness to get to your dome and fall asleep looking up at the stars, following an evening spent sampling Chile's finest cuisine and wine with fellow guests in EcoCamp's Community Domes. EcoCamp's adventure travel reputation ensures you are in the very best of hands as you hike through the park's valleys past immense glaciers and snow-capped mountain ridges exploring nature in all its immensity.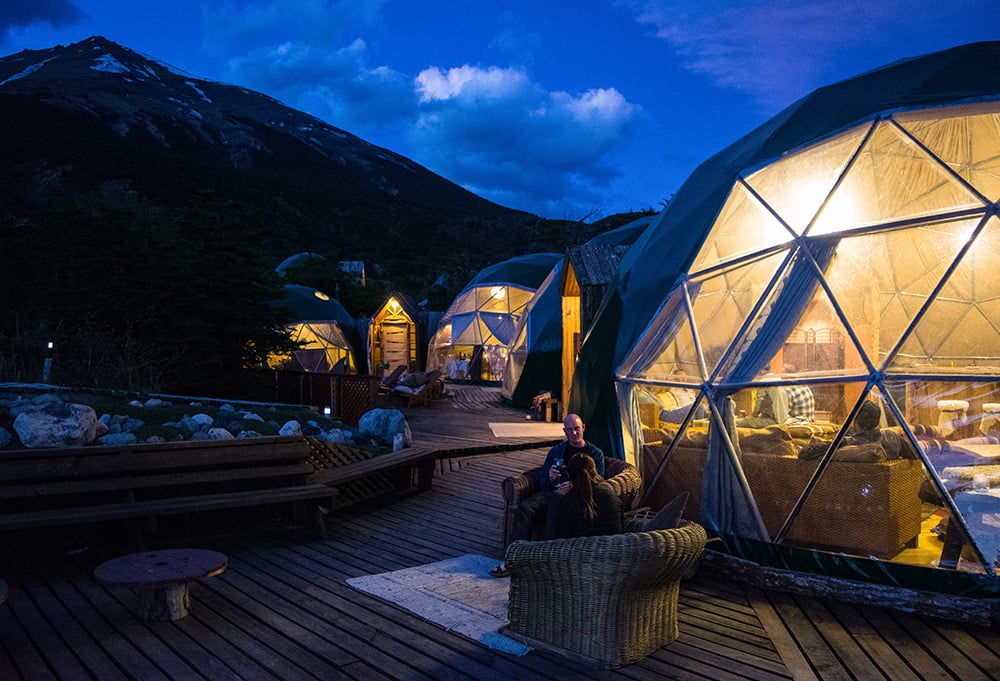 4. EcoCamp Community
The social aspect of EcoCamp is one of its most celebrated attributes. Community Domes provide a meeting place for breakfast and again at the end of the day when groups share an evening cocktail and tasty Chilean dinner with wine at communal tables in the dining room. Guests can then move to the bar to share more wine and stories with fellow guests or to the library to chat and plan upcoming excursions or browse through EcoCamp's shop selling locally-made products.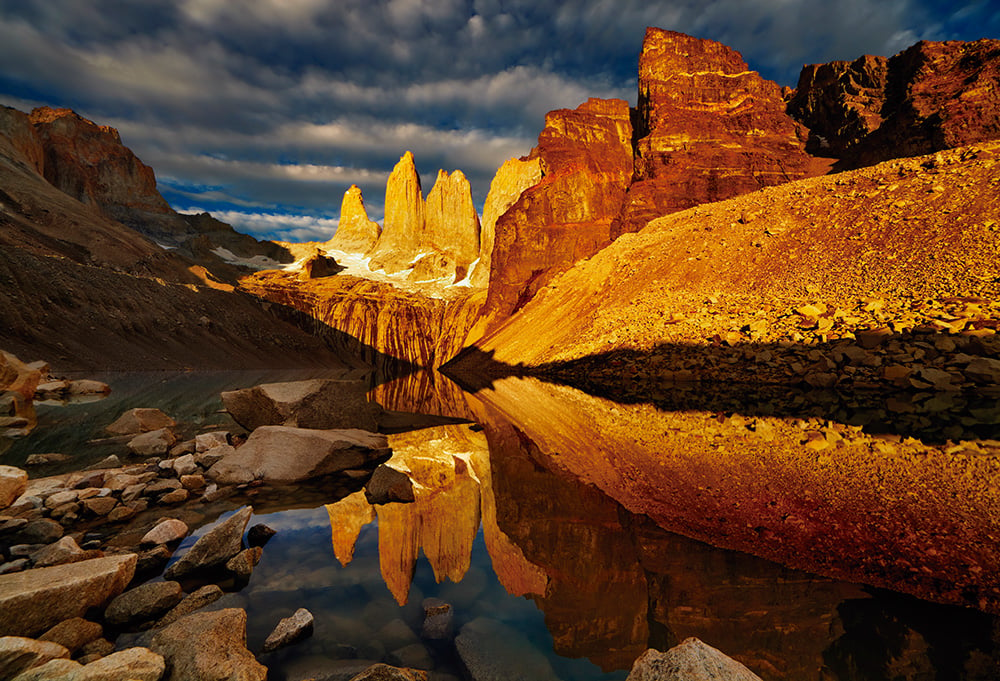 5. Leaders in adventure travel and customer service
EcoCamp has won National Geographic awards for its adventure tour leadership in Patagonia. EcoCamp operates two versions of the 'W' trek, as well as offering the ultimate Torres del Paine challenge, the Paine Circuit, covering 115km around the Paine massif. Guests' luggage is transported on treks leaving them free to walk with just a day pack, chatting with their guide and admiring the views. This is just one of the customer service amenities that is made available to guests, allowing them the perfect wilderness experience, unencumbered by planning or details. Guests have noticed the attention to detail and customer service, and in 2017, EcoCamp Patagonia was voted the 2nd Best Hotel in South America and the 32nd Best Hotel in the World in the Travel + Leisure World's Best Awards.
6. Expert Guides
EcoCamp's guides are knowledgeable, reliable, and environmentally-conscious trekkers who are passionate about and love their job. The majority are locals who have grown up in the region and studied ecotourism at university, specializing in areas including geology, ornithology and botany. Guides eat with guests each night and socialize with groups in the library and bar following briefings.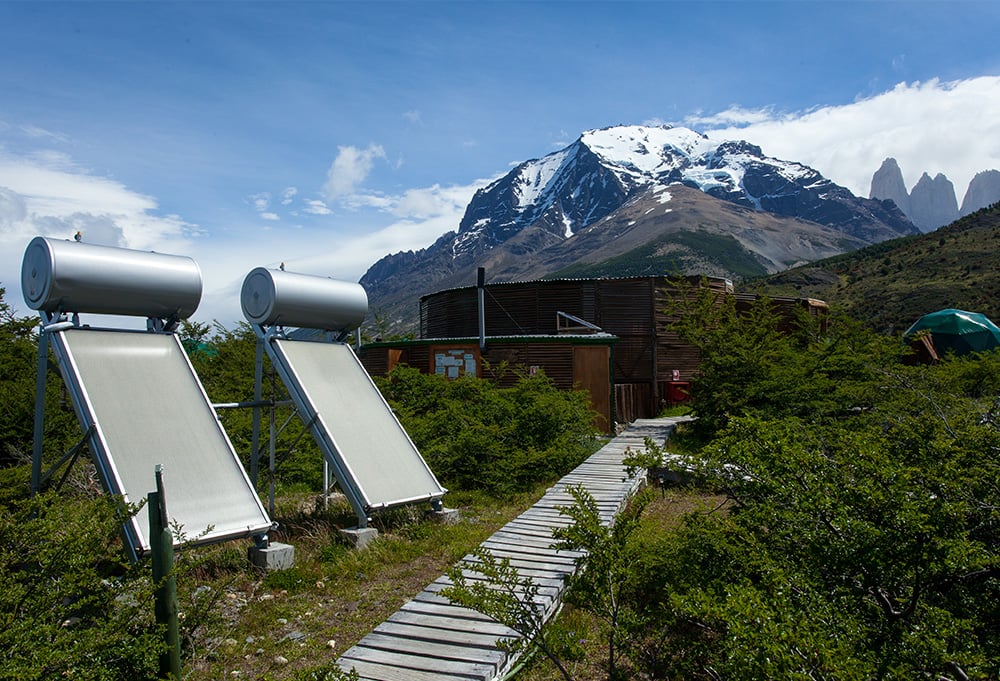 7. Sustainable Design
EcoCamp has won sustainability awards and is the first ISO14001 certified hotel in Patagonia. All of EcoCamp's energy comes from solar panels and a micro-hydro turbine, making it Patagonia's most eco-friendly hotel. EcoCamp's green dome design is energy-efficient to maximise passive heat and light energy and dome interiors are designed with renewable materials and are connected by raised walkways to minimise terrain and fauna disruption. Bathrooms have the world's southern-most composting devices.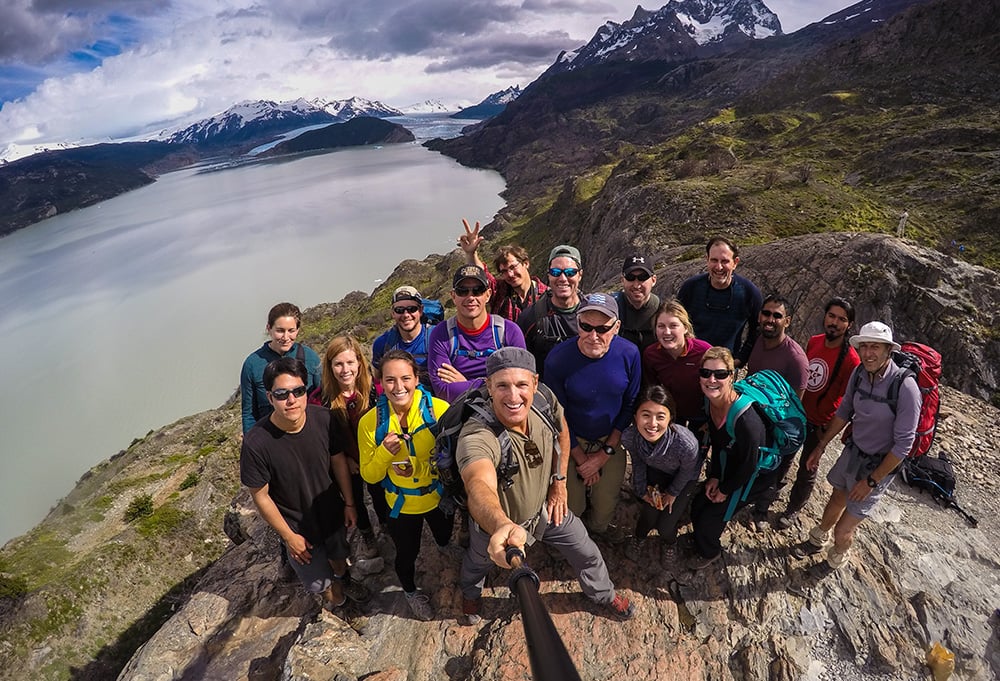 8. Tour Variety
EcoCamp offers tours to suit everybody! EcoCamp's Patagonia Wildlife Safari offers both easy and active excursions each day so guests can choose whichever option they are in the mood for, be it climbing to the base of the towers or sailing to Grey glacier. A short and full version of the 'W' trek each week means guests can choose the duration of their trek to best suit them, while the Paine Circuit is popular with all trekkers craving the ultimate challenge. Tour extensions operate throughout Argentine Patagonia and can be combined in EcoCamp programs like Patagonia United.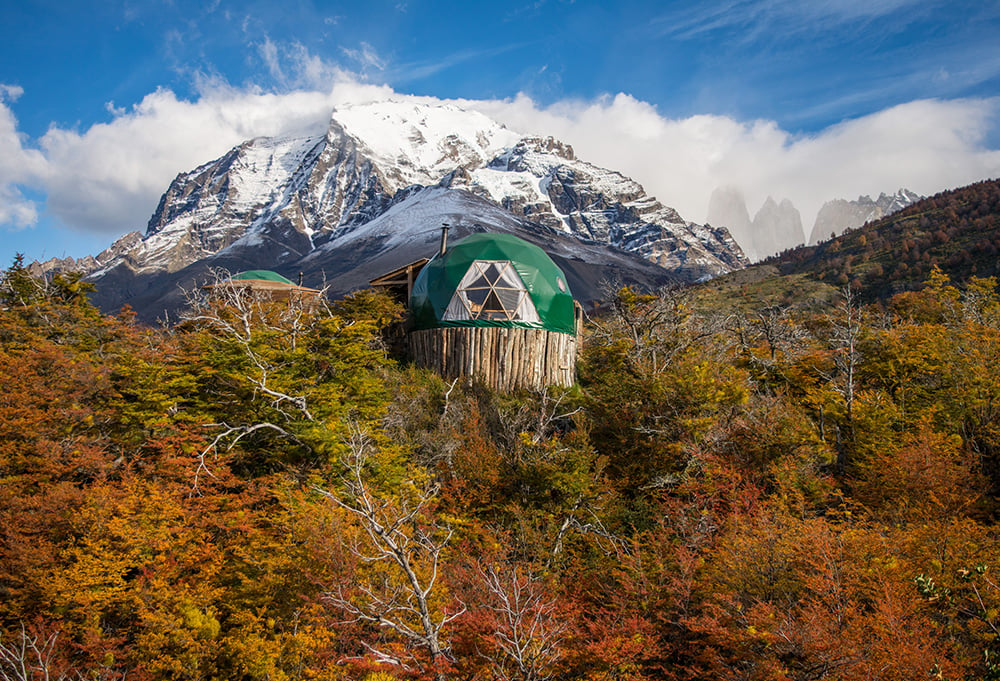 9. Dome Choice
At EcoCamp there are four different dome types to choose between, depending on your trek. Guests on Safari choose between heated Suite domes or Suite Lofts with private bathrooms and terraces, or the classic Standard domes with shared bathrooms. Guests doing the 'W' stay in Standard Domes at EcoCamp or can upgrade to a bigger, heated Superior Dome while guests on the Paine Circuit stay in comfortable tents or can upgrade to Standard or Superior domes while at EcoCamp.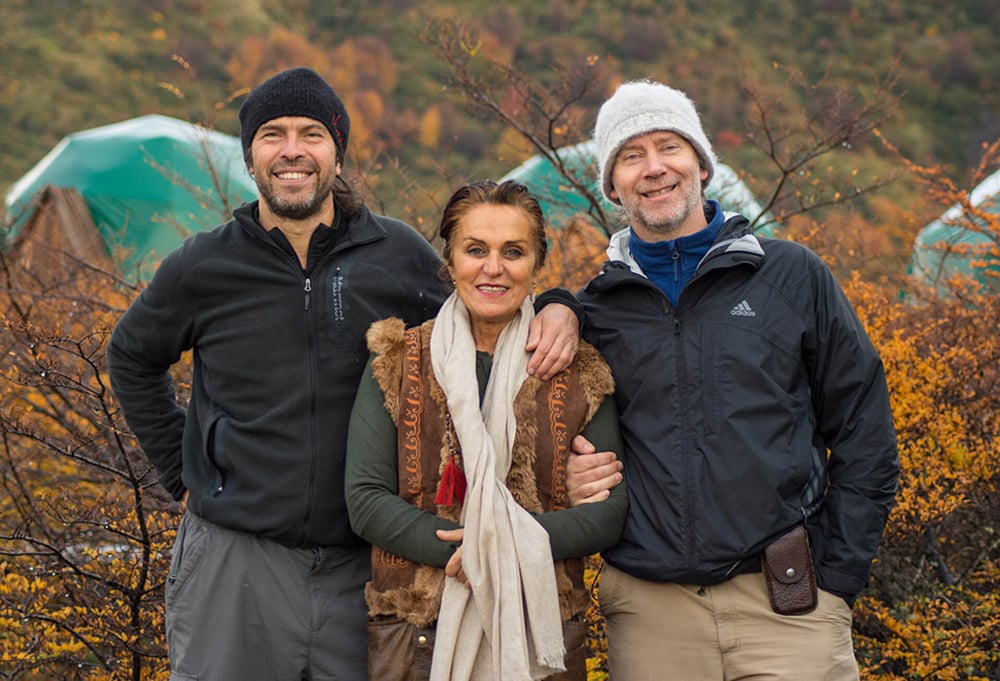 10. Locally Owned
EcoCamp was founded in 1999 by Chilean engineers Javier Lopez and Yerko Ivelic and kayak instructor Nani Astorga. Owners of adventure tour company Cascada Expediciones, Javier and Yerko worked to create sustainable accommodation in one of Chile's most pristine areas of wilderness popular with trekkers from around the world. They tested and installed green technology and recycling and continue to be involved in the maintenance process today.
Do you want more information? Here's the EcoCamp Patagonia phone number! Give us a ring or write to us at reservations@cascada.travel .